Two McMaster-based national research facilities awarded $4.2 million from the Canada Foundation for Innovation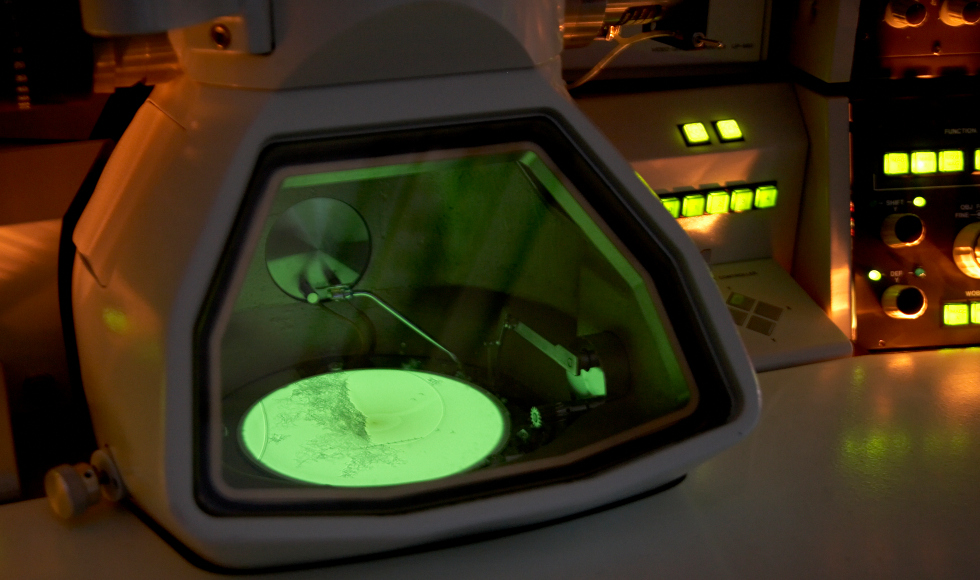 BY Lori Dillon
July 21, 2020
Two McMaster-based national research facilities have been awarded a combined $4.2 million from the Canada Foundation for Innovation (CFI). The announcement was made today by the Honourable Navdeep Bains, Minister of Innovation, Science and Industry.
The facilities – the Canadian Centre for Electron Microscopy and the Canadian Research Data Centre Network – are funded through CFI's Major Science Initiatives (MSI) Fund, which is designed to keep Canada's large, complex research facilities on the cutting edge to support the Canadian and global research communities.
The Canadian Centre for Electron Microscopy (CCEM) – which houses a suite of some of the world's most advanced imaging tools, capable of measuring materials and chemistry at ultra-high resolution – received just over $2M after a successful mid-term review and further federal investment into the MSI program.
The additional funding brings the total CFI investment to $5.8M over six years (2017-2023), ensuring the facility builds on its scientific excellence and remains competitive on the international stage.
Similarly, the Canadian Research Data Centre Network (CRDCN) – a partnership between a consortium of Canadian universities and Statistics Canada, and co-funded by the Canadian Institutes of Health Research (CIHR) and the Social Science and Humanities Research Council (SSHRC) – received close to $2.2M in additional funding, bringing the total CFI funding for six years to more than $8M.
The CRDCN provides researchers in 32 universities across Canada with unique access to Statistics Canada census and surveys, as well as to an increasing number of administrative data files.
In addition to strengthening their ongoing research efforts, previous funding meant these facilities were well equipped to pivot their work to respond to the COVID-19 pandemic, said Rosanne O'Reilly Runte, CFI's president and CEO.
"In a world filled with serious risks and great possibilities, we need to support our researchers with top-notch equipment and the spaces necessary to foster their ingenuity and relentless passion for the knowledge that will reap rewards today and for the future," she said.
Nabil Bassim, CCEM's scientific director and associate professor of materials science and engineering, says the Centre is enthusiastic to play its part in characterizing new materials for COVID-19 applications.
"Microscopy is critical to rapidly design and manufacture at scale domestic sources of important supplies that are necessary to combat the coronavirus in Canada and to keep Canadians safe," he says, adding that CCEM staff are supporting researchers looking at new mask material designs and helping to refine the manufacturing process, as well working with industry and hospital partners to scale up efficient testing.
CRDCN's executive director, Martin Taylor, says the Network's members are prepared to tackle significant COVID-related issues.
"The Network is providing researchers access to social science and health data that are key to addressing major social, economic and health policy issues for Canada and Canadians in response to the pandemic."
Karen Mossman, McMaster's vice-president of research, says CFI's investment in these collaborative initiatives are incredibly important to Canada's research and innovation landscape.
"The scope of the MSI funding gives our researchers a distinct advantage across the disciplines," she says. "Investing in pan-Canadian initiatives is critical to our country's success, and COVID-19 has certainly taught us the importance of collaboration."