Two McMaster researchers receive funding through Race, Gender and Diversity Initiative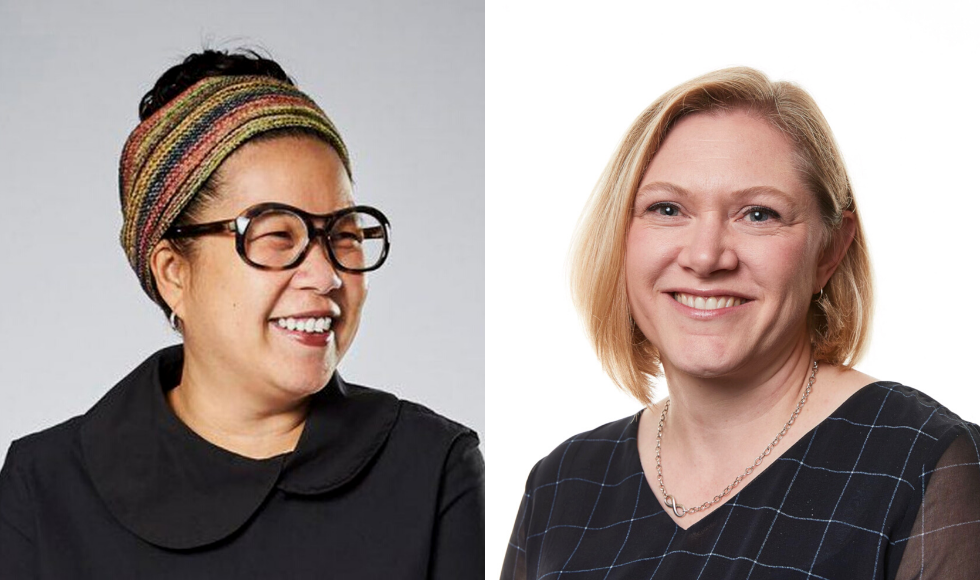 McMaster researchers Carmela Laganse (left) and Beth Murray-Davis (right) have received funding from the Social Sciences and Humanities Research Council of Canada's (SSHRC) new Race, Gender and Diversity Initiative.
---
May 9, 2022
Two McMaster researchers have received a combined $812,000 from the Social Sciences and Humanities Research Council of Canada's (SSHRC) new Race, Gender and Diversity Initiative to pursue research projects that will inform action and address disparities related to race, gender, and other forms of diversity.
An interdisciplinary team led by Dr. Beth Murray-Davis, Associate Professor in the Department of Obstetrics & Gynecology and Scientific Director of the McMaster Midwifery Research Centre, received more than $366,000 over three years to study the use of gendered language in healthcare systems with the aim of supporting transgender, gender non-binary, and Two-Spirit people in reproductive care.
Murray-Davis says that gendered language is quite common in reproductive care and may exclude and discriminate, and this is the opportune time for an evidence- and community-informed consensus statement on gender inclusive language.
"In the clinical setting, progress has been made to tailor language to the individual, but at a broader level, there is a lack of agreement about inclusive language in publications, research, textbooks, and even hospital signage," she says.
Such language, says Murray-Davis, would advocate for transgender, non-binary, and Two-Spirit people to address the ongoing discrimination they face within health care, while at the same time prevent the erasure of women, since they also still face challenges related to reproductive rights and underrepresentation.
Associate Professor in the School of Arts, Carmela Laganse, received nearly $447,000 over three years to investigate how the media arts industries can support inclusion and anti-racism through the creation of a digital platform for exhibition and training that will bring together creative researchers from the Asian diasporic community.
"I look forward to this collaborative research initiative and anticipate a synthesis of emerging knowledge working with colleagues in the academic and arts communities, including Dr. Taien Ng-Chan of York University, Sean Lee of Tangled Art + Disability, Aram Siu Wai Collier of Toronto Reel Asia International Film Festival, and Lesley Loksi Chan of Centre for Artistic and Social Practice," says Laganse.
"Collectively, our team will create a digital platform called The Sari-Sari Xchange with new extended reality (XR) media technologies, as they apply to more inclusive cultural outputs and processes. The goal is to determine how community-centered research-creation can be genuinely led by marginalized groups through decolonial practices."
The funding was announced today by Minister of Innovation, Science and Industry, The Honourable François-Philippe Champagne, and the Minister of Health, The Honourable Jean-Yves Duclos.
"Research and scientific discovery are paving the way towards a more equitable, inclusive and healthier Canada. Our government is committed to better understanding the causes of systemic racism and discrimination to inform strategies that will tackle them within our systems. Supporting community-led research grounded in lived experience will help us do just that," says Duclos.
Karen Mossman, McMaster's vice-president, research commends both recipients and their teams for their achievements and SSHRC for investing in research that centres the experiences and needs of underrepresented groups in Canada.
"Congratulations to the recipients of this brand-new initiative," says Mossman. "McMaster is proud to support community-based research projects like these that address systemic barriers in health care and media and help foster diversity and inclusion in these spaces."