Two McMaster women leading the next wave in astronomy, critical care research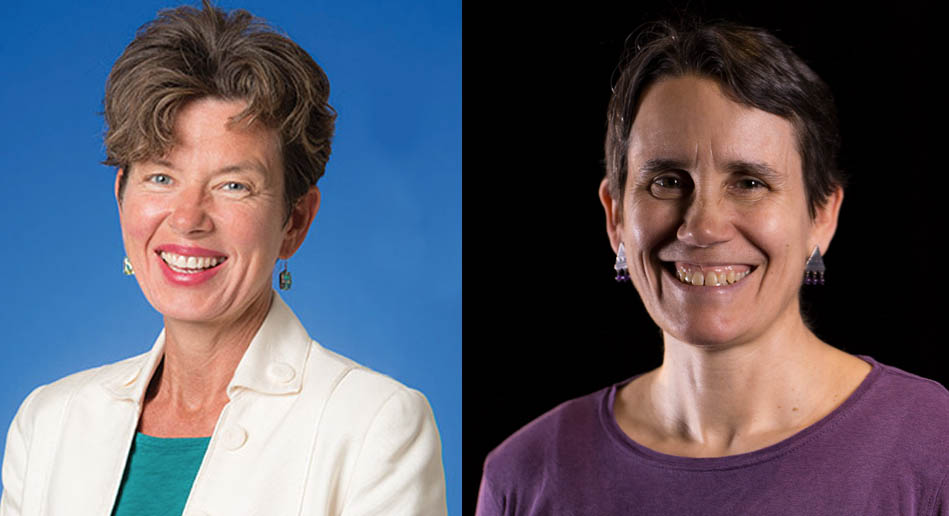 Deborah Cook, left, and Christine Wilson have been named Killam Research Fellows by the Canada Council for the Arts.
---
BY Danelle D'Alvise
May 2, 2017
Molecular clouds and microbiota. Galaxies and gastrointestinal tracts. Planets and probiotics.
While the words in every one of these pairing seem wildly dissimilar, they do share one very important thing in common: they're key terms found in two pioneering projects that have been selected for prestigious Killam Research Fellowships.
Christine Wilson and Deborah Cook – both Tier 1 Canada Research Chairs and Distinguished University Professors – were two of only six outstanding Canadian researchers awarded a Fellowship in the 50th annual competition administered by the Canada Council for the Arts.
Wilson, the Canada Research Chair in Extragalactic Star Formation, will undertake Dense Gas and Star Formation in Galaxies: an ALMA Archival Project, with the goal of understanding one of the most important unsolved problems in modern day astronomy – how stars form.
Using archival data from the Atacama Large Millimeter/submillimeter Array (ALMA), Wilson will be using her expertise as one of Canada's foremost observational astronomers to carry out a systematic survey of molecules that trace the dense star-forming gas in at least ten – and as many as two dozen – galaxies.
Wilson believes that her Killam Research Fellowship will be "the first large archival project using spectral line date at radio or millimetre wavelengths in the entire field of astronomy," taking on the challenge of understanding our universe.
"Galaxies are made up of stars, planets orbit around stars. If you understand how you form a star, you can then understand how a galaxy is formed, how planets are formed."
Critical care physician Deborah Cook, the Canada Research Chair in Research Transfer in Intensive Care, will be leading a team of coast-to-coast experts in a project that is also a first: a large clinical trial testing whether probiotics favourably influence microbiota of the respiratory and gastrointestinal tracts and thereby decrease the chance of developing new infections during critical illness.
Little is known about how human microbiota – the trillions of organisms living in or on us – are influenced by critical illness. With many co-investigators and key colleagues at McMaster including Michael Surette, Canada Research Chair in Interdisciplinary Microbiome Research, Cook will tackle Modifying the Microbiome in Critical Illness: The Potential of Probiotics.
"I'm honoured to receive a Killam Research Fellowship, which will help to accelerate this research," says, Cook. "Probiotics are an inexpensive, readily available intervention that may confer health benefits in the intensive care unit. Determining whether they reduce the risk of pneumonia or Clostridium difficile infection, for example, is highly relevant for clinical practice, infection control and health care policy."
Cook will be working with colleagues in the Canadian Critical Care Trials Group – a research consortium which she helped to found in 1989 – to understand the disturbed microbiome during critical illness and its potential modification through probiotics (the equivalent of two yogurts a day).
The Killam Research Fellowships provide researchers full teaching and administrative release for two years, plus $70,000 per year so they may pursue their independent research on a specific project.
"McMaster is immensely proud of the fact that it's only the second time in the history of the Killam Program that two women from the same university have been chosen to receive this esteemed research fellowship," says Rob Baker, vice-president, research. "Both of these scientists have created an enduring body of research that has influenced their respective disciplines worldwide, and I commend the Killam program for recognizing the value of their pioneering work."
The Killam Research Fellowships awards support scholars engaged in research projects of outstanding merit in the humanities, the social, natural and health sciences, engineering and interdisciplinary studies within these fields. The Killam Selection Committee, made up of 15 eminent scientists and scholars representing a broad range of disciplines, considered dozens of applications during this year's selection process. The Killam research Fellowships are made possible by a bequest from the late Mrs. Dorothy J. Killam.
McMaster's Previous Killam Research Fellows:
Catherin Kallin (Physics) 2013; Gerry Wright (Biochemistry) 2011; Walter Craig (Math & Stats)2009; Bruce Gaulin (Physics) 2007; William Harris (Astronomy) 2007; Katherine Dunbabin (Classics) 2004; Mike Brook (Chemistry) 2002; Henry Schwarcz (Earth Sciences)1993; James King (English) 1988; Linda Hutcheon (English) 1986); Pierre Conlon (French) 1982; Alexander McKay (Classics) 1979; J. Robinson (Physics) 1978; William  Slater (Classics) 1976; E.P. Sanders (Religious Studies) 1974; George Grant (Philosophy) 1971; David Winch (Economics) 1970