VP Research updates Board of Governors on ways to support McMaster's research excellence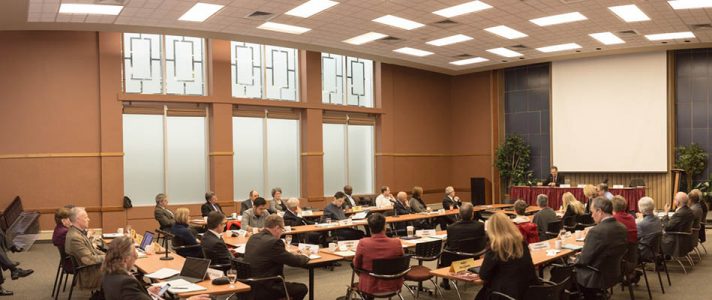 BY Erica Balch
March 6, 2017
McMaster's Vice-President of Research, Rob Baker updated the Board of Governors on plans to maintain, enhance and improve the University's position as a research leader in Canada and around the world.
"McMaster has long been defined as a research powerhouse and we should be incredibly proud of that," says Baker. "At the same time, we need to push forward in several areas or we risk slipping back. In order to maintain and improve our position as a research-intensive university, we need to take a hard look at where we stand relative to our main competitors. We're going to have to make some tough decisions and work to maintain and improve our position."
Baker, who has been in the role since July 2016, was invited by the Board of Governors to share his views on his first eight months and answer questions from Board members.
In his remarks, he reinforced the importance of McMaster as a place of research excellence and outlined a number of ways his office will help support research at McMaster going forward.
He spoke about a new strategic research plan to be developed by a committee of top researchers from all Faculties and will identify key priority areas and how they will be supported. This process will take place over the next several months and will include wide consultation.
Baker also underscored McMaster's research success and areas of strength, pointing to the University's many industry partnerships and to its position among the top ranked universities in Canada in total research income. He highlighted the significant contributions of the McMaster Industry Liaison Office (MILO), and the importance of the McMaster Innovation Park (MIP) to both the University and to the City of Hamilton.
As an example of McMaster's success in the area of commercialization, Baker referenced the Centre for Probe Development and Commercialization (CPDC) founded by John Valliant, a Canada Research Chair in Medical Isotopes and Molecular Imaging Probes. The CPDC recently secured $25M US ($33M CDN) in venture capital financing to launch a new pharmaceutical company that will develop cancer treatments and will be located at MIP
Going forward, Baker says his office will look for further ways to help researchers develop these kinds of commercialization opportunities.
In addition, Baker emphasized the significant research output of McMaster's research institutes and centres, highlighting two of the University's newest institutes, the McMaster Institute for Research on Aging and the Indigenous Research Institute.
Baker also pointed to his commitment to better serve the research community on major awards and grants – specifically, large grant applications like the Canada First Research Excellence Fund (CFREF). He said his office will find ways to enhance support for large funding programs and will work with the Deans, the Provost and the President to prepare large institutional packages for these applications.
He also committed to following up on the findings of a comprehensive survey of McMaster's research community undertaken last year by then Interim Vice-President of Research, Allison Sekuler.  The results suggest there are a number of areas which could be improved and he will review the findings to gain a full understanding of the issues identified, and how they can be addressed.
"We will need to work to further understand these concerns and to clarify what needs to be done to address them, and improve relationships," he said.