Walking the walk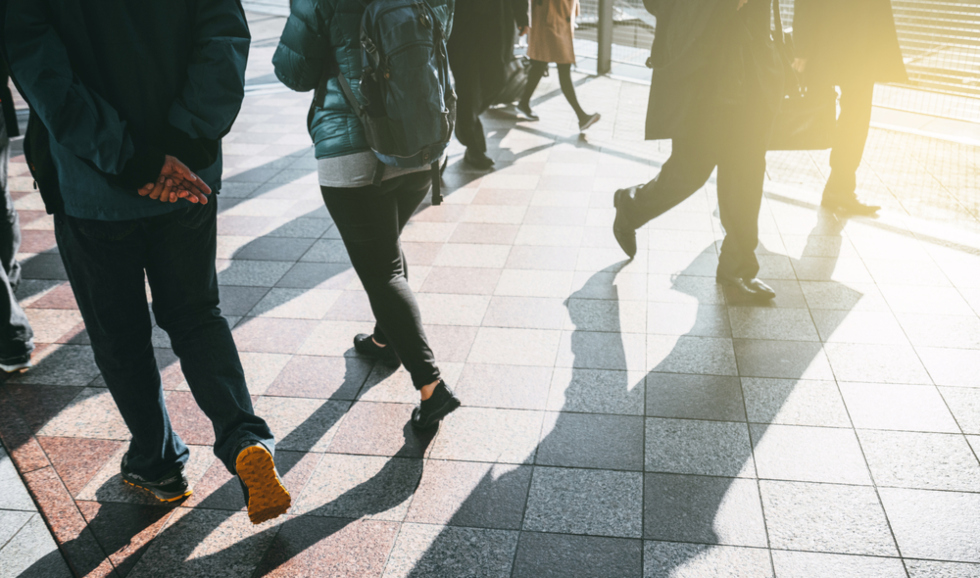 Photo by Shutterstock
---
BY Sara Laux, Faculty of Humanities
February 25, 2021
In March 2020, Stephanie Springgay, director of the School of the Arts in McMaster's Faculty of Humanities, got an Insight grant from the Social Sciences and Humanities Research Council. The plan: to examine how we understand a place – a city, a neighbourhood, a trail, a park – in a critical way through the act of walking, and to respond to that walk artistically.
"A lot of the history of walking has made it seem very de-politicized – think about the autonomous walker, the walker who can walk anywhere – when, of course we know that someone's gender, race, immigration status and a number of other factors make walking very much a political act. We wanted to bring these concepts to how we understand place," explains Springgay, who co- directs WalkingLab, a long-running research-creation project that uses art and public walks to critically examine issues like racism, colonialism and ableism.
Research-creation brings together creative practices with other forms of research methods and is often defined as "thinking-making-doing" research practice.
Springgay and her research partner, Sarah Truman from the University of Melbourne, originally proposed to work with diverse groups of people, including students, teachers, artists and the general public, to go on group walks and explore the act of walking through an anti-racist, anti-colonial, anti-ableist lens: Who gets to walk where? How are people made to feel welcome or unwelcome in a space? How has the space been transformed over time, and who has that affected?
And then COVID-19 hit.
People retreated to their homes, lockdown restrictions descended, and group walking projects simply weren't feasible.
But while the number of people out walking dropped off in the early days of the COVID-19 pandemic – at least according to data from FitBit – it quickly became many people's exercise of choice, as gyms shut down and indoor gatherings were discouraged or prohibited.
So Springgay and Truman decided to work with the situation. If group walks like the ones WalkingLab had done in the past weren't practical, they would find other ways to encourage people to think about their walks from new perspectives.
Their project now involves two elements: a podcast series, launched in mid-February and designed to be listened to while walking, and a series of "scores": open-ended prompts that invite participants to engage in their walk in an artistic way.
Eight episodes in, the podcast covers the different concepts that inform WalkingLab's work: mapping and decolonization, urbanization and racial politics, walking and the way walking has affected the evolution of a particular place.
Each 10- to 15-minute episode suggests a different type of walk to take, and while the concepts are scholarly, they're presented in an accessible way – aimed at an audience of high school students, undergraduates and the general public.
The scores – there are 12 in total – are printed on postcards, and up to 1,200 will be sent to anyone who requests one. One says, "Find echoes and folds of/for a revolution." Another, "Consider economic activity." Walkers are encouraged to use the score to activate a walk by themselves or with those in their household or bubble, then document the walk.
Springgay says documentation could include anything from digital photographs to a collage to a drawing to other types of ephemera. A selection of pieces will be curated for the website and included in an artists' book.
To loop in a diversity of ages, there also will be a lesson plan available for high school teachers to use with their students, loosely aligning the project with geography, history, math – anything that requires engaging with a place while walking beyond simply taking in the scenery.
"The criticality that WalkingLab has brought to walking isn't just, 'I'm going for a walk because my body needs to move,'" says Springgay. "We want people to think: Where am I walking? What is the history of this place? How did I arrive: as a settler, as an immigrant? What does it mean for me to move through this place? Have I invited other people to come on this small walk with me, and who are they?"
To request a postcard from WalkingLab and participate in the project, email springgs@mcmaster.ca. To listen to the podcast, go to the WalkingLab website, Apple Podcasts or Spotify.