Watch: MacTalks brings together McMaster researchers for virtual conversations about the world's challenges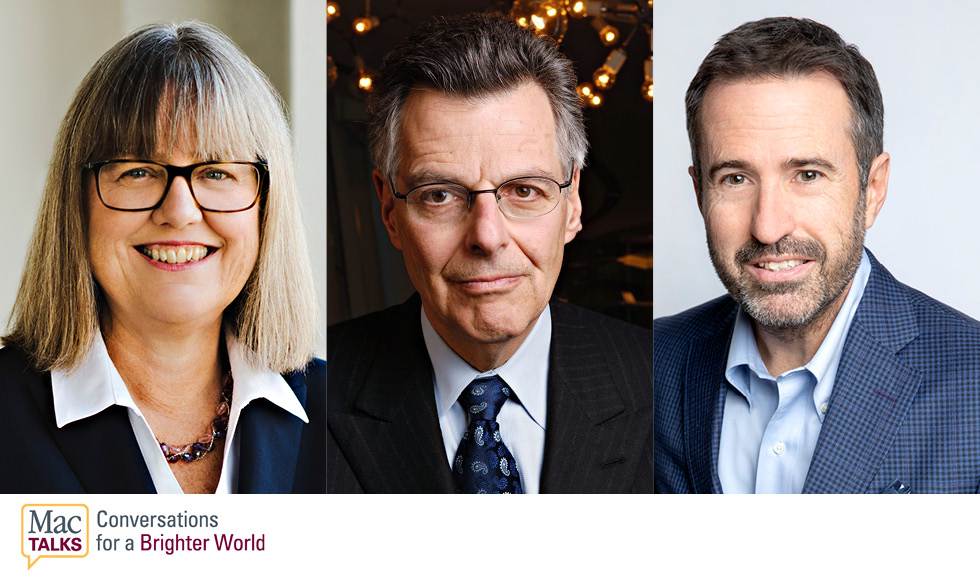 Donna Strickland, Myron Scholes and John Stackhouse were featured in the third conversation in the MacTalks virtual series: Why the Nobel Prize Matters
---
December 10, 2020
MacTalks is an ongoing series of virtual conversations featuring McMaster researchers at the forefront of tackling some of the world's most pressing challenges, bringing a global view to the many issues we face today.
The series kicked off with Behind the Lab Door, which goes inside the leading-edge research that's making a difference in the fight against COVID-19.
The inaugural talk featured Karen Mossman, a molecular virologist and McMaster's acting vice-president, research, and Gretchen Reynolds, a columnist with the New York Times and the first journalist-in-residence for McMaster's Faculty of Science.
Earlier this year, Mossman and her research team, along with partners at Sunnybrook and the University of Toronto, isolated the new coronavirus, which was an important first step in allowing researchers to develop and test potential treatments and vaccines.
In their conversation, Mossman and Reynolds talked about everything from the urgent race to isolate the virus, what's standing in the way of a vaccine and how the virus is changing the way scientists work.
The talks continued with Preventing the Next Pandemic, which explored innovative research and what it will take to prevent future pandemics.
Gerry Wright,  the inaugural lead of McMaster's new Global Nexus for Pandemics and Biological Threats and scientific director of the Michael G. DeGroote Institute for Infectious Disease Research, chatted with author and journalist Maryn McKenna, a senior fellow at the Center for the Study of Human Health at Emory University.
Both are experts in antimicrobial and antibiotic resistance (AMR), a growing global threat as more and more bacteria become resistant to medications designed to fight infection and speed healing – making a procedure as simple as a tooth pulling potentially deadly. In Canada, AMR is already twice as deadly as traffic accidents and homicides combined.
The series' third and latest installment, called "Why the Nobel Prize Matters," featured two of McMaster's Nobel laureates, Myron Scholes and Donna' Strickland, in a discussion moderated by author John Stackhouse.
Scholes and Strickland talked about the impact of receiving one of the world's most high-profile and prestigious prizes on their personal and professional lives.