Watch: 'Now is the time for change' — A MacTalks discussion on long-term care homes and the pandemic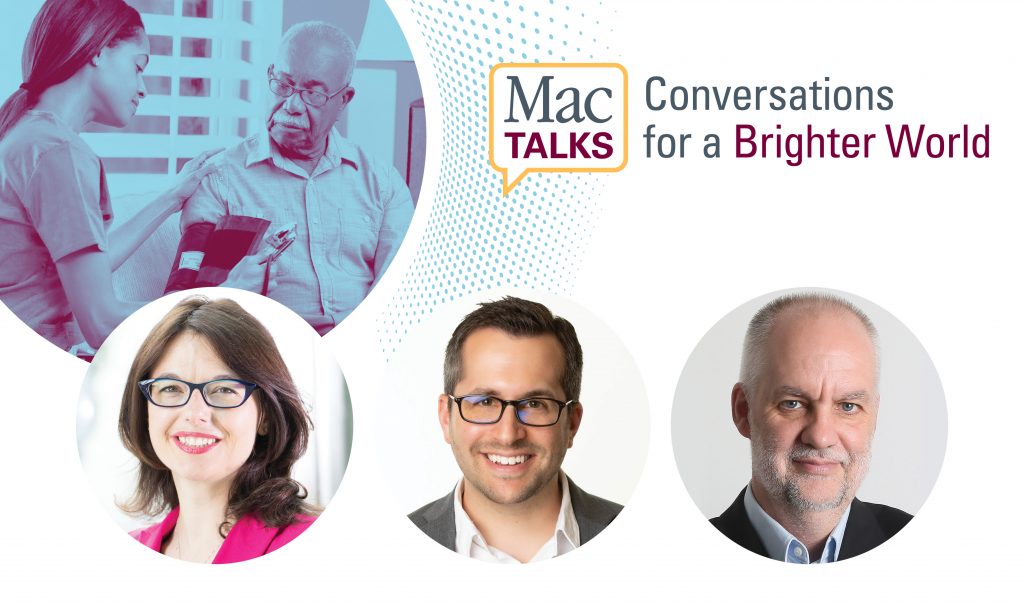 Listen in on an informative conversation between renowned health journalist André Picard and McMaster researchers Dawn Bowdish and Andrew Costa as they talk outbreaks, vaccines and immunity.
---
April 23, 2021
More than 16,000 Canadians have died of COVID-19 related causes in congregate settings, such as long-term care homes and nursing homes. How did we get to this point? And what can older adults do to protect themselves and stay healthy?
In the latest edition of conversation series MacTalks, McMaster's Dawn Bowdish and Andrew Costa spoke with Globe and Mail health reporter and columnist André Picard about the impact and implications of the pandemic for long-term care residents.
A long-standing problem
Canada has had a problem with infections in long-term care for decades, Bowdish noted. Between the structure of many facilities — staff who work in multiple settings, challenges with nutrition, exercise and ventilation — and the vulnerabilities of older adults' own immune systems, it's not surprising that COVID-19 has hit residents in these facilities so hard, she said.
Bowdish and Costa, who head one of the largest single studies focusing on long-term care homes in Canada, explained their project in easily understood terms. But they also answered a range of questions on the impact of isolation, what might constitute an ideal model of care for older adults in Canada and how the pandemic might affect the spread of flu going forward.
Ultimately, there are no easy answers. And with such a clear insight into the problems facing long-term care, what gives these researchers hope for the future? "The conversations that we're having now are overdue, but I think we can catch up," Costa said.
"We'll make those smart choices as a society and as individuals that really suit people's needs."
For better or worse, the pandemic has mobilized people to take action and push for better care and policy, Bowdish said.
"Now is the time for change, and I think we've got the right critical mass to do that."
About the speakers
Dawn Bowdish focuses on understanding how the immune system fights infection in older adults. Her research explores ways in which age-related changes in immune response contribute to increased susceptibility to infection and diseases. She's a professor of pathology and molecular medicine at McMaster University and is the Canada Research Chair in Aging & Immunity.
Bowdish  runs the Preclinical Studies in Aging Laboratory (www.psal.ca), and is on the Board of Directors of the Lung Health Foundation, where she advocates to increase research funding for lung health and to increase lung health in older adults.
Andrew Costa studies evidence-based care and health policy affecting older adults. His focus is on developing and evaluating models of care and decision support systems in home and community care, long-term care, and emergency departments.
He is the Schlegel Research Chair in Clinical Epidemiology & Aging and is an assistant professor in the department of Health Research Methods, Evidence, and Impact and the department of Medicine at McMaster.
André Picard is an award-winning health columnist and commentator at The Globe and Mail, and the bestselling author of Neglected No More, a piercing look the state of elder care in Canada. He is an eight-time nominee for National Newspaper Awards, and has received the prestigious Michener Award for Meritorious Public Service Journalism.
MacTalks is an ongoing series of virtual conversations featuring McMaster researchers at the forefront of tackling some of the world's most pressing challenges, bringing a global view to the many issues we face today.