Will Ontario's $10 daycare deal be enough? Expert Adrienne Davidson weighs in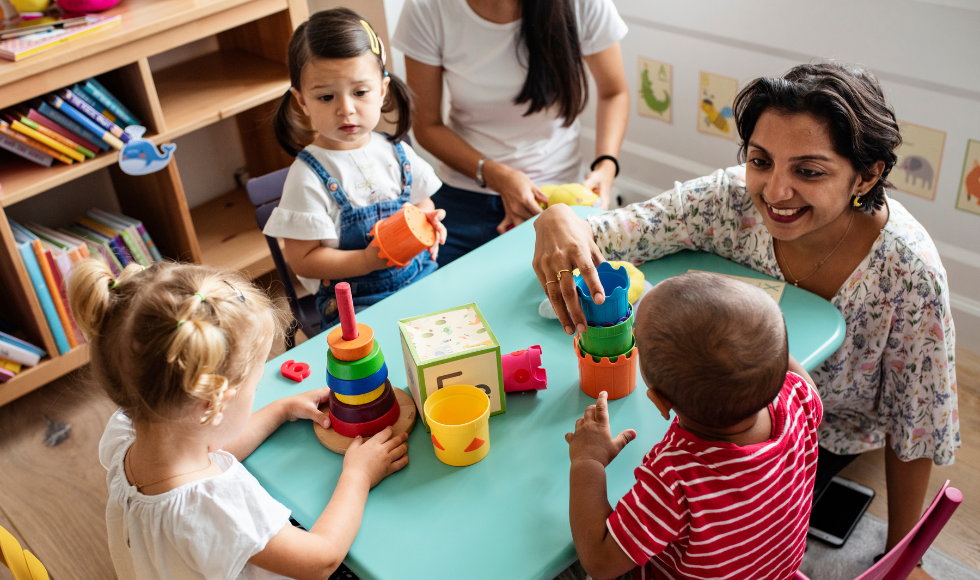 While Ontario's affordable daycare deal is a step in the right direction, questions remain about whether enough spaces will be created to meet demand, and whether the families most in need of child care will benefit, Adrienne Davidson warns.
---
BY Andrea Lawson
July 21, 2022
Now is the time for Ontario child-care providers to enroll in a new program to create affordable daycare, and to get a sense of how many spaces will be available and how far they will go to meet the demand, a McMaster expert on child-care policy says.
In March, the provincial government signed a child-care deal with Ottawa, with a pledge to substantially reduce the cost of child care to an average of $10 a day.
"The big question is how many will sign up by the September deadline," says Adrienne Davidson, an associate professor of political science, noting that some Ontario municipalities have already started the process.
"It's clear not all providers will sign up — most non-profit providers will, because the agreements and funding arrangements will likely align decently well, but there's a question about private providers, which make up about 30 per cent of child-care providers in Ontario."
That leads to the question of how many spaces will be available.
The child-care agreement says there will be 86,000 new spaces in Ontario, but that number includes 15,000 spaces that have already been created, Davidson says. So the agreement actually creates 71,000 new spaces, which isn't nearly enough, she warns.
"Conservative estimates suggest we need somewhere between 100,000 and 200,000 new spaces to actually meet current demand," says Davidson, noting that the implementation of $10-a-day childcare will likely create even more demand as it becomes an option for people who had previously not considered care because it wasn't affordable to them.
"That could mean an additional 100,000 spaces are needed by the time the agreement finally gets put in place, so we are well below what's needed in terms of care."
There are ways this can be addressed, such as unlicensed home child-care providers opting to become regulated, she says.
"We have no way of knowing how many children are in these unlicensed settings. By bringing these providers into licensed care, we are taking spaces already within the system and improving pieces around quality, access, and affordability."
The agreement should look at ways to incentivize such providers to become licensed, including allowing for some write-off of expenses and opting into benefits and pension programs, as well as other enticements to join and stay in the field, she says.
The creation of new spaces will also require more Registered Early Childhood Educators (RECEs), and that may be challenging.
"There's lot of people who want to become RECEs, but the sector has a huge challenge in keeping them," Davidson says. "We lost of a lot during the pandemic — it was a job that was high stress and low pay and lots of RECEs have moved on to other areas."
With wages starting at $18 an hour, Ontario's pay scale for RECEs is well below that of other provinces. In Manitoba, for example, pay starts at $25 an hour. There is also more Ontario could be doing when it comes to benefits and sick pay, Davidson says.
"Unless the sector can compete with other sectors, like education, it's going to be hard to keep RECEs in childcare. It needs to be a place people will want to work long-term. The current agreement doesn't get us there," she says.
But overall, the agreement will be good for parents – particularly women— and "the creation of high-quality, regulated spaces is good for kids," Davidson says.
One area to pay special attention to is which kids benefit most from the deal, she says.
"Already, low-income and racialized families do not have the same access to high-quality, regulated care and these are the kids that stand to benefit the most from early childhood education."
It will be important to ensure the new, low-cost spots don't go only to middle- to upper-income families who already have more flexibility and resources, she adds.
"There are questions we are going to need to keep asking of government to make sure that this system is actually a system that's being built to meet the needs of all families."