Working for change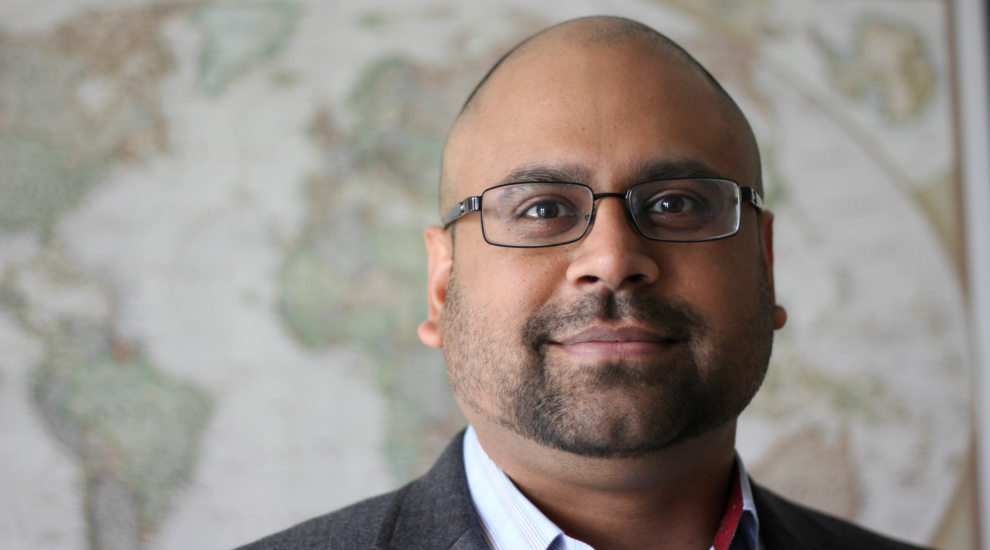 BY Sara Laux
March 23, 2018
A framed poster – three clenched fists rising above the Hamilton skyline – hangs on the wall of Ameil Joseph's office in Kenneth Taylor Hall.
It's from the Anti-Racism Action Initiative, which was organized last November by the McMaster Womanists working in collaboration with a number of community organizations. At the event, 250 people gathered at Hamilton's Central Library to discuss experiences of racism and draft community-based solutions – the largest youth-directed community event related to racism the city had ever experienced.
Joseph – an assistant professor in McMaster's School of Social Work, whose research focuses on race, racism and social justice – looks at the poster when the work he does to try and change things for the better feels like it's moving slowly.
"It often feels, especially in some of these recent moments in time, that we're running uphill on a treadmill going backwards," he says. "You appreciate these moments of success and organizing."
Joseph says the history of his family – descendants of Indian indentured labourers brought to South America after the dissolution of the African slave trade – fuels his own present-day work and research, which began in childhood with his father. A part of Guyana's independence movement before coming to Canada, his father made politics, community advocacy and an attention to social justice as much a part of life as pepperpot, the traditional special-occasion Guyanese stew Joseph still cooks today.
"Those things shape my attention – the attention to history, the influence of historic patterns…the processes that rationalize exploitation and dehumanization that we forget about – all those things come together in my work."
After completing a psychology degree at Waterloo and a master of social work at Laurier, Joseph started working with a community mental health team through the Canadian Mental Health Association in Toronto. It was then that he started to become aware of deep historic connections between the immigration, mental health and criminal justice systems that continue to contribute to the marginalization of people, especially those in racialized communities.
"Some of the discriminatory ideas within immigration law got embedded in the criminal code and were involved in some of the early working of the Mental Health Act – which then cross-pollinated in all these policies that … consolidated notions of undesirability – the idea that immigrants carried with them some sort of hereditary defectiveness," he explains. "Those created policy shifts and exclusion criteria that still exist today for reasons that don't make much sense."
Based on that awareness, he completed a PhD at York. And while much of Joseph's current research looks at the historic roots of systemic, institutional racism in Ontario, he carries that historic awareness into his work in the present day.
At McMaster, he is the chair of the President's Advisory Council on Building an Inclusive Community (PACBIC), which oversees eight working groups dedicated to inclusion and equity work on campus. Recent PACBIC initiatives have included advocating for a new associate vice-president responsible for Equity and Inclusion and an HR employment equity specialist position, contributing to the creation of all-gender washrooms, a forthcoming accessibility policy and work on the development of the school's sexual violence response protocol and policy as well as a sexual violence response coordinator position.
Most recently, Joseph was named the Faculty of Social Science's Scholar-in-Community, a $15,000 fellowship that enables the recipient to work directly with a community organization. He has been working with the newly launched Hamilton Anti-Racism Resource Centre, a partnership between McMaster, the City of Hamilton and the Hamilton Centre for Civic Inclusion to provide support, referrals and information to people affected by racism in the city.
"Right now, things that don't meet the criteria for a hate crime, hate propaganda or something to be submitted to the Ontario Human Rights Tribunal can fall through the cracks," Joseph says. "If they're not caught by institutions, often people can feel like they're alone and dealing with it in isolation."
While the resource centre will deal with incidents on an individual level, Joseph will analyse the data collected from individuals' experiences to create a picture of systemic, structural patterns of racism. The centre's steering committee, which will be made up of community representatives, will use Joseph's data to identify reporting and advocacy priorities for the city's Committee Against Racism.
This is a unique model for dealing with racism, says Joseph.
"This is a different approach – it acknowledges not only that racism is experienced individually and involves people's beliefs, biases and prejudices, but also that these things are institutionalized, and experienced in larger historical patterns."