$1 million gift from LiUNA creates new Chair in Global Labour Issues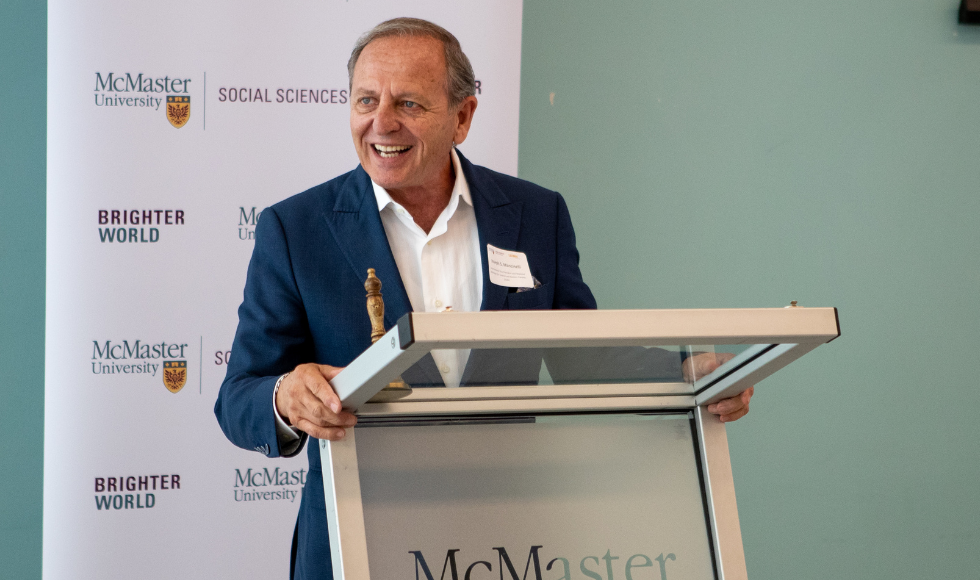 Supported by the Faculty of Social Sciences, the donation will transition the LiUNA/Enrico Henry Mancinelli Professorship in Global Labour Issues to a research chair with renewed scope and increased capacity.
---
May 16, 2022
Global labour research at McMaster has received a significant boost with a $1 million investment from the Labourers' International Union of North America (LiUNA).
The new gift will establish the LiUNA/Enrico Henry Mancinelli Chair in Global Labour Issues in the Faculty of Social Sciences. The donation will be supported by the faculty, transitioning the existing LiUNA/Enrico Henry Mancinelli Professorship in Global Labour Issues to a prestigious research chair with renewed scope and increased capacity.
This investment is a continuation of LiUNA's ongoing history of support for McMaster, as well as its commitment to the legacy of late trade unionist Enrico Henry Mancinelli.
A champion of workers
Born in a small Italian village in Abruzzo, Mancinelli came to Canada in 1952 after serving as a police officer in Rome. After earning his business degree in 1958, he joined LiUNA Local 837, while working as a timekeeper for a Hamilton construction company. Mancinelli took on a leadership role within the union and in the following years, he rapidly rose through the ranks until he was appointed LiUNA's Canadian director in 1990.
Throughout his distinguished career, Mancinelli was known for his philanthropy toward new immigrants, workers and the disenfranchised.
His son, Joseph S. Mancinelli, LiUNA International vice-president and regional manager for Central and Eastern Canada, spoke of his father's lasting impact.
"I am the proud son of a humble trade unionist who dedicated his life to improving the lives of working Canadians and their families," he said.
"LiUNA and McMaster's continued commitment to global labour issues is a testament to my father's legacy, his perseverance and his desire for everyone to have access to the tools to build a stronger future. His legacy is remembered in his sound advice, Sempre Avanti — always move forward.
"Today, LiUNA is proud of our ongoing partnership with McMaster and to continue moving forward for the betterment of labour, research and education, and our greater community."
Social Sciences Dean Jeremiah Hurley said the new gift will advance research and scholarship in global labour issues, which is vitally important to understanding the intersection of work, workers and innovation, as well as labour policies, regulations and laws, from a global perspective.
"We are most grateful to LiUNA for this investment," Hurley said. "It is a tremendous signal of confidence in McMaster's status as a national and international leader for research on labour issues.
"This partnership with one of the most vibrant labour organizations in North America will strengthen our efforts to lead scholarly research in these critical areas."
Legacy and leadership
The School of Labour Studies has long been a source of pride for McMaster and this new investment is critical to advancing McMaster's contributions to the study of contemporary global labour issues, President David Farrar said.
"The new chair, which builds on LiUNA's legacy and leadership, will energize our research capacity and enrich the student learning environment, while expanding our ability to train the next generation of global labour scholars," Farrar said.
Labour Studies Professor Judy Fudge, the current LiUNA Enrico Henry Mancinelli Professor in Global Labour Issues, will transition to the new research chair. Fudge's research focuses primarily on labour exploitation.
Her next research project will investigate how governments in developed countries use laws and policies to prevent products made by forced labour from entering the supply chain. Fudge hopes to identify the best practices for addressing forced labour around the world.
"It has been a tremendous honour to hold the professorship. Working people built this country and laid the foundations for the pursuit of dignity and knowledge," she said.
"LiUNA's commitment to McMaster has allowed me to continue to explore pressing contemporary labour law issues, and to support emerging researchers committed to the School of Labour Studies' long-standing engagement with matters that are of critical importance to work, working people and their communities."