5 tips to help with eczema in babies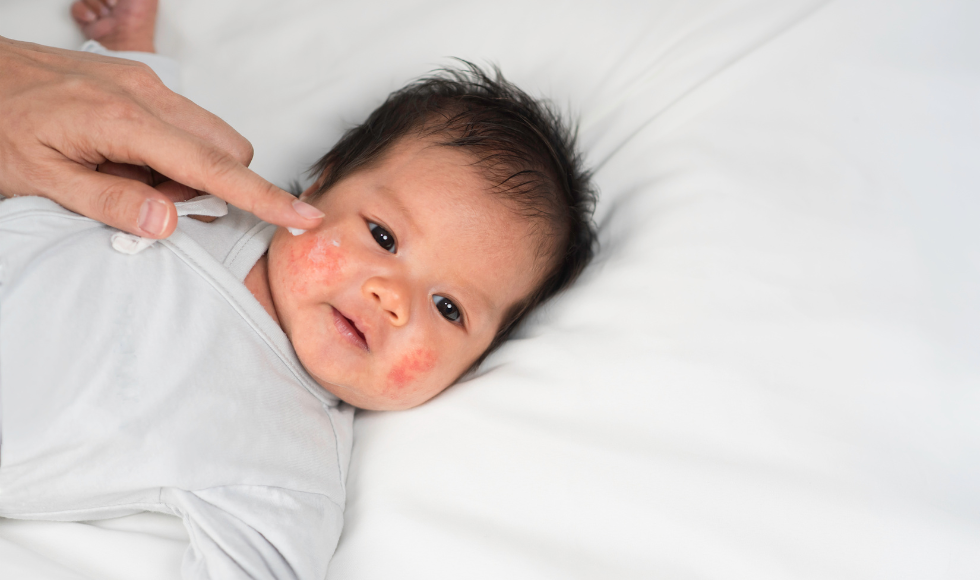 Handy advice from allergy physician Derek Chu, to help parents manage atopic dermatitis, an often stressful condition that takes a toll on families. (Shutterstock image)
---
BY Fram Dinshaw, Faculty of Health Sciences
November 8, 2022
Eczema, or atopic dermatitis, can be very stressful for babies and their parents. Assistant professor of medicine and allergy physician Derek Chu offers some tips to manage eczema in babies.
He recommends
using moisturizer twice daily to manage the eczema
using the lowest possible dose of topical steroids to control flare-ups either once or twice a day
avoiding the routine use of antibiotics to treat secondary local infections
recognizing that avoiding certain foods may not improve symptoms and even increase the risk of food allergies
Recognizing babies often have flare-ups on their cheeks, outer limbs and trunk, instead of their knee or elbow creases.
Chu's advice for parents appeared in the Canadian Medical Association Journal this week.
"Atopic dermatitis affects 10 to 20 per cent of Canadian infants. Recognizing atopic dermatitis, getting it into remission, then keeping control can be challenging for both clinicians and caregivers," he said.
Chu is co-chair of the upcoming American Academy of Allergy, Asthma and Immunology and the American College of Allergy, Asthma and Immunology eczema guidelines.
His hope is that these five key messages for care providers and caregivers will promote best practices for managing eczema in infants.
"Atopic dermatitis affects more than just the skin, and it impacts on the whole family, so optimally managing atopic dermatitis at this critical stage in an infant's development is important."