Ashirbani Saha named inaugural BRIGHT Run chair in oncology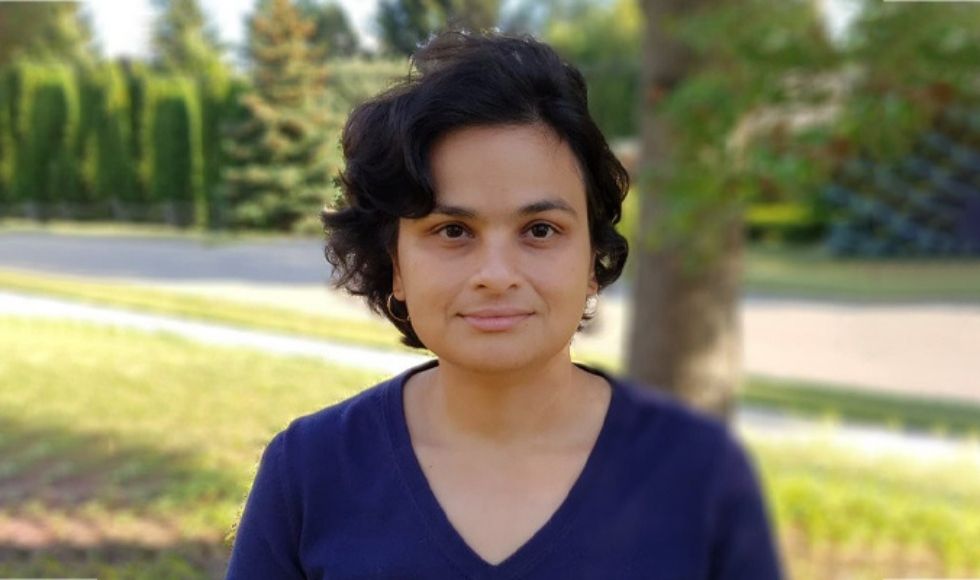 Engineer and data analytics expert Ashirbani Saha will develop a collaborative interdisciplinary research program to improve the care of breast cancer patients.
---
September 10, 2021
Ashirbani Saha, an engineer who recently joined the Michael G. DeGroote School of Medicine's oncology department as an assistant professor, is the inaugural holder of the BRIGHT Run Breast Cancer Learning Health System Chair, a research chair established with the support of community members who volunteered, ran and donated funds for the annual Hamilton BRIGHT Run for breast cancer research.
BRIGHT Run organizers donated $2 million to permanently fund the  endowed research chair focused on advanced analytics in breast cancer and oncology, which was announced last week at a virtual event.
McMaster is adding $2 million to the endowment.
---
Read more: BRIGHT Run and Mac announce Breast Cancer Learning chair — Hamilton Spectator
---
As the BRIGHT Run chair, Saha is focusing on developing a collaborative interdisciplinary research program, using advanced data analytic techniques including artificial intelligence (AI) to improve the care of breast cancer patients. She will draw on the large amount of local data through McMaster University and Hamilton Health Sciences.
"Dr. Saha's recruitment is a bold move. By bringing an engineer into a clinical department, our breast cancer research agenda will be launched to the next level," — Mark Levine, professor of oncology, world-renowned breast cancer researcher and a founding member of BRIGHT Run
Nancy McMillan, BRIGHT Run executive committee chair, says her organization was keen to see Saha bring her unique perspective and skills in advanced analytics to collaborate closely with clinicians and researchers to unravel the puzzle of breast cancer.
"The BRIGHT Run is remarkable among charitable events, because every dollar raised by participants goes directly to research," MacMillan says. "The event is organized and hosted entirely by volunteers, with the financial and in-kind support of our community partners. This new position is a fitting and important legacy for the BRIGHT Run."
The chair was established to improve the outcomes for people with breast cancer, Saha says. "I have a chance to make a positive impact on human lives through my research and this is what motivates me every day to make a difference."
"Healthcare analytics are vital, because they require a lot of input from clinicians and other disciplines closely related to oncology."
The scope of Saha's data analytics research has expanded into healthcare from engineering, through her previous research including analytics in breast cancer imaging in the radiology department at Duke University in North Carolina, and in injury prevention and neurosurgery at St. Michael's Hospital in Toronto.
"Dr. Saha has a solid track record of both strong leadership and engineering expertise that she has successfully leveraged to improve diagnostic testing and imaging of cancer patients," says Paul O'Byrne, dean and vice-president of McMaster's Faculty of Health Sciences.
"Her innovations in the field of data science will help save the lives of people with breast cancer and further McMaster's international reputation for cutting-edge medical science."
Jonathan Sussman, professor and chair of the Department of Oncology, says the department is delighted Saha is joining as the inaugural chair.
"Her addition to a multidisciplinary and talented group of researchers and clinicians will advance our understanding of how advanced analytics can be used to address complex health care problems," he says.
"Dr. Saha is ideally positioned for this role given her expertise and research track record, using machine learning and advanced analytic techniques, coupled with her deep interest in understanding how these approaches can be applied to improve the lives of those living with or affected by breast cancer."
Saha completed her undergraduate engineering studies in India, before earning her master of applied sciences and PhD in electrical and computer engineering from the University of Windsor.
The BRIGHT Run, founded in 2008, is an annual walk/run held at the Dundas Valley Conservation Area to raise money for breast cancer research. This year's event on Saturday, Sept. 11 will be virtual. Click here for more  information on the BRIGHT Run. 
This year's BRIGHT Run Survivor Spokesperson is McMaster professor and cancer biologist Juliet Daniel.