Big news about big muscles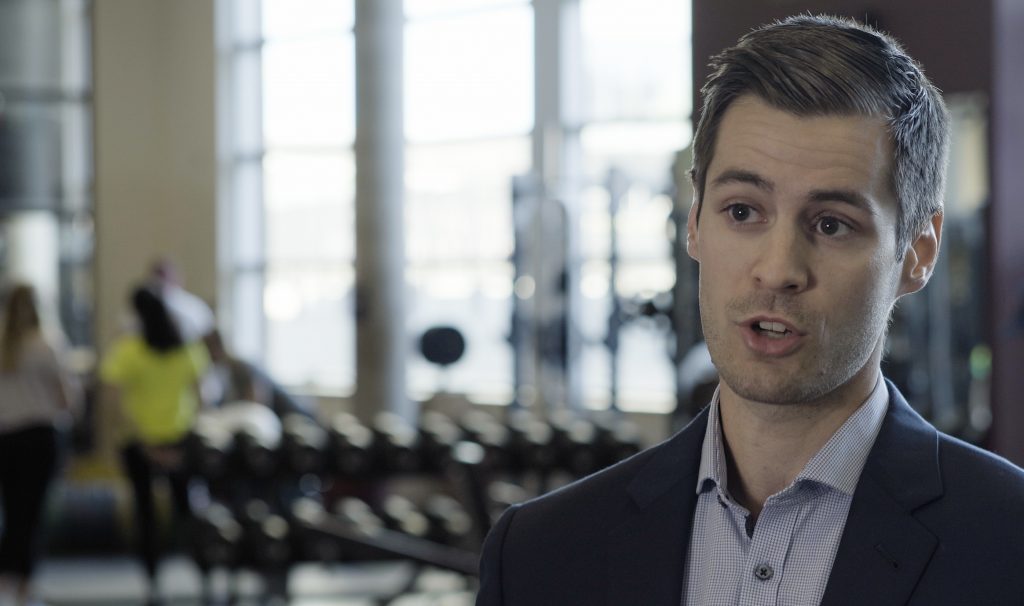 'There's definitely a genetic blueprint that determines much muscle a person has and how much muscle they can put on,' says Kinesiology PhD student Rob Morton. Photo and video by J.D. Howell
---
November 14, 2018
Genetics play a huge role in muscle growth — and in eventual muscle loss, according to new research from McMaster kinesiology PhD student Rob Morton.
"People believe that testosterone and other hormones drive muscle growth," Morton says. "That is, that the amount of testosterone you have at rest when you wake up, and the amount of testosterone you have after exercise, determine how much muscle you put on."
But his research, published in the journal Frontiers in Physiology, shows that it's the number of hormone receptors in our muscles that actually determine growth, and those are genetically predetermined.
Morton and his supervisor, kinesiologist Stuart Phillips, studied the blood and muscles of 50 university-age men working out four times a week for 12 weeks. They also took biopsies of the men's muscles, analyzing hormones and hormone receptors.
They found that the amount of hormones in our muscles doesn't determine how much muscle a person will put on, but the amount of androgen-receptors does.
"[Hormones like testosterone] can be thought of simply as keys, and their receptors as locks," Morton tells The Globe and Mail. "Healthy young men have plenty of keys, so the number of locks matters more."
The amount of androgen receptors you have is largely predetermined, post-puberty, Morton says, "so there's no real exercise program you can do that can change the amount of receptors you have.
Morton and Phillips want to figure out why we lose muscle mass as we age, and why some people can put on muscle more easily than others.
"There's definitely a genetic blueprint that determines how much muscle a person has and how much muscle they can put on."