Shaping — and dissecting — great minds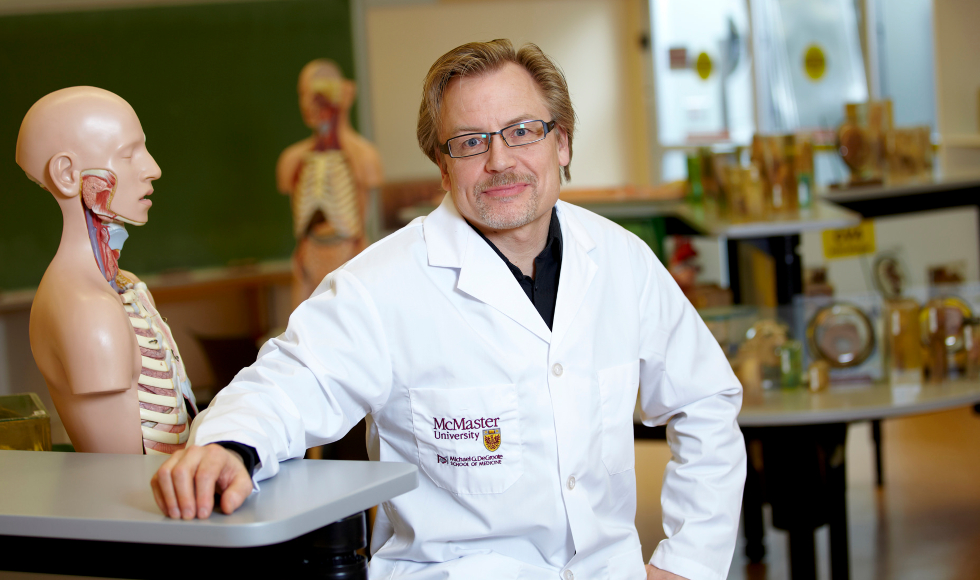 BY Tina Depko, Health Sciences
January 7, 2019
Those looking to speak with Bruce Wainman can find him in the anatomy lab at McMaster University.
Tucked away down a corridor in the basement of the Health Sciences Centre, the anatomy lab is often bustling with students from different disciplines, from the Bachelor of Health Sciences program to Engineering.
Whether in a formal class or not, Wainman is there, talking to students about the anatomy and physiology of the cadavers they are examining. His enthusiasm for the subject matter is electric, with the students hanging on to every word.
Wainman interacts with approximately 1,000 students each week during the academic year.
He says he tries to learn as many names as possible, and is apologetic that he isn't always successful.
"I've never quite accepted the fact I won't know all of their names," he says. "When I see them and I can't remember their names, it still bothers me even though I know it is impossible. I know how much it meant to me when faculty members knew who I was, so I try my best."
Wainman has won several McMaster prizes for his teaching and his education innovation. He has taken the McMaster Students Union Teaching Award four times, and he has received the McMaster President's Award for Outstanding Contributions to Teaching and Learning.
He was a recipient of the Canadian Association for Medical Education certificate of merit. He also received the prestigious 3M National Teaching Fellowship by the Society for Teaching and Learning in Higher Education in 2016.
Whether teaching a small group of five students in the surgical skills lab or delivering a lecture to hundreds of students, his level of excitement and approach is the same.
"I'm just doing my job," he says. "How could you not be excited about teaching 600 young, smart, motivated people?
"Teaching is more than putting out material, when in fact, our job is to help students find meaning in the material that is there, especially in science."
Wainman's office provides a glimpse into his life. There's a photo of him crossing the finish line of the Ottawa Marathon in 1986 – in first place – while on the Canada's National Marathon and Cross-Country Team.
Most noticeable is the large collection of thank you cards, many handmade with illustrations and calligraphy, on a filing cabinet. Each term brings a new stack from his students, so many that they are on display several rows deep and frequently restocked.
"My wife's favourite comment from these notes is that I pack a lecture hall like a rock star," he says when asked about the best feedback he's received.
"Really though, every kind word means the world to me. You have to be a harder man than me to get rid of these cards."
Esai Bishop, a BHSc alumnus from McMaster who works as an anatomy lab technician, says it is easy to explain Wainman's popularity among students.
"He's very funny and animated in his lectures, which makes him the fan favourite," says Bishop. "It is almost as though he is a performer and by doing so, he helps people to become engaged and learn."
The impact of Wainman is also lasting, according to Alisha Fernandes, a McMaster medical school alumna, and current chief general surgery resident at McMaster. His influence has been profound both professionally and personally, she says.
"Bruce has mentored and supported me through career planning, has supported me in the development of qualitative and quantitative research skills, and he has a way of always reminding me to reflect on what is most important in life, rather than allowing myself to drown in academic ambition," says Fernandes. "He also has taught me how to teach – he exemplifies the kind, knowledgeable and other-focused teacher."
Alan Neville, vice-dean of health professional education for the Faculty of Health Sciences, says Wainman has made innovative contributions to the advancement of educational tools, curriculum development and interprofessional education. He says that Wainman also has a gift for making anatomy fun.
"Dr. Wainman has consistently shown an infectious enthusiasm and collegiality when teaching students," says Neville. "He has created an educational program with a justified international reputation."
Wainman didn't set out to be a professor, but the series of events that led him to be the director of the Education Program in Anatomy at McMaster can only be described as serendipitous.
Growing up in Sudbury, Wainman could often be found outdoors exploring in nature. His parents, a mom who was a homemaker and then receptionist and his father, a car salesman then manager, fostered their son's innate curiosity about the world around him. There were no questions asked when their young son wanted an encyclopedia set.
"I remember reading through [the encyclopedia] at about age 11, from aardvark to zebu, and being amazed," he says. "To some degree, I think you are born a scientist."
Wainman attended Laurentian University, earning a BSc in biochemistry. It was there he encountered his first great educator and mentor. Michael Persinger, who passed away in the summer 2018, was known internationally for his advanced research on the human brain and taught neuroscience and neuroanatomy.
"He was such a fascinating man and the way he presented the material made you want to know how things worked," he says. "He managed to extract the excitement out of it. It's not enough to tell people, it's about wanting to make them learn. I realized that I wanted to do what he was doing."
Encouraged by Persinger, Wainman completed a master's in medical sciences at McMaster in 1987. After time off for athletic pursuits, he earned a PhD in biology at York University in 1990. He served as a postdoctoral fellow at the University of Waterloo, conducting research on the aquatic food chain.
But at Waterloo the instructor of the human anatomy and physiology fell ill a week before the course started, and Wainman, then in his late 20s, volunteered to fill in as an instructor.
"I began lecturing every day on the entire human body and it was an absolute blur, because all I had were his old acetates. At the same time, it was so exciting," he says. "I learned that summer that teaching is best way to learn. Students ask the most wonderfully irritating questions, and it challenges you to learn more and be able to explain the answers."
Then, while a research associate in environmental science at the University of Guelph, his wife's midwife was Karyn Kaufman, the founding dean of the midwifery program at McMaster. She quickly recruited him to be a contract faculty member in 1995.
He was named director of the Education Program in Anatomy in 2005, and is a professor of pathology and molecular medicine, and an associate member of obstetrics and gynecology.
He runs a varied research program. He's currently working on a paper on ethical and moral considerations around medically-assisted death and body donation. His research also focuses on virtual and augmented reality, which includes the development of a new app in 2018 that has generated buzz.
He has also helped author five e-textbooks for midwifery programs.
"It is my hope that by producing these high-quality, inexpensive e-textbooks that we will revolutionize education," he says. "The textbook in pharmacology for midwives is the definitive textbook on the topic in Canada."
Outside of the anatomy lab and lecture halls, Wainman exercises every morning, usually running, spinning or swimming. He is an avid fly fisher. He also trains and shows his dog, a Brittany named Islay.
His wife, Thorel, teaches children how to read in a public school in Mississauga. Their son, Markku, is a composer and recent graduate of the music program at the University of Toronto. Their daughter, Liisa, is starting a PhD in kinesiology at the University of British Columbia in Kelowna.
Wainman says his career gives him something that seems elusive for so many.
"Teaching gives me meaning," he says. "When you start out, you just want to get a job and make a living, but you soon realize your life is spent searching to do something meaningful. Every day that I get up in front of students and help them learn gives my life that meaning. I am nothing without that."