Concrete solutions for Small Modular Reactors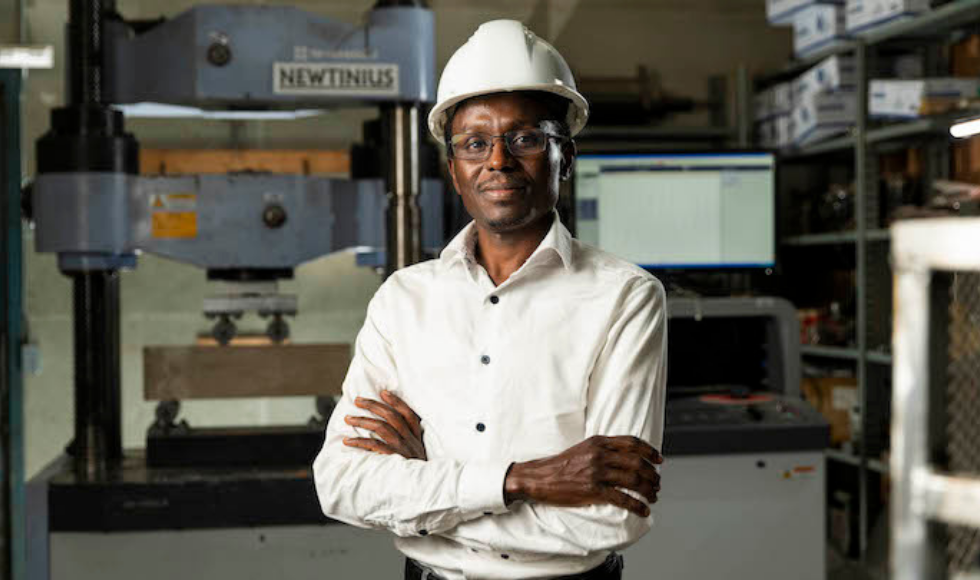 Engineering professor Ousmane Hisseine explains how developing novel concrete materials can make SMRs safer and pave the way for clean energy in Canada.
---
October 17, 2023
Growing up in a riverside town in Chad, Ousmane Hisseine watched turbulent waters flatten hundreds of mud homes every year, while a nearby concrete bridge stood fast.
That bridge in north-central Africa sparked a lifelong interest in using engineering to improve safety.
Now an assistant professor of civil engineering at McMaster, Hisseine is using his expertise in concrete infrastructure to covercome modern-day limitations in nuclear energy.
Hisseine is one of four McMaster researchers to receive the NSERC-CNSC Small Modular Reactors Research Grant Initiative, established by the Canadian Nuclear Safety Commission (CNSC) and the Natural Sciences and Engineering Research Council of Canada (NSERC), focused on supporting Small Modular Reactors (SMRs).
Hisseine shares how developing concrete materials can improve safety in SMRs and pave the way for clean energy in Canada.
What is the focus of your nuclear energy research?
SMRs, the nuclear reactors of the future, are central to Canada's clean energy ambitions. My research addresses SMR safeguards and security with a particular focus on the physical protection systems pertaining to concrete containment structures.
My NSERC-CNSC funding for SMR research will be used to develop novel concrete materials needed for improved safety in SMR nuclear facilities to ensure the safety of workers, the environment, and the public.
---
---
How will the concrete material contain radioactive waste?
Concrete materials are used as the ultimate physical barrier in nuclear facilities, whether as a containment structure shielding the nuclear reactor during operation or as interim storage for spent fuel, a high-level waste containing about 95 per cent of total radioactivity.
Our research group will work on a novel type of concrete material coined DT-RS-UHPC for Damage-Tolerant Radiation-Shielding Ultra-High-Performance Concrete. DT-RS-UHPC is characterized by an intrinsically dense microstructure, ultra-high strength, and exceptional energy absorption capacity. And, as the name reveals, DT-RS-UHPC is highly damage-tolerant, almost impervious to deteriorating agents such as sulfates from the soil and has remarkable resilience against freeze-and-thaw cycles. For instance, DT-RS-UHPC's dense microstructure along with a tailored selection of its ingredients play a critical role in propelling higher attenuation capacity against both gamma and neutron radiation.
In the long term, the project sets a novel paradigm for nuclear containment structures and dry casks, namely, DT-RS-UHPC containment structures with higher safety functions compared to containment structures made from conventional concrete. This will support both SMR safeguard and SMR waste management, both of which are critical aspects for SMR deployment.
Why are SMRs yielding a "new era" in nuclear energy?
As a major source of clean energy, the nuclear sector is a key lever for fostering green economies and building sustainable cities and communities. In Canada, nuclear energy supplies 15 per cent of the nation's power demand, about 60 per cent of the energy demand in Ontario, and contributes to cutting over 50 million tons of CO2 annually in Canada.
A new era in nuclear energy has been marked by the emergence of SMRs, which are smaller in size and capacity compared to traditional large-scale nuclear plants. They're simpler and modular, with their components pre-manufactured, then transported for in-situ installation. They're also more affordable, particularly considering the initial capital and refueling requirements.
How significant are SMRs in the nuclear energy landscape in Canada?
 SMR technology helps make nuclear energy more affordable. It offers off-grid clean energy sources enabling remote communities, such as in Nordic regions, to access reliable and clean energy. It fosters economic and industrial activities in remote areas such as the mining sector. Nuclear energy's renaissance through SMR technology is a pivotal lever enabling local and global access to energy.
As Canada's nuclear university and the home of the nation's most powerful nuclear research reactor, McMaster's nuclear research community is vibrant, inspiring to newcomers like me, a supportive environment, and a hub for world-caliber research infrastructure.