Creating a safer tomorrow for women and children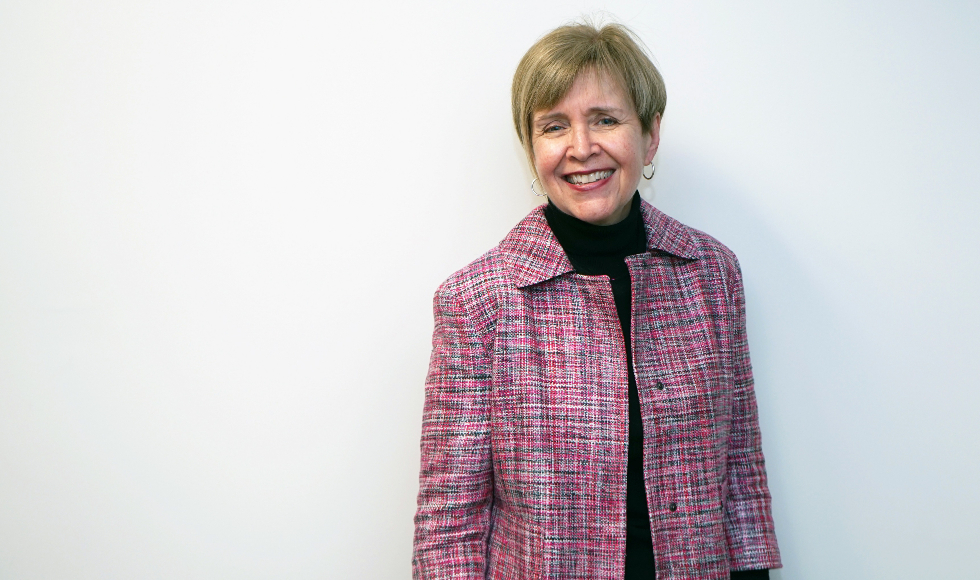 January 24, 2019
Harriet MacMillan's career is dedicated to improving the lives of children, women and their families.
The McMaster Distinguished University Professor, researcher and clinician is committed to the prevention of family violence, as well as understanding the epidemiology of child maltreatment and intimate partner violence.
MacMillan has witnessed the abuse and neglect that is the focus of her work. As a psychiatrist and pediatrician, she works at the Child Advocacy and Assessment Program, known as CAAP, at McMaster Children's Hospital. She served as its founding director from 1993 to 2004 and continues to see patients as an active staff member and provides consultations to child protection agencies.
"It is such a privilege to be involved with children and families," she says. "Having the opportunity to see people, work with them and try to improve the lives of their children and their own lives is so meaningful. It is also incredibly rewarding to work with such a committed team of clinicians and researchers."
MacMillan is a professor in the Department of Psychiatry and Behavioural Neurosciences, and the Department of Pediatrics. She is also the Chedoke Health Chair in Child Psychiatry.
The majority of her time is currently spent on research. She's a core team member of the Offord Centre for Child Studies at McMaster. The multi-disciplinary research centre is studying ways to improve the lives, health and development of children and youth.
Back in the 1990s, MacMillan was part of a team that played a key role in successfully lobbying for the inclusion of questions about physical and sexual abuse in the Mental Health Supplement to the Ontario Health Survey, a comprehensive health survey of the population of Ontario.
"Although there was initial resistance to including questions about child maltreatment, when the results came out, they showed how common it is," she says. "This highlighted the importance of preventing child maltreatment for improving the health of Canadians."
One of MacMillan's key areas of focus is identifying interventions in the health system that are effective in helping women and children who have experienced violence.
"I believe it is crucial that we use rigorous research methods to determine what is and what isn't effective in both preventing and responding to child maltreatment and other types of family violence," she says.
MacMillan's research on interventions continues today.
Currently, she is a co-lead with Andrea Gonzalez, assistant professor of Psychiatry and Behavioural Neurosciences, and a member of the Offord Centre, on a McMaster-led study that will evaluate the effectiveness of the Triple P – Positive Parenting Program. The public health intervention developed in the 1980s aims to reduce behavioural and emotional problems in children and improve parenting practices by increasing parents' knowledge, skills and confidence. The research also includes an evaluation of the related Baby Triple P Program.
MacMillan is working with Charlotte Waddell, a child psychiatrist and professor at Simon Fraser University, conducting a multi-site randomized controlled trial in British Columbia evaluating the Nurse-Family Partnership, which has shown positive results in the United States. The home-visiting program strives to improves the health, well-being and self-sufficiency of first-time parents and their children.
"We are looking to see if the Nurse-Family Partnership prevents injuries and child maltreatment and improves outcomes such as child health and development," she says.
Together with Susan Jack, associate professor in McMaster's School of Nursing, they are also evaluating whether enhancements to the Nurse-Family Partnership reduce intimate partner violence.
MacMillan is also in the final months of a large initiative called Preventing Violence Across the Lifespan, known as PreVAiL, of which she was a co-principal investigator. The international research collaboration brought together more than 60 researchers working in the areas of mental health, gender and violence, and 19 partner organizations such as the World Health Organization. The goal was to create and share knowledge that helps children, women and men exposed to child maltreatment and intimate partner violence.
Nick Kates, chair and professor of the Department of Psychiatry and Behavioural Neurosciences, has known MacMillan for more than 35 years. He talks about her numerous strengths as a researcher, among which are her commitment to improving the conditions for children and adults who are living in stressful and abusive situations, her attention to detail, and her skills at working collaboratively and building a team.
"She is unquestionably one of, if not the, world's leading researchers on the impact of family violence and her work has influenced both policy and practice provincially, nationally and globally," says Kates. "This is a critical area in any society, and by providing a strong evidence base as to what doesn't work as well as what does work, she has been able to help funders shift their resources to programs that are more likely to be effective as well as drawing attention to what is a universal issue."
Based on her family history, MacMillan seemed destined to pursue a career helping people.
Her late grandfather, James "Jimmy" MacMillan, was a family physician and heavily involved with the West Lincoln Memorial Hospital in Grimsby.
Her late father, Angus MacMillan, worked with McMaster Medical School's first dean, John Evans, to found the School's Department of Pediatrics. He was later professor and chair of the department, and a physician at McMaster Children's Hospital. He devoted his career to improving the lives of children and was one of the original McMaster faculty members working in child abuse.
"My dad had a huge influence on me," MacMillan says. "He was such a strong advocate for child health. He loved medicine and working to better the lives of children and their families.
"Later in life, he talked about how much it meant to him that I am in this field."
Raised in Hamilton, she attended Queen's University for her medical degree, like her grandfather and father. She completed her residency training in pediatrics and child psychiatry at SickKids in Toronto.
"When I was a pediatric resident at SickKids, we would see children who had experienced some type of abuse or neglect and we would then be in touch with child protection services," she says. "There was a big focus on identification of abuse, but for me, I was more concerned with what we were doing to make sure this child didn't experience abuse or neglect again. I quickly realized there was a gap in research at that time."
She came to McMaster for a master's in research methodology, as well as for her adult psychiatry residency.  She went on to complete postgraduate fellowship training at Boston Children's Hospital and Harvard Medical School. She rejoined McMaster as a faculty member in 1992.
As a way to ensure the continuation and growth of family violence research, MacMillan teaches and mentors undergraduate and graduate students, as well as postdoctoral fellows.
"I feel strongly about providing opportunities for research and clinical trainees to enter the family violence field," she says. "It is deeply gratifying to see this area gaining such momentum and the generation of scientists and health care providers who are now choosing it as a career path."