Distinguished gastroenterologist found the gut to brain connection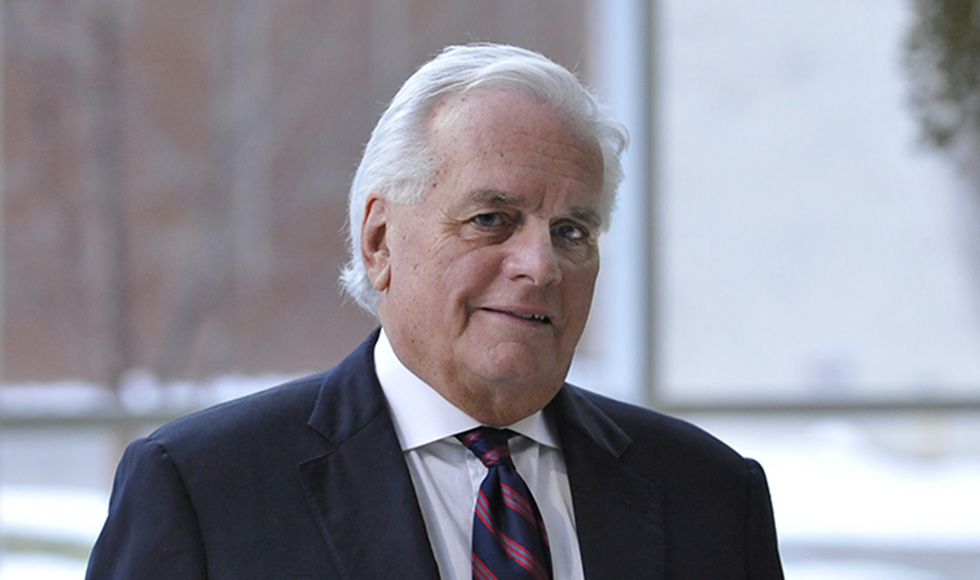 BY Tina Depko
August 8, 2018
The story of how Stephen Collins became a world leader in gastroenterology is one of hard work and a willingness to swim against the current.
Growing up in London, England, his father encouraged him to be a doctor. The young athlete simply wanted to play soccer, known as football there.
"Medicine won out," he says with a chuckle. "In reality, I truly believe it was my calling, I just didn't realize it at the time because of my obsession with football."
His family lived above their small ice cream factory in Battersea, at that time a working-class area looking across the river at higher-end Chelsea. The shop was a favourite supplier of the Queen Mother, who liked the marmalade ice cream.
Collins completed his medical training at University College London and the Westminster Hospital Medical School in England. The university was two miles from his home and he jokes it was his postal code that got him accepted, explaining "they needed a token Cockney." He went on to specialize in internal medicine at the University of Leicester.
When his parents retired and moved to Montreal, they lobbied Collins to join them. He begrudgingly agreed to visit and, to his surprise, liked Canada. His professor in London recommended he look into McMaster University.
His parents returned to London after their first bitterly-cold Canadian winter but, as fate would have it, he stayed.
Collins trained in gastroenterology at McMaster University. He then completed research training in cell biology at the Digestive Diseases Branch of the National Institutes of Health (NIH) in Bethesda, Md., United States, to realize his ambition of working as both a clinician and basic scientist.
"I wanted to be a researcher, it was somewhere deep inside me," he says. "When I was a pre-clinical medical student, my tutor was Nobel Prize winner Andrew Huxley, a muscle physiologist, who I think subconsciously inspired me."
When he returned to McMaster to join the faculty in 1981, fellow faculty member John Bienenstock encouraged Collins to join him and Ed Daniel in applying for a national award worth $3.6M. The Crohn's and Colitis Foundation of Canada was looking to establish two gastrointestinal research institutes in Canada. McMaster won one of the grants and established the Intestinal Diseases Research Unit in 1983. 
The Unit's small group of faculty members was directed by Richard Hunt, professor of medicine and chief of the division of gastroenterology, between 1983 and 1984. Collins replaced Hunt as director of the Unit in 1984.
Collins insisted that the Unit's researchers followed Crohn's and Colitis Foundation of Canada's mandate that was to study disease processes, rather than to continue the traditional approach of first studying normal function before moving on to disease models. He also necessitated an integrated approach, involving collaboration among scientists from different backgrounds.
"These mandates were not popular at first, but they eventually became our modus operandi," says Collins.
The Unit became successful and was the forerunner of the current Farncombe Family Digestive Health Research Institute.
"When I arrived back at McMaster from NIH, I did not have a high clinical profile," he says. "As a result, I often saw those patients who were something of a challenge in that they had many symptoms but no discernible intestinal abnormality to account for them."
These were known as "functional" or psychosomatic conditions and were not a popular subject of research at the time. Collins began his independent research career studying interactions between the gut and the brain and how psychological factors could impact on gut function and susceptibility to disease – including inflammatory and infectious diseases in the bowel.
This led him and his colleagues to investigate the long-term consequences of intestinal infection, and to study the population of Walkerton, Ont. following the tragic water poisoning of May 2000. The results of the Walkerton study prompted him to investigate how disturbances in our resident bacterial populations might lead to "functional" disorders and this is the basis of his ongoing work in the Farncombe Institute, of which he is the director. To enable this research, he raised funds to establish a germ-free laboratory in which interactions between resident bacteria and the body can be studied.
Collins can be found working in his shared lab with protégé, and another respected clinician scientist, Premysl Bercik. One of their latest initiatives is researching whether selected probiotic bacteria can improve intestinal and brain function.
As he did from the beginning of his time at McMaster, Collins continues to see patients as a gastroenterologist for Hamilton Health Sciences. He considers it an important way to keep in touch with the people he is trying to help through his research.
Collins says he is particularly proud of the evolution of the original Intestinal Diseases Research Unit into today's Farncombe Institute. The team of talented, interdisciplinary researchers works under the mandate of better understanding and treating, and ultimately curing, the most common categories of intestinal illness that burden society, including inflammatory, functional, and diet-induced disorders.
"I believe the institute is the best of its kind in Canada and among the top 10 in the world," he notes.
Collins has a long list of McMaster-related titles to his name. He is a McMaster Distinguished University Professor, professor of medicine of the Michael G. DeGroote School of Medicine, and the director and a member of the Farncombe Institute. He also served as the associate dean for research at the Faculty of Health Sciences for more than a decade, until June 2017. He is a Fellow of the Royal Society of Canada.
Bienenstock, former dean of the Faculty of Health Sciences and also a McMaster Distinguished University Professor, says the importance of Collins' contributions as a clinician scientist in the field of gastroenterology cannot be overstated.
"Steve Collins has long been one of McMaster University's stars," says Bienenstock. "To use a term previously in common use in academic medical circles, he is a triple threat. He excels as an academic administrative leader, as an excellent clinician in his chosen field of gastroenterology, and as a world renowned researcher."
Bienenstock also considers Collins to be "the doctors' doctor" as he is sought out by physicians and patients alike for clinical advice. Furthermore, his research has changed attitudes in the field of gastroenterology.
"In his research he has singularly led the move to successfully change medical views on the origins, diagnosis and treatment of common gastrointestinal conditions such as irritable bowel syndrome," he says. "Moreover, he continues to pioneer and innovate and has brought global attention to the roles of the brain and nervous system in gut dysfunction and disease."
When he's not in the lab or helping patients, Collins and his wife, Lori, enjoying travelling, reading and listening to music.
The pride is evident in his voice when he talks about their three sons, now grown with careers of their own. Andrew and Matthew are physicians, and Phillip is a chartered accountant.
Looking back at this professional and personal life, Collins says it has been rewarding, with luck playing an important role in it all.
"I have had many opportunities to go to the United States, but McMaster and Canada are absolutely fabulous in terms of the support and opportunities they enabled me to have," he says. "On the other side, personally, to raise a family in a country like this is unbelievable. I think there were a lot of times I was simply in the right place at the right time."