Fathers with metabolic dysfunction may share it with children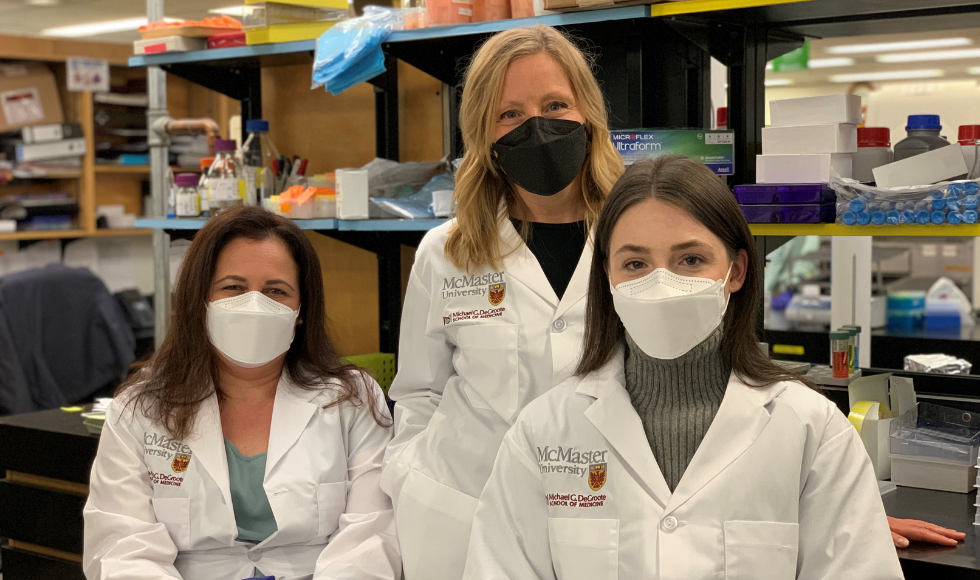 From left: Postdoctoral fellow Tatiane Ribeiro, Professor Deborah Sloboda and PhD student Patrycja Jazwiec found that offspring whose fathers are metabolically compromised may be at increased risk of developing the same condition themselves.
---
BY Fram Dinshaw, Faculty of Health Sciences
May 11, 2022
Offspring whose fathers are metabolically compromised may be at increased risk of developing the same condition themselves, McMaster researchers have found.
Senior author Deborah Sloboda's team ran tests by feeding male mice a high-fat diet to induce obesity and diabetes-like features, before mating them with females fed a normal diet. The offspring of these male mice had metabolic dysfunction, including glucose intolerance, which can increase the risk of developing diabetes.
"Everyone, be they fathers or mothers, should always strive to be in their best possible health before entering into a pregnancy," said Sloboda, a professor in the department of biochemistry and biomedical sciences.
"The most important thing that we discovered is that paternal influence on offspring's health is not just transmitted via changes in the sperm, which has been the focus of most research up till now."
The study, led by Patrycja Jazwiec, Violet Patterson and Tatiane Ribeiro, demonstrated a previously undiscovered placental link between fathers and their children's health by observing changes in placental blood vessel structure.
Jazwiec and the others found indications of reduced oxygen levels in the placentae during pregnancy.
"The father influences the growth and development of the placenta and if the placenta is not functioning properly, then the fetus does not get adequate nutrients, oxygen and other factors it needs to grow in a healthy manner," Jazwiec said.
"One of the key takeaways of this study is that researchers often focus on the impact of the mother's health and often overlook the importance of the health of fathers."
The study highlights the need to pay more attention to the health of both parents, rather than placing the onus just on pregnant mothers, she said.
While the relationship between mothers' health and children is well-established, far less research has been conducted on the impact of fathers' health and their offspring, Sloboda said.
About 44 per cent of adults in Canada live with at least one chronic disease condition including obesity, type 2 diabetes or cardiovascular disease, and the causes of chronic disease have traditionally been explained by lifestyle factors, such as a lack of exercise, as well as a genetic predisposition to the conditions, Sloboda said.
However, a person's early life — from conception, through pregnancy to just after birth — also plays a key role in determining their health trajectory, she noted.
The team included researchers from McMaster, the University of Guelph and the State University of Maringá in Brazil.
External funding for the study published in Biology of Reproduction was provided by the Natural Sciences and Engineering Research Council.