Federal health minister announces research on gender-based violence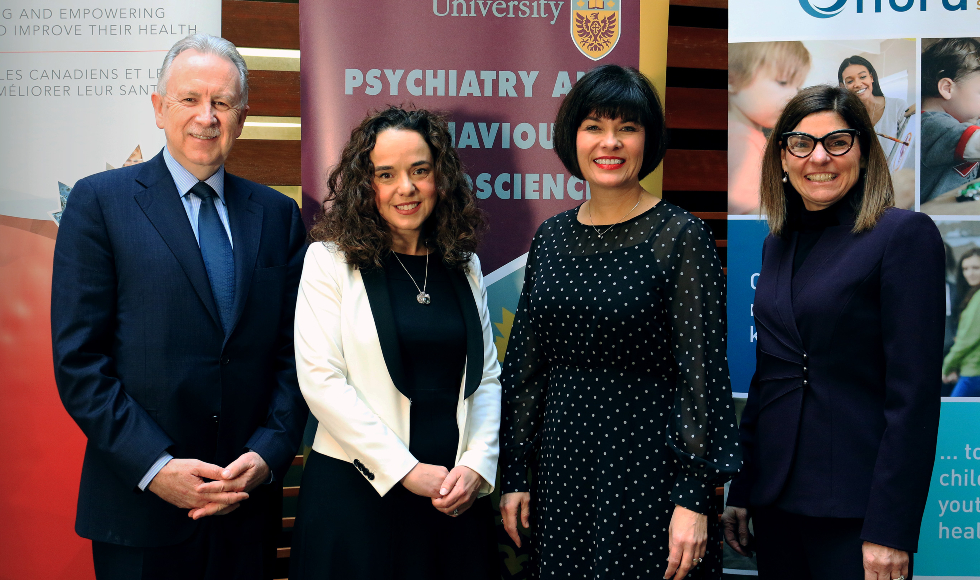 (From left): Paul O'Byrne, Andrea Gonzalez, Ginette Petitpas Taylor and Filomena Tassi at today's announcement. (Photo by Tina Depko.)
---
BY Tina Depko
December 3, 2018
Two federal cabinet ministers came to McMaster University today to announce a grant for research evaluating positive parenting initiatives, in a drive to help end gender-based violence.
Federal Health Minister Ginette Petitpas Taylor, along with Minister of Seniors Filomena Tassi, personally delivered the news that researchers of McMaster's Offord Centre for Child Studies will lead the $3.4 million study over the next five years.
It was one of three national initiatives announced as part of the Public Health Agency of Canada's Preventing Gender-Based Violence – The Health Perspective program. The other two support the delivery and testing of programs to eliminate teen and youth dating violence.
The McMaster study will evaluate the effectiveness of the Triple P – Positive Parenting Program, which is a public health intervention developed in the 1980s to reduce behavioural and emotional problems in children and improve parenting practices by increasing parents' knowledge, skills and confidence. The research also includes an evaluation of the related Baby Triple P Program.
Its principal investigator is Andrea Gonzalez, assistant professor of psychiatry and behavioural neurosciences, and a member of the Offord Centre.
"We all have a role to play in ending gender-based violence and child maltreatment. Through collaborative efforts, we can foster positive relationships, build healthy families, change attitudes and promote gender equality," said Petitpas Taylor.
Tassi, who is also MP for the riding of Hamilton West-Ancaster-Dundas, said: "I am pleased that the Government of Canada is reaffirming its commitment to ending gender-based violence and child maltreatment. Through initiatives developed in with partners like McMaster University, we are taking the necessary steps to prevent and end gender-based violence here in Hamilton, and across Canada."
Paul O'Byrne, dean and vice-president of the Faculty of Health Sciences, added, "At McMaster University, and particularly at our Offord Centre for Child Studies, we have a long-term commitment to research to find ways to help end gender-based violence, especially for children. We're proud to be involved in this national initiative which we know will have great impact."
While at McMaster, Petitpas Taylor and Tassi visited the Michael G. DeGroote Institute for Infectious Disease Research for a tour led by Lori Burrows, associate director of the institute and a professor of pathology and molecular medicine. Burrows talked about the need to develop new antibiotics, and the work being done in antimicrobial resistance at the institute.