Five take highest honour in Canadian health sciences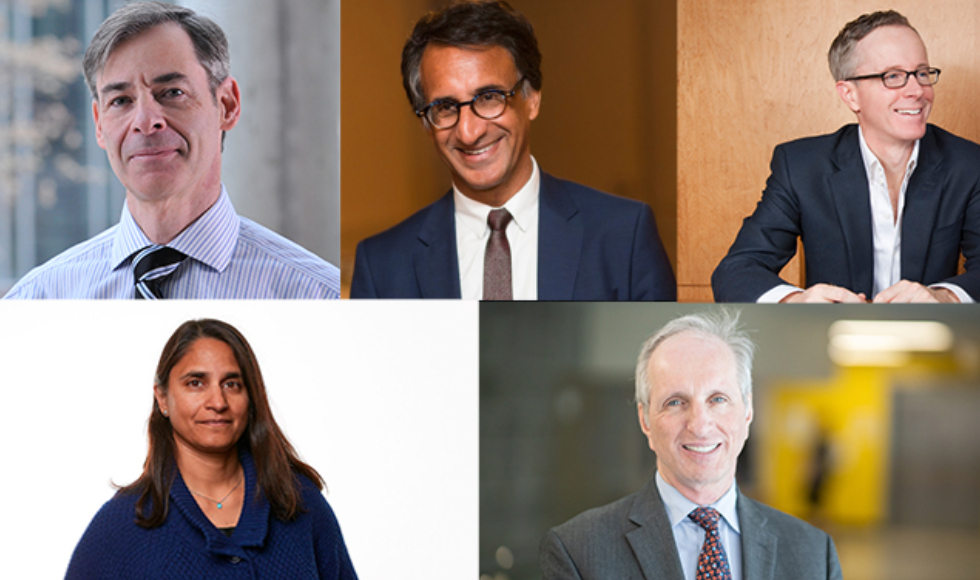 Five McMaster Health Sciences professors have been named Fellows of the Canadian Academy of Health Sciences. From top left: Mark Loeb, Parminder Raina and John Lavis. From bottom left: Sonia Anand and Hertzel Gerstein.
---
BY Tina Depko, Health Sciences
September 20, 2019
Five professors of the Faculty of Health Sciences have been elected fellows of the Canadian Academy of Health Sciences, considered one of the highest honours for members of the country's health sciences community.
They have all been chosen through peer review for their demonstrated leadership, creativity, distinctive competencies, and commitment to advance academic health sciences. All fellows also agree to serve the Academy and be active in promoting improved health, health care and health-related policies. They were inducted this week.
Those chosen are:
Sonia Anand, a professor of medicine and epidemiology at McMaster University, senior scientist of the Population Health Research Institute and director of the Chanchlani Research Centre. She holds a Tier 1 Canada Research Chair in Ethnic Diversity and Cardiovascular Disease, and the Heart and Stroke Foundation/Michael G. DeGroote Chair in Population Health Research. Her research focuses on environmental and genetic determinants of vascular and cardiovascular disease in women, populations of varying ancestral origin, and high‐risk vascular patients. She has more than 300 peer‐reviewed publications. Her recognitions include the Queen Elizabeth II Diamond Jubilee Medal and a McMaster University Scholar.
Hertzel Gerstein, professor of medicine and deputy director of the Population Health Research Institute at McMaster University and Hamilton Health Sciences. His trans-disciplinary perspectives and collaborations have enabled him to design and lead several large international controlled trials that substantially expanded the evidence pertaining to the prevention and treatment of diabetes and its consequences. In addition to pioneering and firmly establishing international patient-important outcomes trials as the norm for clinical diabetes research, he continues to identify and test therapies and care innovations that improve the lives of people living with diabetes.
John Lavis, who is a leading authority on supporting the use of research evidence in policymaking. A professor of health research methods, evidence and impact, he is renowned for his efforts to build capacity for evidence use, make it easier to find and use evidence, and spark action using evidence-informed deliberative dialogues. He founded and directs the McMaster Health Forum, a globally recognized hub that works with policymakers from across Canada and supports partners to do similar work in dozens of countries internationally. He is a member or chair of many advisory and governance bodies worldwide.
Mark Loeb, who is a professor of pathology and molecular medicine and epidemiology and is internationally recognized in the field of infectious diseases clinical trials and epidemiological studies. He is distinguished for his original work on influenza vaccination and herd immunity in Canadian Hutterite communities and for pivotal work on respiratory mask protection against influenza. This work has been recognized by international infectious disease societies as influential. Loeb has led pioneering clinical trials on prevention and management of infections in the frail elderly. He has developed international research networks and has served on national and international advisory committees. His work has had global impact on policy and practice.
Parminder Raina, who is a professor of the Department of Health Research Methods, Evidence and Impact, and specializes in the epidemiology of aging with emphasis on developing the field of geroscience to understand the processes of aging from cell to society. He holds a Canada Research Chair in Geroscience and the Raymond and Margaret Labarge Chair in Research and Knowledge Application for Optimal Aging. He was appointed to the National Seniors Council in 2018. Raina is the scientific director of the McMaster Research Institute for Research on Aging and Labarge Centre for Mobility in Aging, and lead investigator of the Canadian Longitudinal Study on Aging.