New manufacturing facility at MIP will advance next-generation cancer therapies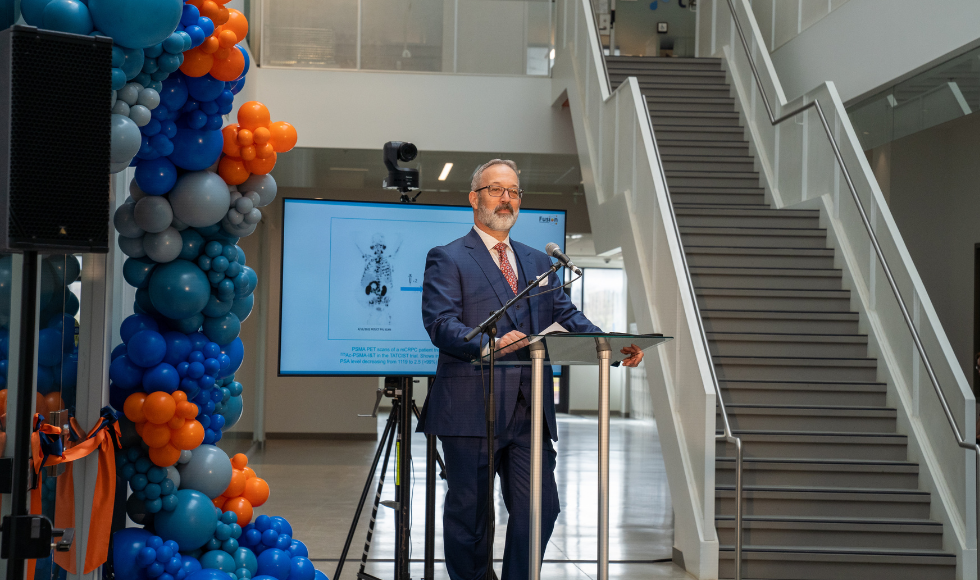 John Valliant, McMaster chemistry professor and CEO of Fusion, speaks at the opening ceremony for the company's new radiopharmaceutical manufacturing facility at McMaster Innovation Park.
---
May 2, 2023
Biotech company Fusion Pharmaceuticals has announced the opening of its new state-of-the-art radiopharmaceutical manufacturing facility at McMaster Innovation Park (MIP).
The 27,000 square-foot facility is located next to Fusion's research and development labs at MIP and was designed with clinical- and commercial-scale manufacturing capabilities to support the company's growing pipeline of targeted alpha therapies (TATs). At full capacity, the custom-built space is expected to produce 100,000 doses of TATs per year for distribution to cancer patients in Canada and abroad.
Fusion Pharmaceuticals is a spin out company of the Centre for Probe Development and Commercialization (CPDC), hosted at McMaster and founded by chemistry professor and Fusion Chief Executive Officer, John Valliant.
"Manufacturing and supply chain are critical components of radiopharmaceutical development and commercialization. Having spun out of a radiopharmaceutical manufacturer, this is a core competency for Fusion, and we believe we are well-positioned to scale production in support of our pipeline of TATs, which now includes five clinical stage programs," says Valliant.
"The location of the facility, adjacent to both our internal research organization and McMaster University, a world-class institution that specializes in medical isotope research and training, enables us to efficiently advance new TATs and hire experienced talent to execute on our clinical and future commercial plans."
Fusion's cancer therapies contain alpha-emitting isotopes that target and eradicate tumor cells with microscopic precision. The company's new manufacturing facility, which is expected to be fully operational in 2024, will support the research, development and production of next-generation radiopharmaceuticals for the treatment of various cancers.
McMaster's president, David Farrar, says the facility will build upon the University's history of innovation in nuclear medicine.
"McMaster University is a pioneer in medical isotope research and McMaster Innovation Park is the ideal location to produce the next generation of radiopharmaceuticals for cancer therapy," he says. "We're proud to expand on our partnership with Fusion — and to grow our region's biotechnology and biomanufacturing sector."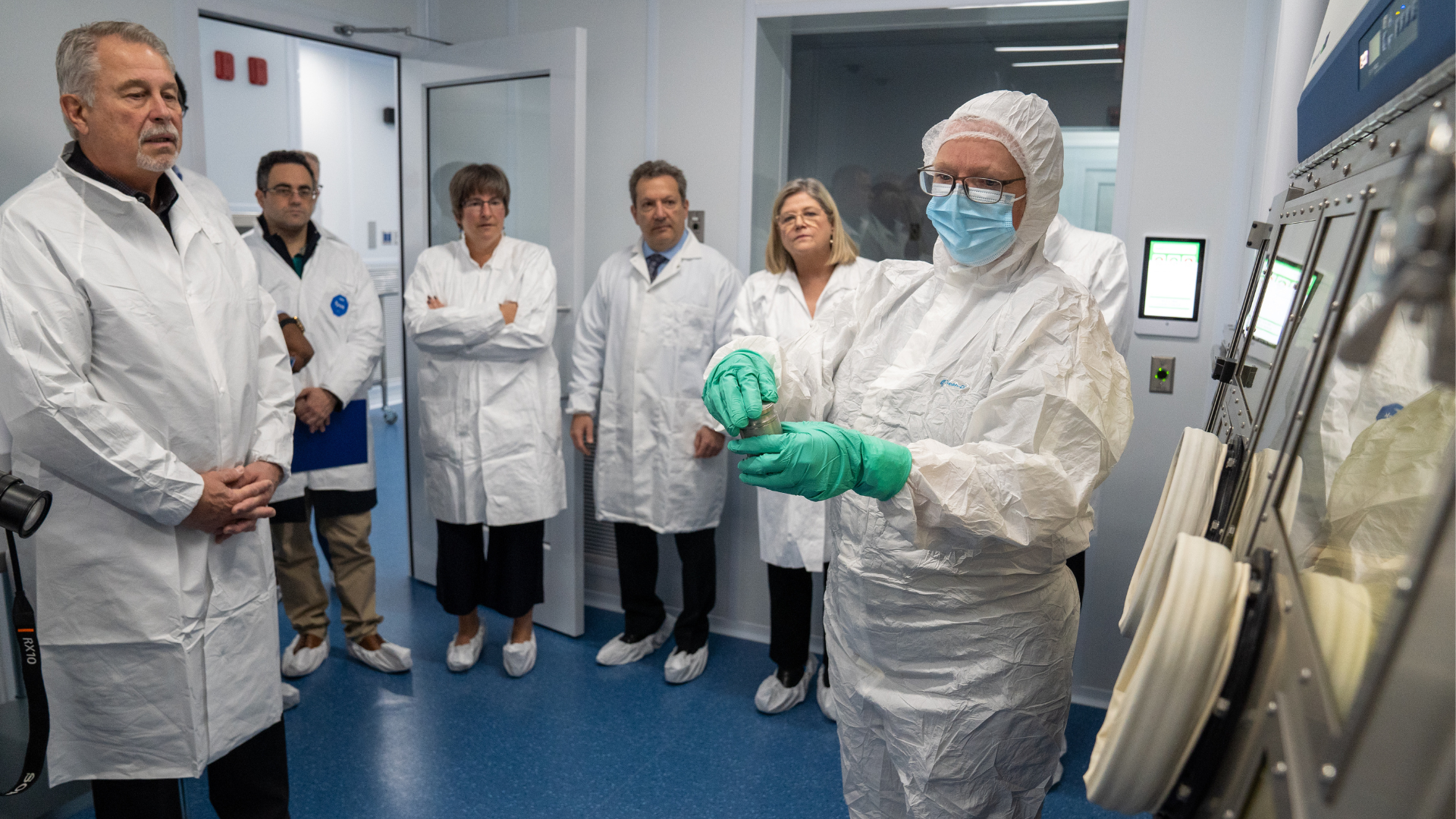 Fusion's new facility is adjacent to the University's commercialization space – which includes the McMaster FlexLabs – giving researchers immediate access to specialty equipment and providing hands-on learning opportunities for the next generation of leaders in radiopharmaceutical research and development. Last year, Fusion and McMaster partnered with Mitacs to create a unique training program for graduate students pursuing leading-edge experience using radiopharmaceuticals for cancer detection and treatment.
McMaster's vice-president, research and chair of the MIP board, Karen Mossman, says spin-out companies like Fusion have bolstered Hamilton's reputation as one of Ontario's fastest-growing life sciences clusters and serve as magnets for other companies in the biotech industry looking to scale-up at MIP.
"This is an exciting development and important milestone for Fusion, MIP and Hamilton's life sciences sector, and exemplifies the important role that research commercialization plays in advancing health care innovations, creating jobs and strengthening our region's biotech ecosystem," she says.