Game Changer: Optimizing elite female athletes' health and wellness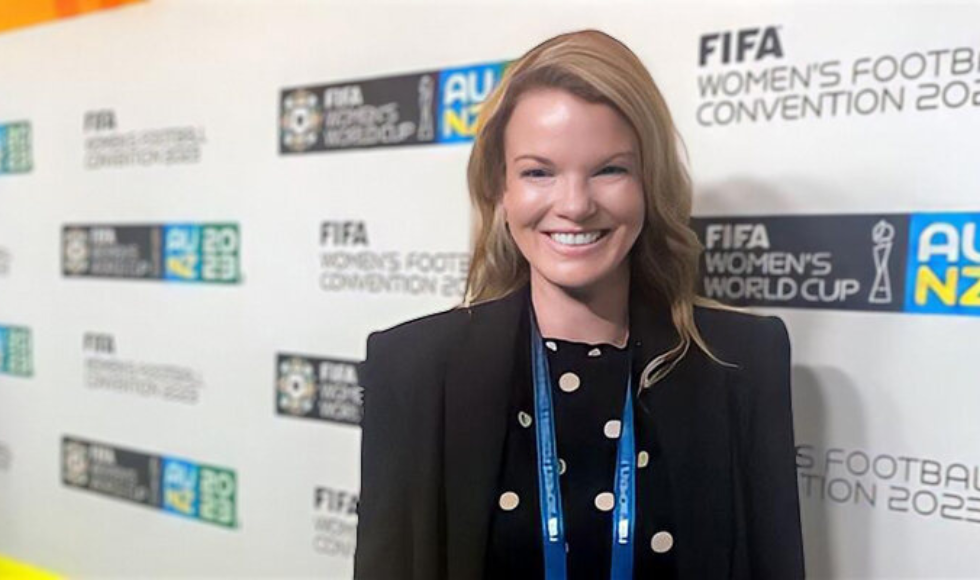 Sinéad Dufour, an associate clinical professor in the School of Rehabilitation Science at McMaster University, was sought out by FIFA for her expertise in a project addressing knowledge gaps in the scientific understanding of elite female athletes.
---
BY Mike Ayers
August 18, 2023
Ahead of this year's Women's World Cup, FIFA assembled a group of international experts for their Women's Health, Wellbeing, and Performance Project. The project aims to address the knowledge gaps in the scientific understanding of elite female athletes and the maximization of their athletic potential, health and overall wellness.
The search for such experts led FIFA to Sinéad Dufour, an associate clinical professor in the School of Rehabilitation Science at McMaster University, who has taken on a significant role within this international project.
Dufour was specifically sought out for her expertise in pelvic health and perinatal care: two aspects of health that are highly relevant in elite sport, yet do not get the needed attention. Together with a small working group, Dufour has started drafting a research synthesis on a variety of topics spanning perinatal care and pelvic health and is now working to transform this research into a clinical practice framework.
All the assembled experts will attend a two-day conference in conjunction with the 2023 FIFA Women's World Cup in Sydney to network and uncover exactly what future work that is needed in this area.
We asked Dufour to offer some insight into the importance of her work to support elite female athletes, and how the FIFA initiative aims makes a difference in previously under-observed areas.
Can you tell us more about how pelvic health and perinatal care impact elite female athletes?
Health, wellbeing and optimizing performance are key aims for all elite athletes. For female athletes there are additional considerations to fulfill these aims, which include reproductive capacity, different endocrine system considerations and pelvic floor considerations (due to different anatomy of the pelvic floor among females and as related to reproductive capacity). Traditionally, these aspects of sport have not been considered and FIFA is changing that.
Do you feel these topics have received a lack of attention and if so, what can be done to raise awareness? What should a person who is unfamiliar know?
Yes, most of the research in sport is on males and thus the principles that inform frameworks for training and return to play are male dominated. Currently, guidelines either don't at all consider aspects of play through pregnancy or of return to play post-birth, which comes with many unique considerations. Some guidance adopts a very conservative approach indicating no play at all through pregnancy. The current guidance is vague and currently not substantiated. The work with the FIFA female health project will translate several resources to assist female athletes, their coaches and care providers navigate through aspects of sport through the perinatal care periods, inclusive of pelvic floor considerations.
What are the goals of the Female Health in Football project and how do you seek to make an impact?
What FIFA is investing in, with pulling international experts around the world together, is ground-breaking. Certainly, there are implications for elite athletes in all contact sports, but the knowledge is intended to translate across levels of sport (not just the elite level). Such guidance is needed at all levels of female sport.
Anything else exciting planned for your trip to Australia?
FIFA has given us the opportunity to attend the final match of the World Cup on August 20. As a dual citizen of Canada and Ireland, I would have been cheering for either of these teams. Unfortunately, neither nation's team progressed past the group stage of the tournament.
Nevertheless, I am excited to meet my colleagues, conduct important research, and develop better-informed science and practices to help female athletes around the world perform at their best.