Health Sciences researcher awarded $400,000 for dementia prevention program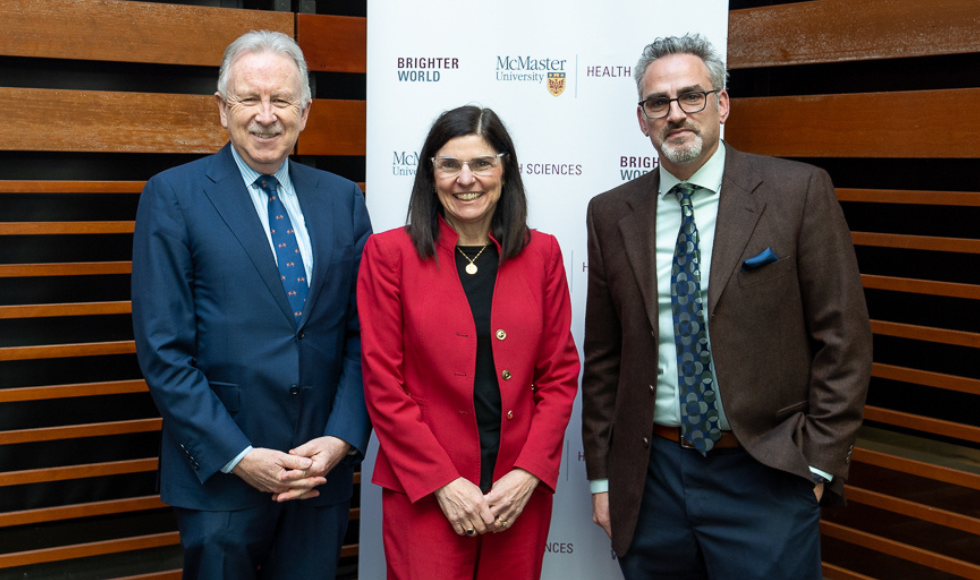 Minister Filomena Tassi, seen here with Health Sciences Dean Paul O'Byrne, left, and professor Anthony Levinson, announced a $400,000 federal investment in a dementia prevention project Levinson leads. (Photo by Matt Clarke/ McMaster University
---
BY Jennifer Stranges, Faculty of Health Sciences
May 26, 2023
McMaster researcher Anthony Levinson has been awarded nearly $400,000 in federal funding for a project to educate Canadians about preventing dementia. 
The funding, part of the government's Dementia Strategic Fund (DSF), was announced May 26 at McMaster by Hamilton MP and Minister of the Federal Economic Development Agency for Southern Ontario, Filomena Tassi, on behalf of Health Minister Jean-Yves Duclos.  
Dementia, an umbrella term that describes a set of symptoms affecting brain function, is a chronic condition that gets more severe over time and is often characterized by a decline in memory, planning and language.  
In 2020, nearly 600,00 people in Canada were living with dementia, a number that is projected to go up to 955,900 by 2030.  
Levinson's project will help educate Canadians about dementia prevention and the impact of healthy lifestyles and management of medical risk factors on the brain.   
"Over the past several years, there's been increasing evidence that people can substantially reduce their risk of getting dementia through a variety of different lifestyle factors and modifiable risk factors," said Levinson, a professor of Psychiatry & Behavioural Neurosciences.   
"Engaging in physical, social, and cognitive activities, maintaining a healthy diet and weight, managing high blood pressure, protecting your hearing, quitting smoking, and avoiding heavy drinking can substantially reduce your risk of developing dementia." 
"The more risk factors you can address, the better; and it's never too early or too late to engage in these healthy behaviours," said Levinson, who holds the John R. Evans Chair in Health Sciences Educational Research and Instructional Development.  
Phase 1 of Levinson's work, currently underway, is a randomized controlled trial of a web-based intervention, consisting of a 30-minute e-learning lesson about dementia risk reduction and a series of educational emails over four weeks.  
Researchers are measuring knowledge, health behaviours, and intentions at baseline, four weeks, and two months after the end of the study.  
Phase 2, set to begin this summer, will make the web-based resource more widely available for the public through the McMaster Optimal Aging Portal. Bilingual e-learning tools will help educate Canadians about the impact of healthy lifestyles and management of medical risk factors, such as hearing loss, traumatic brain injury, high blood pressure, diabetes, and drug side effects on brain health.   
"Dementia affects too many Canadians and will increase as our population ages," Tassi said at the announcement. "Reducing the risk of dementia is a top priority for the Government of Canada. We are investing to improve Canadians' knowledge about dementia and the importance of healthy behaviours." 
"McMaster's impressive research and knowledge mobilization efforts in the field of aging and dementia will go a long way toward this goal."