Helping children with disabilities make the transition to adulthood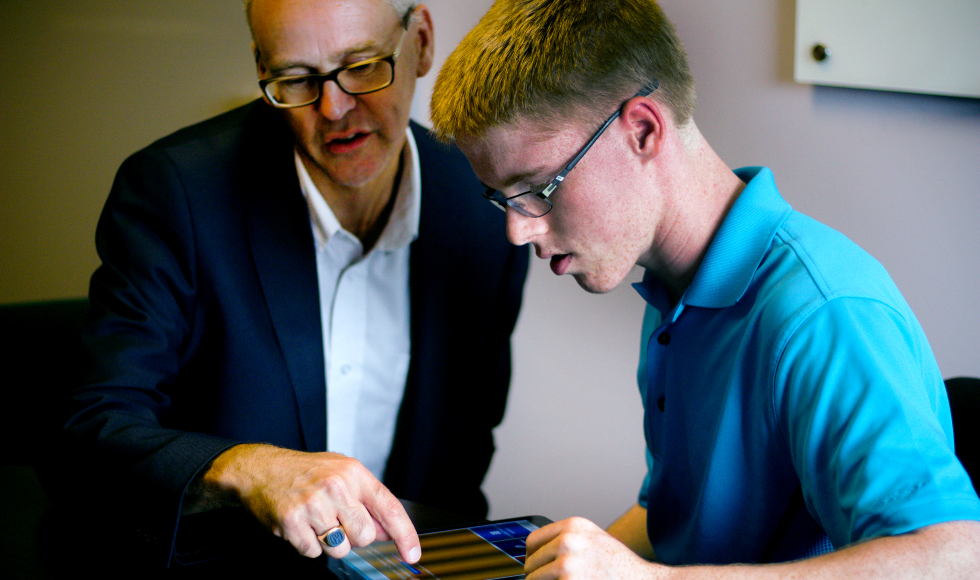 Jan Willem Gorter helps patient Kyle Chambers navigate the transition from the pediatric to adult health-care system.
---
BY Tina Depko, Health Sciences
February 5, 2019
The transition from childhood to adulthood can be a difficult time for many. But for those with developmental disabilities and chronic health conditions, the transition can seem insurmountable.
Jan Willem Gorter is a clinician and researcher at McMaster University working to make this transition easier.
"I help children with disabilities prepare for a full, healthy adult life," says Gorter, a professor of the Department of Pediatrics and an associate member of the School of Rehabilitation Science at McMaster. "Now that modern medicine has allowed many more children with serious health challenges to survive through to adulthood, we need to ensure their needs are met and they are prepared as much as possible as they transition from the pediatric to adult health-care system."
Trained in pediatric and adult rehabilitation medicine, Gorter works at McMaster Children's Hospital as a physiatrist in a clinic specifically aimed at helping teens with health challenges move into adulthood.
The majority of his patients have cerebral palsy, which is the most common physical disability in pediatric rehabilitation. He's also focused on helping youths with spina bifida, acquired brain injuries, and other developmental disabilities.
As a researcher, he draws on his clinical experiences to conduct studies and develop health-care interventions that will have a direct impact on patients, their families and those working in the health-care system. His work has been recognized with the Scotiabank Chair in Child Health Research.
To make sure youth with disabilities are on a healthy trajectory, Gorter leads the Stay-FIT program which studies the effects of physical activity and an active lifestyle intervention for youth with cerebral palsy.
"When these children grow up, addressing motor issues and physical fitness are obvious, but we find the things that also matter are social and emotional issues, including communication, and how to develop friendships and relationships," he says. "Everything I do in the clinic and in my research aims at helping them to prepare for a future as an adult."
Gorter and his team developed TRANSITION-Q, a new self-management measure for adolescents, aged 12 to 18, with chronic health conditions. The questionnaire includes a range of skills that vary from those that young adolescents should be able to do, such as answer a doctor's or nurse's questions, to skills that may require instruction or training, like booking a clinical appointment. Health-care providers use the tool to better understand patients' strengths, as well as areas for improvement. Gorter is working to integrate TRANSITION-Q into clinical practice across Ontario.
Gorter's team has also developed and is evaluating an app-based transition toolkit called MyTransition that allows youths to describe their health condition, raise important health needs in new situations, and measure skills related to managing health.
"If we want to have young people taking charge of their own health, we need to use a tool that actually assesses their self-management skills and health, and this helps break down a big, overwhelming issue like transition to small steps and individual goals that everyone can oversee," he says. "The app also empowers young people as they wanted something they could easily access themselves on their phone or tablet."
Gorter is also a co-lead-investigator on the CHILD-BRIGHT – READYorNotTM (READiness in Youth fOR traNsition Out of pediaTric Care) Brain-Based Disabilities Project, where researchers at McMaster and McGill universities are developing and evaluating e-health aids to help young patients with cerebral palsy, spina bifida, autism, epilepsy or fetal alcohol spectrum disorder, and their families, make a seamless transition from the pediatric to adult health care systems.
"Ten years ago, a lot of the literature in this area focused on the problem of transition and that we needed to do more to help young people prepare for adulthood," he says. "As a clinician, you keep your patients and their families in mind. Knowledge is great, but if you do not change practice and do not have the tools to do so, it doesn't make your life better."
Gorter says teamwork is at the heart of his research, and that he emphasizes collaboration as director of the CanChild Centre for Childhood Disability Research. CanChild is dedicated to generating knowledge and transforming lives of children and youth with developmental conditions and their families.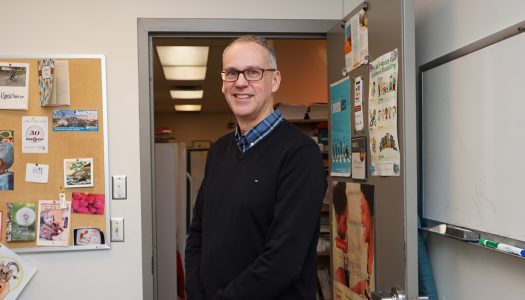 Peter Rosenbaum, co-founder of CanChild and professor in the Department of Pediatrics at McMaster, says Gorter has continued the tradition of excellence at CanChild.
"Jan Willem has boundless energy, infectious enthusiasm and an ability to connect and network with colleagues everywhere – whether in the next office or on the other side of the world," says Rosenbaum, who is also a developmental pediatrician and health services researcher.
"CanChild is thriving, with an enviable international reputation and connections with like-minded colleagues across the globe, while his own research and academic writing have led to his personal recognition as an excellent invited speaker and thinker on the emerging and still-new field of transition to adulthood and understanding the adult lives of people with child-onset developmental impairments."
Rosenbaum and Gorter are the lead authors behind a transformative 2012 paper titled: "The 'F-words' in Childhood Disability: I swear this is how we should think!" Inspired by more than two decades of CanChild research and continual discussion amongst members of the CanChild family, the paper features six F-words that the authors state should be the focus in childhood disability. These words are: function, family, fitness, fun, friends, and future.
"I recently had a family in my clinic from Syria who spoke Arabic and were new to Canada, but since I don't speak Arabic, it was difficult for them to connect with me as a physician and our goals to make things better," he says. "The F-words were published as a poster, which has been translated into 18 languages, including Arabic. I gave the poster to the family, and it was a different conversation as we could connect better."
Gorter says he has always had an interest in helping others.
Growing up in the small town of Krommenie in the Netherlands, he was an avid sailor from a young age and spent much of his youth teaching other kids to navigate the waters.
His grandfather then father served as the town's only notary lawyer, and he credits his mother for his interest in medicine. She worked as an assistant to a local physician before starting her family.
Gorter completed his medical degree at the University of Amsterdam. His rotations in medical school allowed him to work with patients facing different health challenges. A research placement focused on the all-encompassing impact of rheumatoid arthritis on seniors led to an interest in rehabilitative medicine.
Gorter did his mandatory military service at a military rehabilitative centre situated near Utrecht. He earned a PhD at Utrecht University. In 2000, he finished his post-doctoral training as a physiatrist, and followed his passion to help children with disabilities and their families.
He was recruited to McMaster by Rosenbaum in 2008. Although he had established a research network called NetChild in the Netherlands and was leading a research program, he decided to relocate to McMaster and establish himself as an international leader in the field of transition to adulthood.
Gorter and his husband, Ton de Kok, currently call Dundas home. De Kok, a former social worker, runs the local Homestead 1867 Bed and Breakfast. In good weather, the couple can be found sailing on Lake Ontario. Gorter also enjoys playing euphonium in the Dundas Concert Band.
They return to the Netherlands three or four times each year, as Gorter is also a visiting professor in rehabilitation at the University Medical Center Utrecht.
"Because of my nautical interests, I wanted to be a captain of a large ship crossing the ocean when I grew up," he says. "It's funny I still ended up across the ocean in Canada."