International conference focuses on the future of vaccine development, manufacturing and access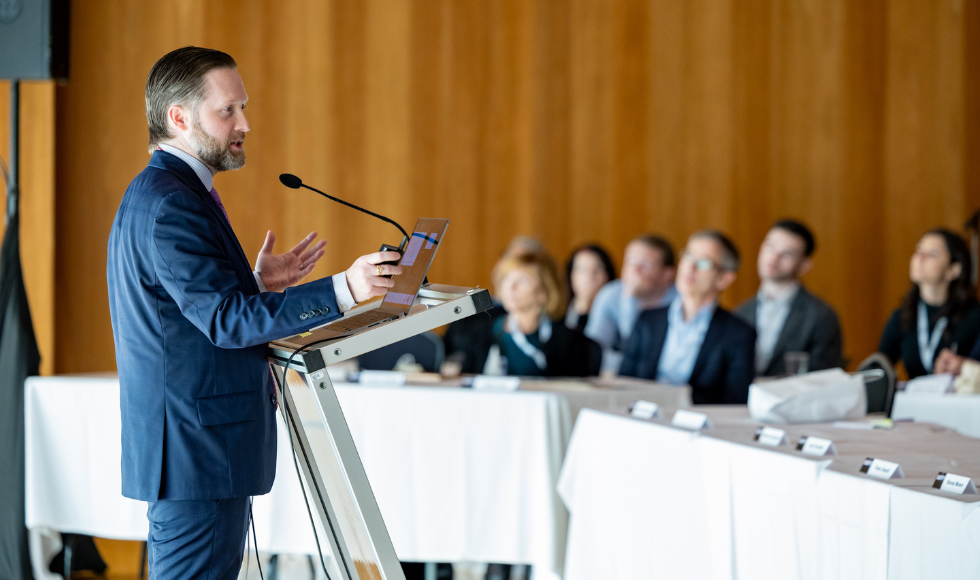 McMaster experts including Matthew Miller (pictured above) and international researchers gathered at The Future of Vaccinology Symposium to share developments in vaccine research.
---
BY Beth Gallagher
October 24, 2023
Society needs next-generation vaccine technology that can be rapidly adapted for emerging outbreaks, because, as we learned during the pandemic, speed saves lives. 
"Prevention efforts need to be at least as large as our focus on responding to future outbreaks, so we should be thinking of vaccines with broad protection," said Matthew Miller, director of McMaster's Michael G. DeGroote Institute for Infectious Disease Research (IIDR). "We want to keep people out of hospital until we can make highly specific neutralizing vaccines." 
Miller was speaking at The Future of Vaccinology Symposium hosted by McMaster's Global Nexus School for Pandemic Prevention and Response and the IIDR. McMaster experts and international researchers gathered to share developments in vaccine research. 
"This symposium embodies the spirit of Global Nexus by bringing together experts from across sectors to discuss one of the most pressing issues of public health," said President and Vice-Chancellor David Farrar. 
Farrar said McMaster experts have been global leaders in vaccine development for decades and continue to make key contributions that span the full spectrum of vaccinology — from design and testing, to manufacturing, clinical trials and vaccine access for marginalized communities. 
14 million deaths prevented by COVID-19 vaccine 
Keynote speaker Carl Zimmer, award-winning science author and New York Times columnist, opened the symposium with a reminder that COVID-19 vaccines prevented more than 14 million deaths. On the other hand, an additional one million deaths could have been prevented if there wasn't "shockingly poor" distribution to low-income countries, said Zimmer. 
As a science journalist covering the pandemic, Zimmer said reporters "very quickly realized we were covering the story of developing vaccines."   
Vaccine development is uniquely challenging, as promising vaccine candidates often never make it beyond the lab. The transition from laboratory to clinical trials, he said, is a stage known as the "valley of death."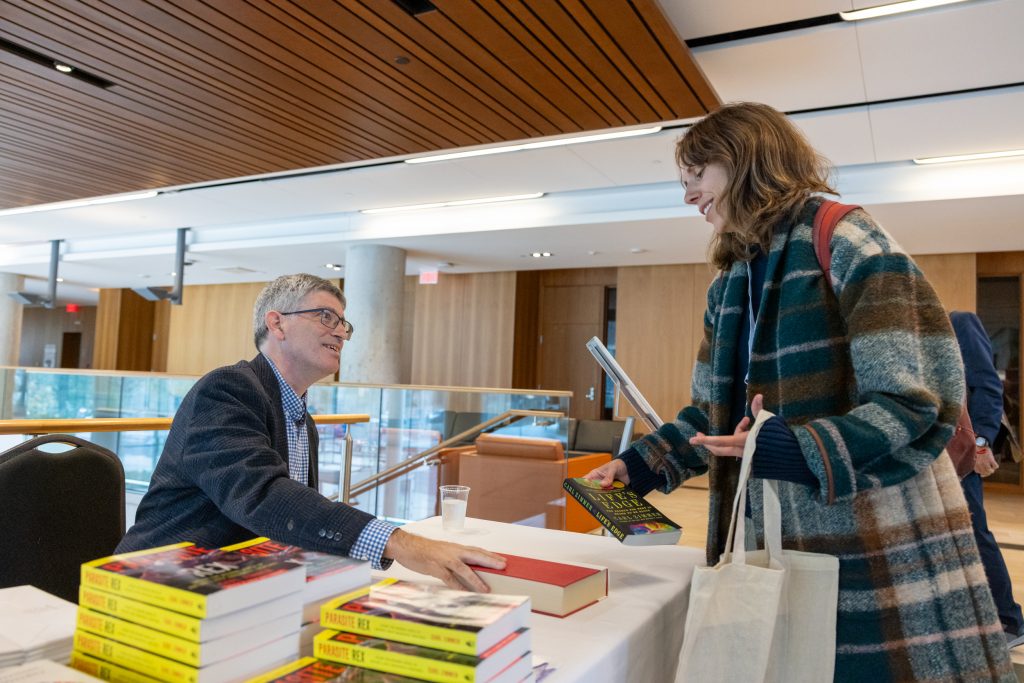 McMaster's next-generation vaccine
Professor of medicine Zhou Xing is a co-principal investigator with Miller and others at McMaster on McMaster's inhaled COVID-19 vaccine which is entering Phase 2 human clinical trials. He said, "We need next-generation COVID vaccines not only for COVID, but for future pandemics." 
The McMaster aerosolized vaccine, which is breathed in through the mouth rather than injected with a needle, has been shown to be more protective in preclinical studies, especially against variants. Breathing in a vaccine through the mouth is also better than vaccines administered as nasal sprays, said Xing. 
When a vaccine is delivered through the mouth rather than nose, the vaccine is deposited directly into the lower respiratory tract, stimulating a much better immune response, said Xing. "Aerosol delivery is much less known to the general public and journalists. These two delivery mechanisms (mouth versus nose) are drastically different."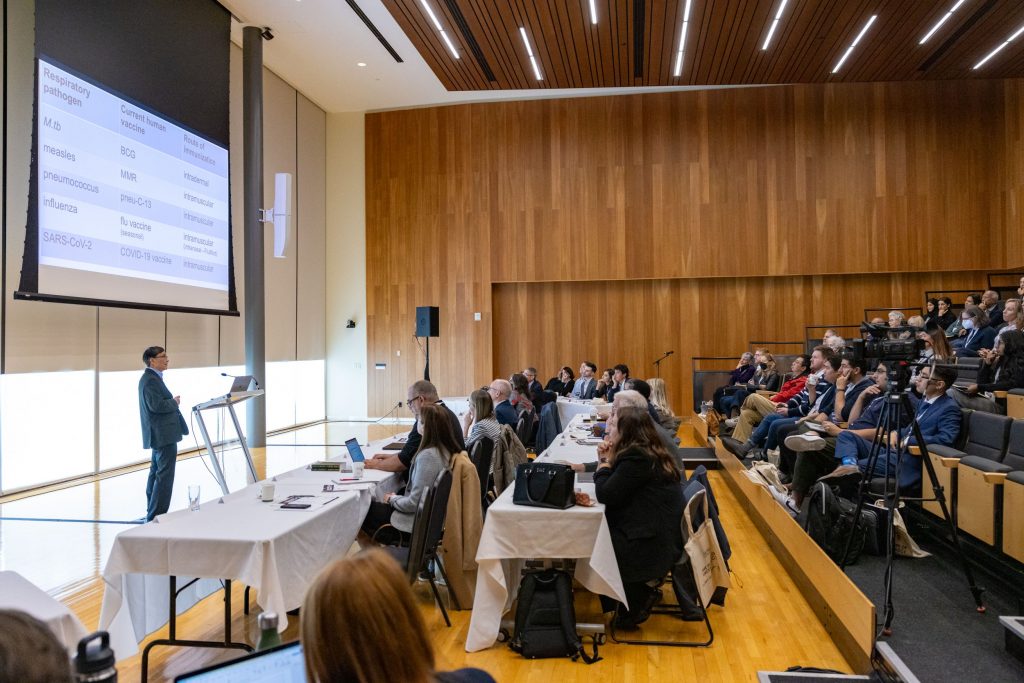 Cancer vaccine development
Brian Lichty, a professor of medicine and co-founder of biotech startup Esphera SynBio, shared developments on new technology that is designed to treat infectious diseases and cancer. The technology delivers therapy to targeted tumour or immune cells using exosomes, which contain parts that can communicate with other cells. 
Lichty said the technology is a personalized medicine approach because, in theory, a patient's own tumour will support the development of the cancer vaccine. 
Vaccines and older adults
On day two of the symposium, Professor of medicine Dawn Bowdish shared her team's research on vaccinated older adults living in long-term care and retirement homes. She pointed out that COVID infections are particularly bad for older adults and are associated with increased cardiovascular risk, frailty, and decreased lung function.
"When we think about vaccinating the older population, it's not just about keeping them from dying," said Bowdish. "It's about keeping them healthy so they can have the best twilight years possible." 
For older adults, a critical factor that determines vaccine effectiveness is the length of time from the last vaccine, said Bowdish. An earlier study from her team found that one in five vaccinated long-term care residents was at risk of COVID because of low antibody levels. Those early findings prompted a policy change in Ontario in 2021 that resulted in residents getting a booster shot, a move that saved lives.  
Vaccines and marginalized communities
Sonia Anand, a professor of medicine and lead researcher of the COVID CommUNITY – South Asian research program, presented research about the South Asian community in Canada, with a particular focus on people living in the Peel Region, where there was a very high risk of infection during the early stages of the pandemic. 
Anand's colleagues at McMaster noticed gaps in the COVID response for South Asian communities so they created testing centres and translated health information.
"Culturally targeted messaging and provision of materials was a key feature of what we did, and it can be a lesson learned for future pandemics," said Anand.  
The research team found that community organizations helped public health officials increase vaccine access and confidence. Anand advised scientists and scholars to begin building relationships now so they can more quickly and effectively support marginalized communities during the next outbreak.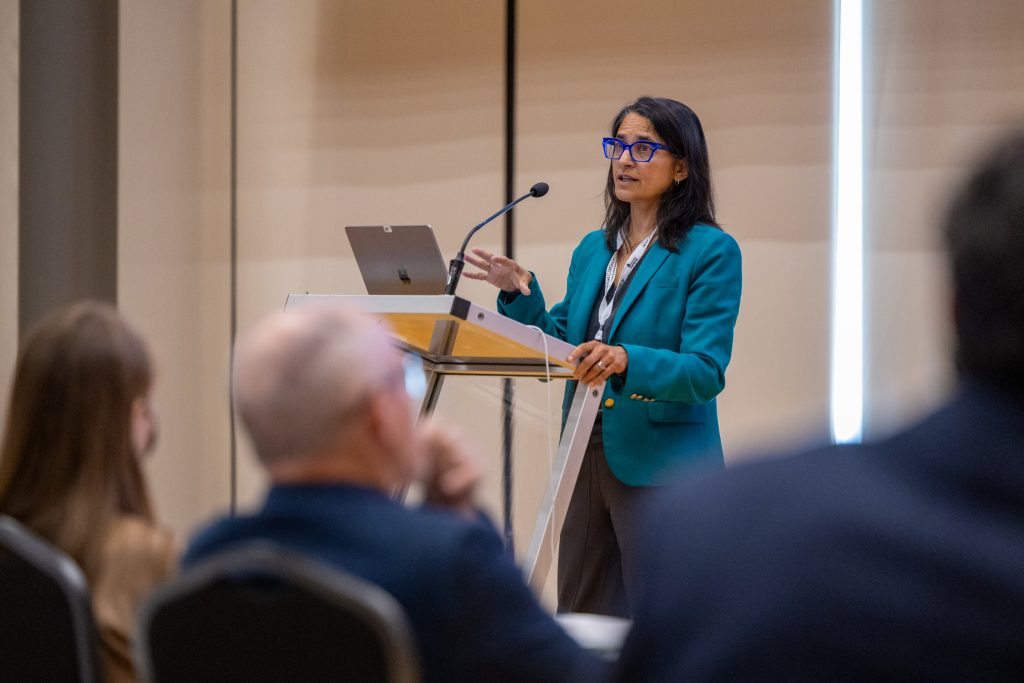 Nicole Blackman, provincial director of the Indigenous Primary Health Care Council, reminded symposium attendees that historical and present-day context is deeply connected to vaccine hesitancy among First Nations, Inuit and Métis peoples.
Blackman said the history of colonization and racism are critical factors, with the legacy of segregated schools and hospitals being very unsafe places for Indigenous adults and children, who were subjected to testing without consent and abuse, as well as alarmingly high death rates. 
"It's all about collaborating," said Blackman. "Be humble and recognize that Indigenous people do know what we're doing, and we know how to care for our people."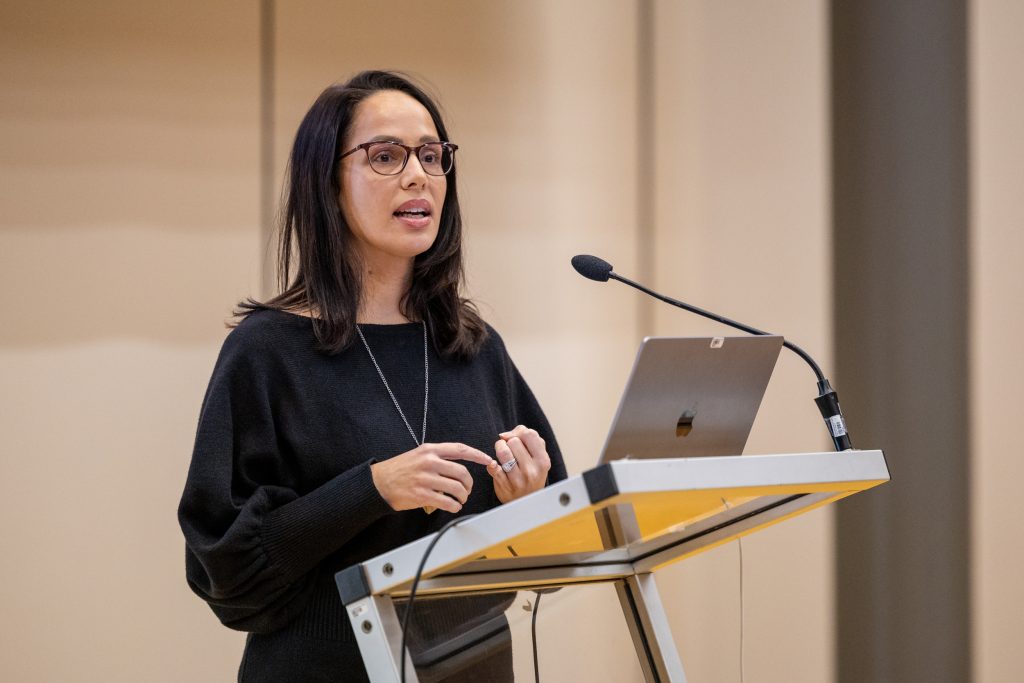 Experts who attended the symposium
The Future of Vaccinology Symposium included many experts – national and international – who spoke on the history and development of vaccines for rotovirus, Respiratory syncytial virus (RSV), influenza and malaria, as well as vaccine policy and methods for evaluating vaccine efficacy and effectiveness.