Zhou Xing wins prestigious immunology award for research into mucosal vaccines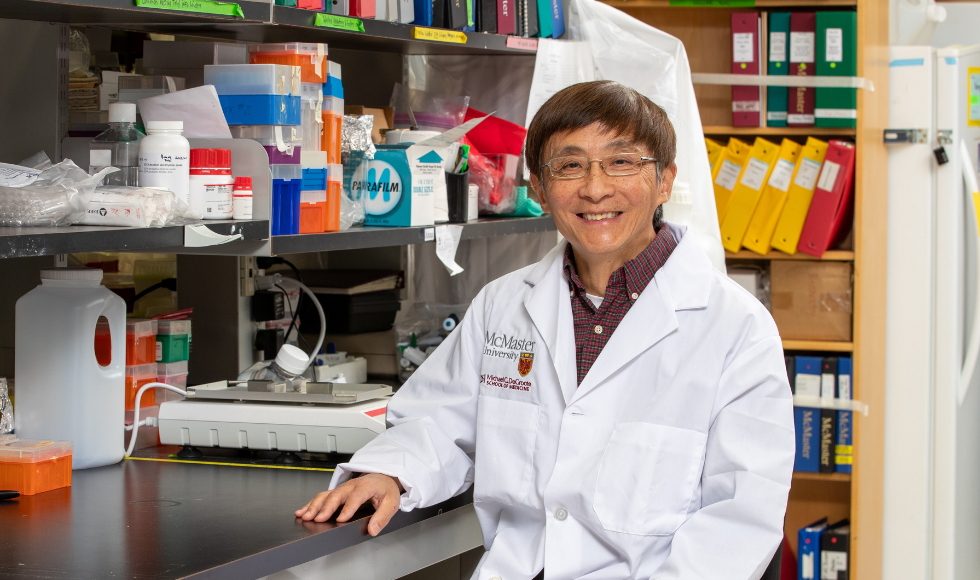 Zhou Xing, professor of medicine and member of the Michael G. DeGroote Institute for Infectious Disease Research, has been named the winner of a prestigious award for research into mucosal vaccines.
---
BY Blake Dillon
February 3, 2023
The Canadian Society for Immunology (CSI) has announced McMaster University's Zhou Xing as the 2023 recipient of its prestigious Hardy Cinader Award.
Granted annually, the Cinader Award recognizes distinguished scientific leadership and accomplishments in the field of immunology and is the highest honour bestowed by the CSI.
Xing, a professor of medicine and a member of the McMaster Immunology Research Centre and the Michael G. DeGroote Institute for Infectious Disease Research, is being honoured for his renowned immunology research program, which focuses on respiratory mucosal immunity, infectious diseases, and vaccine development.
Over the years, Xing's lab has made landmark preclinical discoveries regarding lung macrophage functions, T-cell responses, and mucosal vaccination, all of which have informed his broader research into the development of new tuberculosis vaccines.
Xing says this body of work positioned McMaster particularly well to respond to the COVID-19 pandemic, for which he is currently co-leading the development of new inhaled vaccine candidates.
"We began our COVID-19 work following more than 15 years of research into host-defense mechanisms, basic research in animal models, and research into aerosol delivery methods for vaccination against respiratory pathogens," Xing says. "We had all of the necessary technology established here at McMaster and we knew exactly how we should proceed."
Xing says the made-at-McMaster vaccines target the virus' spike protein as well as additional viral antigens, offering recipients a more robust protection against COVID-19 and its emerging variants of concern.
This research, part of the preparedness and response mandates at Canada's Global Nexus for Pandemics and Biological Threats, recently received more than $8 million in funding from the Canadian Institutes for Health Research (CIHR) to support Phase-2 human trials. This process will help researchers assess the new vaccine's safety and efficacy, and, for Xing, is a critical step toward mobilizing research from the lab to society.
"We're still enduring this pandemic," Xing says. "We have emerging variants and breakthrough infections — there is a real need for next-generation vaccine strategies against COVID-19."
Xing will receive the Cinader Award this spring at the annual CSI Meeting in Orford, Quebec.