McMaster celebrates federal investment in medical isotope ecosystem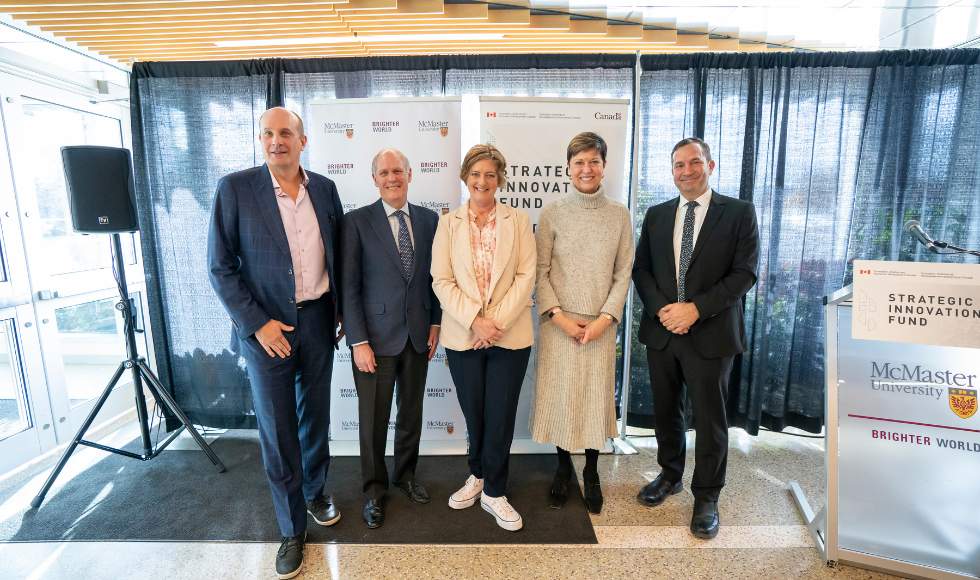 From left: Owen Roberts, Chief Executive Officer of the Centre for Probe Development & Commercialization; McMaster President David Farrar; Hamilton Mountain MP Lisa Hepfner; Oakville North – Burlington MP Pam Damoff; and Dave Tucker, Chief Nuclear Officer and Associate Vice-President, Nuclear. (Photo by Georgia Kirkos, McMaster University)
---
BY Daniella Fiorentino, Office of the VP Research
November 15, 2023
McMaster welcomed government leaders to campus this week to celebrate a $6.8M federal investment in the McMaster Nuclear Reactor (MNR), a leading supplier of cancer-fighting medical isotopes.
The investment was announced in June as part of a $35 million national initiative to create a Canadian Medical Isotope Ecosystem (CMIE) – a pan-Canadian network for medical isotope research and innovation.
The funding will be used to expand operations at the reactor, enhancing its capacity for medical isotope research and production of custom isotopes for clinical trials, says Dave Tucker, McMaster's Chief Nuclear Officer and Associate Vice-President, Nuclear.
"We're witnessing a renaissance in nuclear medicine both at home and abroad. This support from the federal government will ensure that Canada is at the forefront of the rapidly expanding medical isotope sector," Tucker says.
"From the McMaster-based Centre for Probe Development & Commercialization (CPDC) to spin-offs like Fusion Pharmaceuticals and AtomVie Global Radiopharma Inc., Hamilton and McMaster are at the core of commercializing new life-saving medical isotopes, creating high-paying jobs in the field and training the next-generation of nuclear industry leaders."
Pam Damoff, Member of Parliament for Oakville North – Burlington; Lisa Hepfner, MP for Hamilton Mountain; and Chad Collins, MP for Hamilton East – Stoney Creek attended the announcement.
"Canada is a global leader in the production of medical isotopes used to diagnose and treat conditions like heart disease and cancer," says Damoff. "That's why we've invested $35 million to create the new Canadian Medical Isotope Ecosystem bringing together experts in the field, like McMaster University and the CPDC, to create new tools and treatments for our healthcare system.
"Today's funding will position Canada for the future and enable us to leverage our existing medical isotope capacity to save more lives not only here in Canada, but around the world."
The McMaster Nuclear Reactor produces 60 per cent of the world's iodine-125 – a medical isotope used to treat more than 70,000 patients with prostate and other cancers globally each year.
The reactor recently completed its six-week 24/5 pilot project in preparation for increased operations at the reactor, which will support  development and production of medical isotopes Lutetium-177 and Holmium-166 at the facility.