Partnerships, research excellence and teaching drive McMaster's top 100 ranking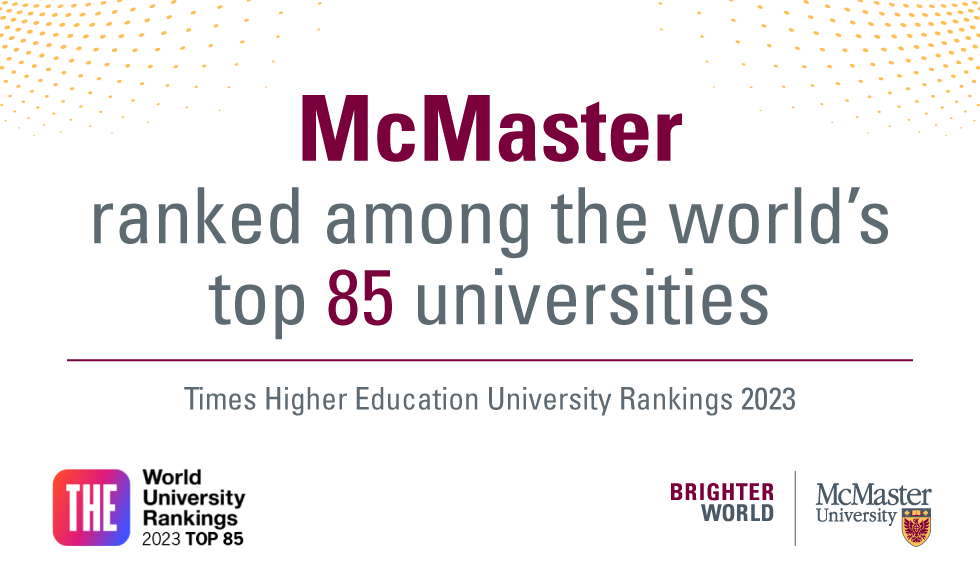 McMaster ranked 85th in the 2023 Times Higher Education World University Rankings, one of only four Canadian universities in the global top 100. 
---
October 12, 2022
Powered by impactful research, teaching and industry partnerships, McMaster continues to be ranked among the world's top 100 universities in a key international ranking of nearly 1,800 institutions.
The university ranked 85th worldwide in the 2023 Times Higher Education World University Rankings released today, one of only four Canadian universities in the global top 100.
"I'm delighted that McMaster continues to earn its international reputation as a centre of excellence for teaching, learning and innovation," says President David Farrar.
"We're proud to continue serving our community and society by nurturing our students' potential, inspiring creativity and critical thinking, promoting an enduring love of learning and undertaking innovative research."
McMaster ranked first in Canada and 66th globally for Industry Income, which reflects the demand from businesses for research, and the university's ability to attract funding in the commercial marketplace.
"At McMaster, we strive to be a go-to place for world-class researchers and collaborators who share our commitment to working together across disciplines, sectors and borders to develop knowledge, tackle global issues and advance human understanding," says Karen Mossman, vice-president, Research.
"These global leaders are shaping our future, training the next generation and enriching the social, cultural and economic fabric of our society."
McMaster ranked first in Canada in the area of citation impact, an indicator of "how much each university is contributing to the sum of human knowledge." This includes research that has been built on by other scholars and has been shared around the global scholarly community.
This year's Times Higher Education World University Ranking measured the performance of 1,799 universities from 122 countries, using a number of performance indicators in the areas of teaching, research, citations, reputation, international outlook and industry income.
The annual rankings are widely regarded around the world as a barometer of excellence in higher education.
This spring, Times Higher Education ranked McMaster 37th in the world for its impact at home and globally. The University Impact Rankings are based on the United Nation's Sustainable Development Goals (SDGs), a call to action to end poverty and hunger, protect the planet, and to address the most pressing challenges of our time.
McMaster has also been one of Canada's most research-intensive universities for more than five years.