Meet Darren Lawless, McMaster's assistant vice-president of research, innovation and partnerships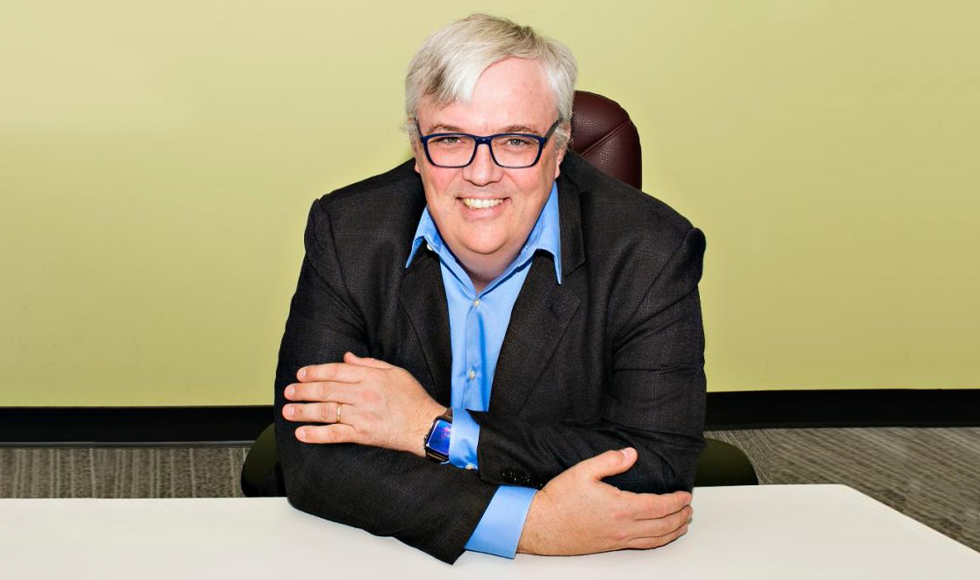 BY Lori Dillon
February 5, 2021
Starting a new job can be stressful at the best of times. But starting one two months into a pandemic when your key role is to connect people – and the whole world is seemingly disconnecting – well, that should make it extra stressful.
Not so for Darren Lawless, McMaster's assistant vice-president, research, innovation and partnerships, who joined the university last May and has been working with faculty members across campus to help advance their research through partnerships with governments, industry, not-for-profits and other like-minded research institutions.
While he would have preferred to be doing 'all things networking' – meeting people, touring labs, hosting partners and events on campus – Lawless has still been able to make some great connections with and for the research community.
A chemist by training, Lawless – who joined McMaster after a four-year stint as Humber College's Dean of Applied Research and Innovation – has been on both sides of the industry-academic equation over his 25-year professional career and, ultimately, decided he's best suited straddling the two.
After earning an BSc and PhD in Chemistry from Concordia and a post-doc at Argonne National Laboratories in Chicago, Lawless went to work in industry – moving from bench chemist to senior executive of R&D – and, ultimately, gaining first-hand experience of collaborating with the academic and government sectors.
Incidentally, while serving as head of research development at Fielding Technologies Inc., Lawless collaborated with chemistry professor Ron Childs, McMaster's first vice-president research, to advance the company's membrane-based technologies.
"I left industry when I recognized the significant void that the academic sector could fill for businesses, particularly SMEs, to improve productivity and commercialize new products and services, and I really wanted to help fill that gap." he says.
"After having had a foot in both camps, I am fully aware of the challenges and opportunities that exist on both sides, and my goal at McMaster is to minimize the challenges and maximize the opportunities."
To that end, Lawless answered a few questions on some of those opportunities:
Q: What sets McMaster apart?
A: The people. Before joining McMaster, I knew it by reputation and was familiar with some of the amazing research and people. But seeing, first-hand, their passion for their work and their willingness to collaborate – across disciplines and with external partners – is extraordinary. For a guy like me, that's music to my ears. There's a culture of collaboration that is unique to McMaster. That's what really sets it apart.
Q: How has the pandemic affected partnership development?
A: It's actually provided some unique and immediate opportunities. I've had the privilege of being part of the working team behind McMaster's Centre for Excellence in Protective Equipment and Materials. It's been a remarkable success on so many fronts and there's still more to be done. Not only is CEPEM engaging industry – helping them to reinvent themselves during these unprecedented times – and garnering the attention and investments from governments, but it's enabling new collaborations across disciplines, and creating jobs for our region, province and country. It's a really creative project that allowed us to engage new partners through several polytechnics and Tech-Access Canada.
Q: What disciplines make for the best partnership opportunities?
A: There are endless opportunities across all of McMaster's faculties. COVID-19 has taught us a number of things, but one thing for certain is that any technology, process, device, vaccine, etc., is worthless unless we've also mobilized our knowledge to educate society, inform public opinion, and influence policy- and decision-making. History, economics, ethics, societal factors and human behaviour are key to advancing any social or commercial development. Short answer: some opportunities are more obvious, but they're all worth investigating.
To this point, a few of us at McMaster are working with Mitacs to see if we can identify a means in which to broaden its scope so researchers in the social sciences and humanities can better access its partnership funding. If successful, it will go a long way in helping not-for-profits and public health agencies across the country advance their mandates and serve their constituents.
Q: What should the McMaster research community know about you?
A: First thing, I have a passion for innovation and creativity and I'm at my best when I'm connecting innovators with the public, private and not-for-profit sectors. Second, I consider myself a generalist and leave the real work to the experts. I just want to be the catalyst that helps our researchers mobilize their knowledge or transfer their technologies. And third, please contact me to let me know about your research, if you're looking for a potential partner, or just to chat about innovation in general. And know that if it were business as usual, I'd been knocking on doors to introduce myself.
Until then, he can be reached by email at lawlesd@mcmaster.ca and by phone at 289-838-5330.