McMaster Centre of Excellence receives $1.2M to advance Canadian-made PPE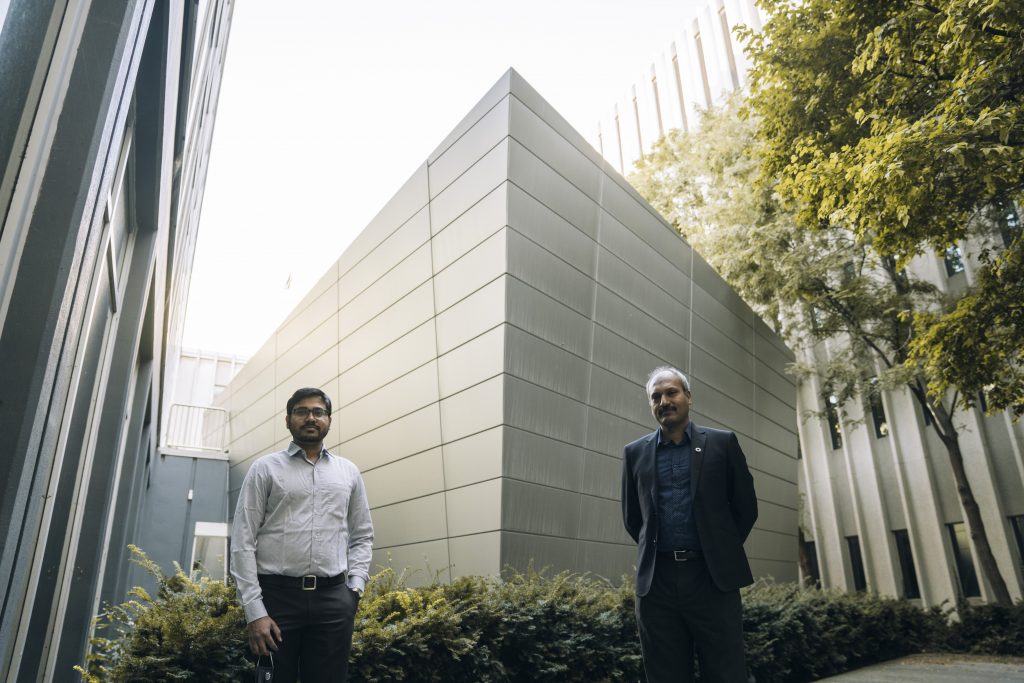 Rakesh Sahu (left) and Ravi Selvaganapathy outside McMaster's Centre of Excellence in Protective Equipment Materials. Photo by Jin Lee
---
BY Jessie Park, Faculty of Engineering
January 26, 2021
Canada's first and only research hub dedicated to developing, testing and validating personal protective equipment (PPE) is receiving a $1.2M grant from the Ontario Together Fund, announced today by the Government of Ontario.
The funding will support McMaster University's Centre of Excellence in Protective Equipment and Materials (CEPEM) in making next generation PPE by expanding its infrastructure, testing equipment and partnerships with companies to advance Canadian-made PPE for healthcare professionals, essential workers and the public.
A PPE testing facility at the University of Toronto's Dalla Lana School of Public Health will receive $1.1M as part of the province's joint funding announcement.
"As we continue our fight against COVID-19, we know that our focus needs to be broader than just meeting the current needs and demand for PPE," said Vic Fedeli, Minister of Economic Development, Job Creation and Trade, in announcing the funding.
"That's why we are proud to support the research and development at McMaster and U of T, which will advance made-in-Ontario supply chains of PPE and help our manufacturers bring their products to market quickly and safely.
The innovation and advanced technology at these institutions will help create the next generation of PPE and make Ontario a world leader."
CEPEM was created in mid-March at the height of concerns about a possible PPE shortage for Ontario's healthcare and frontline workers.
Since then, its team of faculty and student engineers and clinicians have worked with more than 50 Canadian companies to develop and validate products, get them to market faster, and even rethink the design of PPE for the next generation of frontline workers.
Its research is part of Canada's Global Nexus for Pandemics and Biological Threats, an international network launched at McMaster with scientists, clinical health and medical specialists, engineers, social scientists and other experts working collaboratively to prevent future pandemics and mitigate global health threats.
"We are at the birth of a new industry in Canada with PPE design and manufacturing. CEPEM's goal is to support the long-term sustainability and success of this industry," says Ravi Selvaganapathy, CEPEM's director and Canada Research Chair in Biomicrofluidics.
"This kind of comprehensive effort with expertise from across engineering, sciences and health sciences to inform the testing, development and manufacturing of this next generation PPE is not found anywhere else."
"We're combining our research with user feedback from the clinicians who will potentially use these products, making CEPEM truly unique in this field," he says.
---
More by Ravi Selvaganapathy: Everyone needs masks. There's no reason they can't be made right here in Canada.
---
The Ontario Together Fund will support the team in creating best in class infrastructure to accelerate research and development for Canadian companies interested in local manufacturing of PPEs.
"Our researchers are working with companies to create the next generation of protective equipment – including cloth masks offering enhanced protection, products made with recyclable materials that could be sterilized, mask-face-shield hybrids for healthcare workers, and virus-filtering air purification equipment for buildings," says Selvaganapathy.
In addition to testing and validating PPE for industrial partners, the Government of Ontario and local hospital networks, CEPEM is also working with the Canadian Standards Association to assist in developing national standards for PPE testing, especially in virus aerosol filtration.
Currently, the research takes place in individual labs across campus, where researchers are testing PPE for breathability, proper fit and how well they protect the wearer against bacteria and viruses. The team continues to develop new ways to test how bacteria and virus aerosol particles interact with different PPE materials.
"These are extraordinary times and McMaster is extremely fortunate to have innovative and dedicated faculty, staff and students who are rising to meet the enormous challenges posed by COVID-19," says Ishwar K. Puri, McMaster's dean of engineering who oversees CEPEM's management team.
"We are pleased that our initial support of an enthusiastic grassroots group of researchers has rapidly grown into an organized and world-class centre of excellence that will benefit Canada and the world."
Since March, the Faculty of Engineering has invested more than $200,000 towards CEPEM, along with technical staff to support the research.
"McMaster is renowned world-wide for our interdisciplinary collaboration and commitment to the changing needs of our community," says Paul O'Byrne, dean and vice-president of McMaster's Faculty of Health Sciences.
"It's these kinds of partnerships that set McMaster apart," says Karen Mossman, McMaster's vice-president, research.
"Our faculty members have earned the trust of industry, and Ravi and his team exemplify that," she says, noting that McMaster attracts more industry funding than any other Canadian university.
"Our partners have confidence in our work and recognize our evidence-based results give them a competitive advantage."
The partnerships will serve as a catalyst in the manufacturing industry, creating thousands of new jobs in years to come, says Selvaganapathy, noting that CEPEM's recent partnership with Niko Apparel Systems, a Hamilton garment company now producing hospital-grade face masks, has led to the employment of more than 20 people.
CEPEM's daily operations will be managed by a team of Faculty of Engineering members which include Selvaganapathy, Rakesh Sahu, Michael Thompson, Zeinab Hosseini-Doust, John Preston, David Latulippe, Charles De Lannoy, Chan Ching and Robin Zhao.
CEPEM's research was made possible by tremendous support from the Government of Ontario, Ontario Centres of Excellence (OCE), National Research Council Canada (NRC), McMaster University, the Faculties of Engineering and Health Sciences, the McMaster Manufacturing Research Institute (MMRI), the Canadian Centre for Electron Microscopy (CCEM) and Canada Foundation for Innovation (CFI).
Through the Ontario Together Fund, the Government of Ontario is investing $50M to businesses and institutions ready to adopt the technological changes needed to produce supplies and equipment for the health care sector.
---
Success stories
CEPEM'S successful partnerships with local manufacturers  include: