Meet the team that built McMaster's first satellite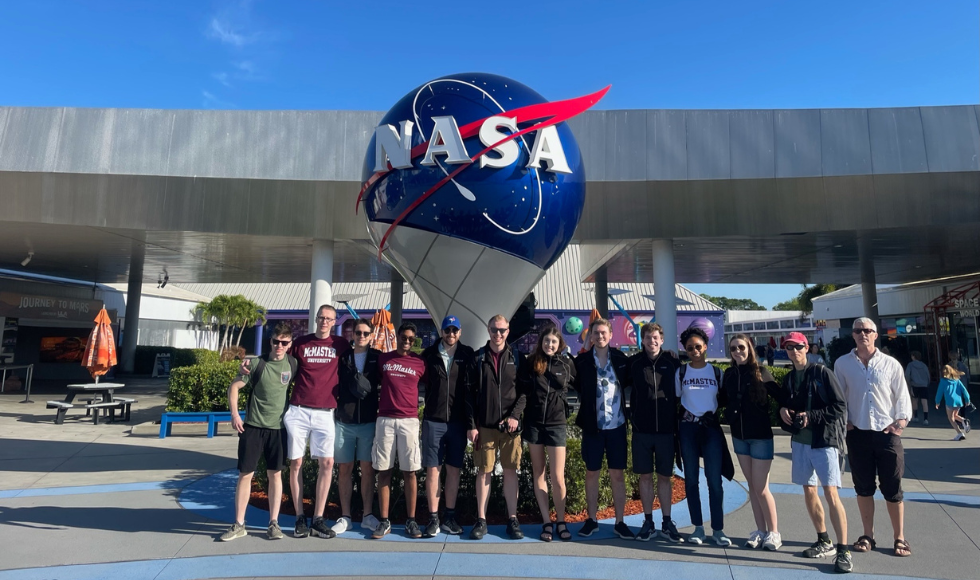 More than 150 students have worked on the NEUDOSE project since 2015 and some of the team is on hand in Florida to watch the launch of their satellite.
---
BY Jesse Dorey
March 14, 2023
A team of students and researchers at McMaster have built a satellite that's capable of measuring radiation levels in space.
The satellite, called NEUDOSE, is set to be launched into space Tuesday night aboard a SpaceX rocket. Its destination: the International Space Station.
The team is travelling to Florida to watch their satellite lift off in person.
Here are a few of the team members heading to Florida to watch their satellite liftoff as they reflect on their roles in McMaster's first space mission and their emotions leading up to launch.
---

Andrei Hanu, '13

| NEUDOSE Co-Principal Investigator; PhD Medical Physics

On how the NEUDOSE mission came together 

This project started in October 2014. During that time, I was a post-doctoral fellow at NASA Goddard Space Flight Center, and I had many colleagues that were developing satellite projects, an opportunity that was not available in Canada at that time. The idea of being able to experience the process of designing an instrument, launching it and then operating it in space was extremely exciting, so I got motivated and decided to reach out to my former PhD advisor, Dr. Soo Hyun Byun at McMaster University, and that's how the project started.

On how it feels 

I can't believe I'm here. If you told me five years ago when we started all of this that at some point we would get here, it'd be incredibly difficult to believe.
---
---

Eric Johnston, '17

 | NEUDOSE Co-Principal Investigator; PhD Medical Physics

On how he joined the NEUDOSE mission

I would say that I'm actually the second member of the NEUDOSE team. I went to school with Andrei Hanu and when he came back to visit people after working at NASA, he had this idea of building a small satellite to measure radiation that we haven't measured yet. We had become friends while we were doing our PhDs, so we kicked the can back and forth for a few weeks. And after that he said, 'You know what? Let's do it.'

On how it feels

I'm actually very excited for launch day. My family's going to be there, my girlfriend's coming down. This is something that's eight years in the making. So, really, what launch day is for me is spending time with my friends, my family and our team members who we've done this amazing thing with.
---

Taren Ginter

 | NEUDOSE Operations Manager; Faculty of Science

On her role on the NEUDOSE team

As the operations lead, I'm in charge of the internal and external team management. That includes things like hiring practices, onboarding and off-boarding and making sure things are running smoothly inside the team. It also means doing public relations, outreach, promotions and making sure that people are aware that we have a satellite.

On how it feels

Knowing that something that was built by McMaster students is going to space is one of the most exciting things. I think it became real when we got the solar panels that were engraved with the names of all the students, the Principal Investigators and everyone that supported the project.

Looking at this piece of equipment that's going to space with your name on it, that made everything real.
---

Conor O'Reilly Juárez

 | NEUDOSE Payload Mechanical Specialist; Faculty of Engineering

On his role on the NEUDOSE team

As the payload mechanical specialist, I'm responsible for designing and building the payload. The payload is the part of the satellite that measures radiation and collects all the information for our mission.

On how it feels

Getting to work on something that is part of a real mission and knowing that something I helped work on is paving the way for future space exploration makes me incredibly proud.
---

Aaron Pitcher

 | NEUDOSE Lead Systems Designer; Faculty of Engineering

On his role on the NEUDOSE team

My role on the NEUDOSE team was to basically put everything together. We have tons of different sub-teams that work on their individual components, and I oversee these teams and make sure that these components will work together and will be integrated together.

On how it feels

If I had to tell myself at five years old that I would've launched something into space, I would've said that you've been dreaming.

There are no words that can describe the amount of joy that I've had as part of this team.
---

Angela Tollis

| NEUDOSE Mechanical Team Co-lead; Faculty of Engineering

On her role on the NEUDOSE team

When we're talking about the mechanical structural roles, we often say our job is to make sure the satellite doesn't blow up, which is kind of simple terms, but essentially, it's making what houses everything inside the satellite.

On how it feels

I never thought I would be able to go into a clean tent to assemble a satellite that's going into space. To be able to do that in university is pretty incredible.

It's definitely the highlight of my undergrad, but also I think of my career. It's something I'm always going to remember.
---
Follow along as we share the NEUDOSE team's adventures in Florida on Facebook, Twitter and Instagram. Register for NASA's livestream of the launch here. 
Click here to see the names of everyone who has worked on this project.