New inhaled COVID-19 vaccine receives more than $8M for next stage of human trials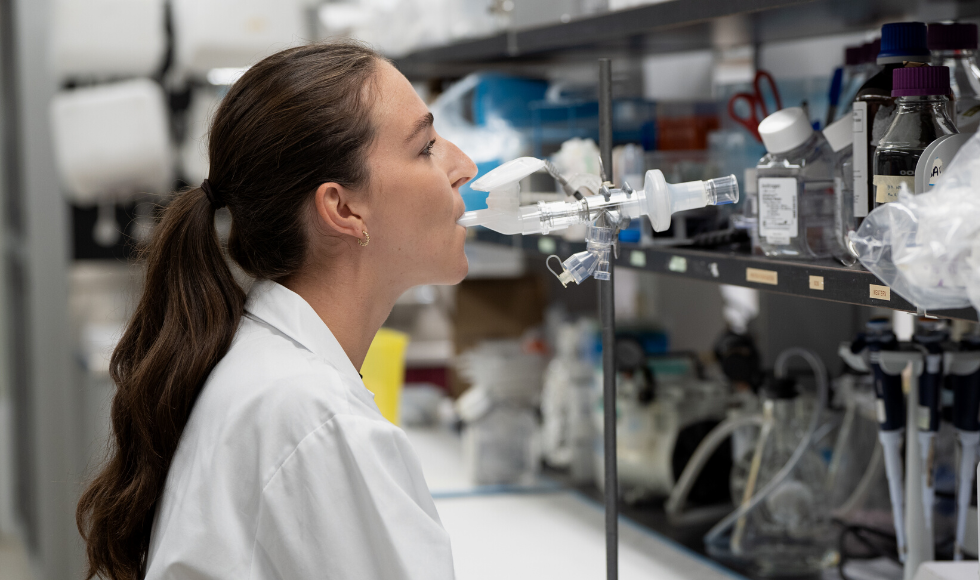 The inhaled aerosol vaccine is far more effective at inducing protective immune responses than traditional injections, targeting the lungs and upper airways where viruses first enter the body and providing long-lasting protection against respiratory infections. (Georgia Kirkos, McMaster University)
---
BY Michelle Donovan
January 20, 2023
Researchers at McMaster University are receiving more than $8 million in funding from the Canadian Institutes for Health Research (CIHR), enabling them to proceed with Phase 2 human trials for a next-generation, aerosol-borne COVID-19 vaccine.
 Filomena Tassi, MP for Hamilton West-Ancaster-Dundas and minister responsible for the Federal Economic Development Agency for Southern Ontario, made the announcement at McMaster, as part of CIHR's Clinical Trials funding initiative, involving seven projects at the university.
The new inhaled vaccine, with the potential to induce robust mucosal immunity against strains of SARS-CoV-2, including Omicron and other variants of concern, is entirely Canadian, from design and biomanufacturing at McMaster's Robert E. Fitzhenry Vector Lab to pre-clinical and clinical testing conducted by a team of experts in infectious disease and immunology.
Pre-clinical trials have shown the inhaled aerosol vaccine is far more effective at inducing protective immune responses than traditional injections, partly because it targets the lungs and upper airways where viruses first enter the body, providing long-lasting protection against respiratory infections.
---
Meet the researchers behind McMaster's inhaled COVID-19 vaccines
---
"There is a pressing need to develop new, more effective next-generation vaccine strategies," says Karen Mossman, McMaster's vice-president, research.
"As international leaders in respiratory mucosal immunity and vaccines, our researchers pivoted quickly with the arrival of the COVID-19 pandemic, drawing on an already strong inhaled vaccine research program focused on tuberculosis."
During Phase 1 of the human trials, researchers are evaluating safety and dose levels of the inhaled vaccine in 30 healthy volunteers, who have received at least two doses of a mRNA vaccine.
A large Phase 2 study will further evaluate safety and immune responses and is expected to begin in the coming months. It will involve up to 500 participants who have received at least three doses of a mRNA vaccine and include those who are older, have other health conditions, and may have a prior history of COVID infection.
"If we can show the new inhaled vaccine is safe and effective, as we anticipate, the impact will be significant for human health, medical costs and better quality of life," says Fiona Smaill, professor emerita in the department of Pathology and Molecular Medicine, who is leading the trials with colleagues Matthew Miller, Scientific Director of the Michael G. DeGroote Institute for Infectious Disease Research; Zhou Xing, a professor of medicine; and Brian Lichty, an associate professor of medicine; with collaborators from Dalhousie University and the University of Ottawa.
The work is a critical mission of Canada's Global Nexus for Pandemics and Biological Threats, which is based at McMaster.
"The current vaccination strategy for COVID-19 has us constantly chasing the virus, and it's clear that we simply can't keep up," says Miller.
"Our team has developed a vaccine strategy aimed at circumventing this cycle and the need to constantly update these vaccines by targeting parts of the virus that are resistant to mutation, and inducing strong immunity at the site where infection actually occurs."
Researchers are concerned about the declining uptake of booster vaccines, which is part of broader pandemic fatigue, and they anticipate a no-needle, pain-free vaccine will be much more appealing and convenient.
The new vaccine strategy will position Canada at the forefront for facing new stages of the current pandemic and preparing for the next pandemic, while advancing our understanding of develop new inhaled vaccines against other infections such as tuberculosis and influenza, they say.
CIHR's Clinical Trials Fund is designed to reinforce Canada's clinical trials ecosystem from discovery to implementation.