New study examines students' mental health and COVID-19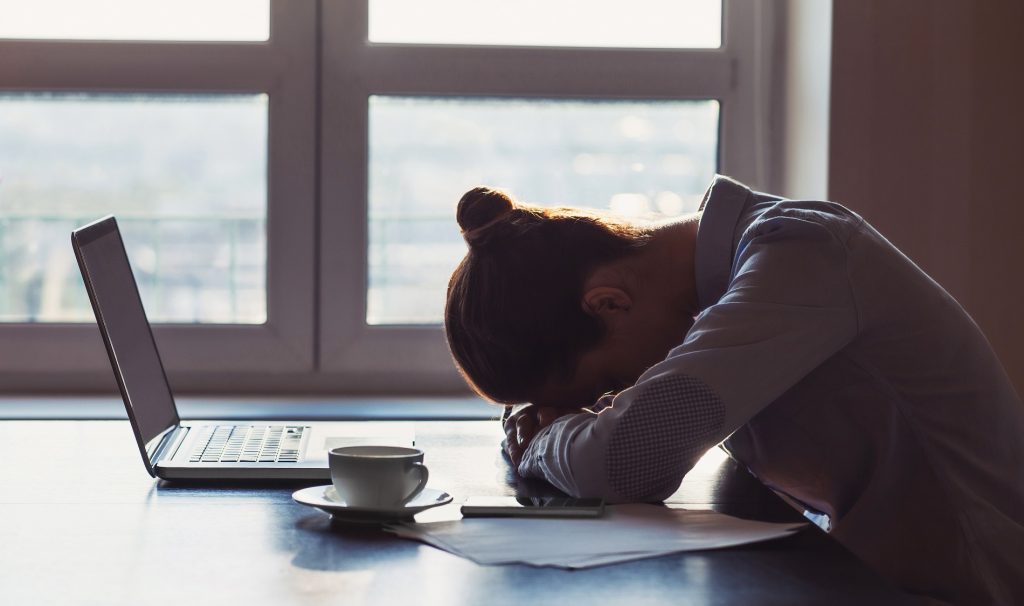 As the pandemic threatens to touch off mental-health problems for students, a McMaster researcher is leading new research at McMaster, in partnership with the World Health Organization, to understand students' experiences, and to help develop solutions. (Shutterstock photo)
---
January 28, 2021
Even before the pandemic, post-secondary students already faced unique stressors, and were vulnerable to mental-health problems.
Now, as the fallout of the pandemic threatens to cause a sustained and unprecedented wave of mental-health issues among students, new research from McMaster's Faculty of Social Sciences and the World Health Organization aims to understand their experiences, and to help develop solutions.
Sociologist Marisa Young, the Canada Research Chair in Mental Health and Work-Life Transitions, is leading the World Mental Health International College Student (WMH-ICS) survey for students at McMaster, which seeks to help create solutions for students here, as well as other Canadian and international institutions.
Young is working with the WHO study's principal investigator, Ronald C. Kessler from Harvard University, and the Canadian survey initiative's lead investigator, Daniel Vigo from the University of British Columbia.
The study, the first of its kind in Canada, has now been launched at 21 universities across 15 countries, allowing for regional and cross-cultural comparisons.
The study will help inform and shape supports for students, such as McMaster's Student Wellness Centre, and will help students find the resources and support they need through university.
Young and her team — Diana Singh, Jessica Monaghan, Allison Leanage, David Vaz and James Gillett — launched the WMH-ICS survey this month, and hope to provide a report on the first wave of results for public release by the end of March.
Here, Young talks about the enormous impact of COVID-19 on mental health, and what students can do to cope with the stress.
On COVID-19's three-pronged attack on mental health
Mental health might well be the biggest issue we face as we deal with the fallout of the pandemic in coming years.
Across almost all segments of society, we have seen increases in levels of depression, anxiety, substance use and sleep problems, as well as related issues of burnout, isolation and sedentism.
Generally, there are three avenues through which people's mental health has been compromised by COVID:
The first is that it presents what we might call a macro, ambient stressor, which can be non-specific and all-consuming. You walk out your front door or go to the grocery store and there are signs all around that the world is different than it was a year ago. This can be incredibly unnerving for many, especially those disadvantaged populations who might already be susceptible to mental health issues.
Second is that COVID and its impact have robbed people of the usual psychological resources that help us cope with stressful situations, in particular what's called "mastery" or a sense of control over your life and immediate surroundings. Without this valuable resource, the onset of mental-health problems becomes more likely.
Finally, this pandemic has exacerbated the stressors that people might have already been facing. For instance, we know that those with economic hardship are the first to lose their jobs in the lockdown. Parents with young children are struggling without the option of child care.
---
Marisa Young helps stressed-out families struggling with work-life balance
---
On chronic stress as a slow-moving catastrophe
As the second wave worsens, we can expect further spikes in mental-health problems. The chronicity of the stress associated with this pandemic is wearing on our society.
While we are resilient in many ways, but for each individual there exists a point where their experience of stress turns into distress.
Imagine the idea of a bridge collapsing. We've seen these examples in 2007 in Minnesota, or in Connecticut in 1984. In both cases, the main span of the bridge collapsed without the provocation of a catastrophic "event." Instead, there's continual stress to the bridge. The slow process of decay and breakdown ultimately reaches a threshold, resulting in collapse.
We can apply this "stress engineering model" to humans as well. There is a threshold at which the insidious chronic stress we endure eventually turns into psychological distress.
The duration of this pandemic, especially as we move into the second wave,  will sadly — but likely — culminate in such an experience.
---
Marisa Young: Psychological challenges for working parents in COVID-19 quarantine
---
Tips for students
In "normal" circumstances, undergraduate university students face unique stressors that impact their mental health: Moving away from home for the first time, unanticipated workloads and deadlines, the pressure of meeting new people and trying to develop a network of friends, and potentially unexpected financial stressors, to name a few.
The pandemic has not only added to, but also elevated these stressors for university students, potentially leading to unprecedented distress and other mental health issues amongst this vulnerable population.
This really is an arduous time for students, but if I could recommend any tips to help them through this enduring pandemic and the long winter, I would suggest:
Make sure to connect with others on a daily basis. Social support is key in these times, and while we are limited to virtual contact, it is still beneficial and can help reduce feelings of loneliness and isolation.
Try to maintain a regular routine and sleep schedule. Sleep is key to cope with the day-to-day stressors students might face. While it's hard to keep a normal schedule in these very abnormal times, I encourage students to try their best. This includes regular exercise and mealtimes.
Make sure to reach out to others when you need help. I would remind students they are not alone in their struggles. The services from McMaster Student Wellness are available, not to mention a long list of online apps to help students cope with the stressors they're facing daily –in general, but also specific to the pandemic.