No patient left behind: Bringing health care to the most vulnerable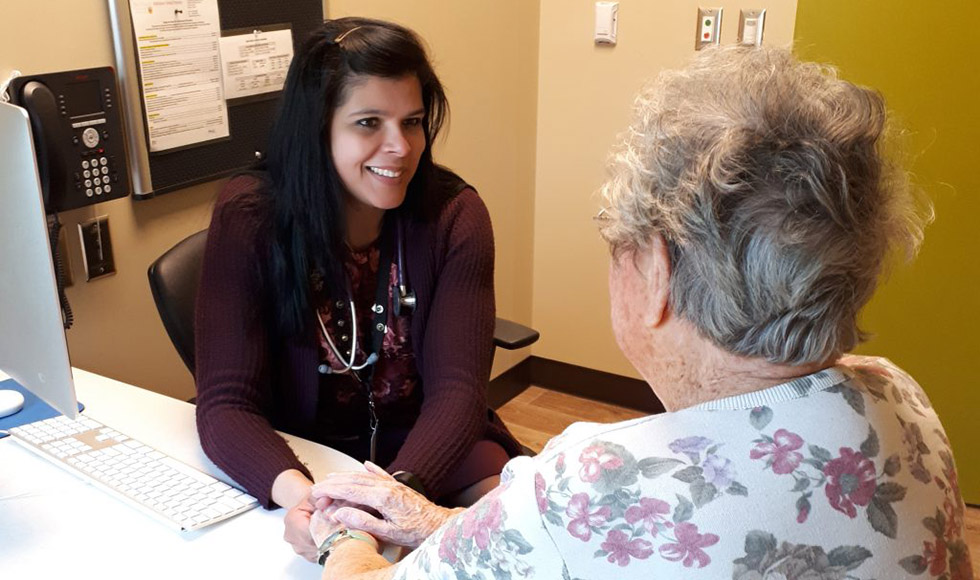 Gina Agarwal with patient June Solntseff at McMaster Family Practice.
---
BY Tina Depko, Health Sciences
January 11, 2019
As a family physician in Hamilton, Gina Agarwal sees first-hand the impact of poverty on the health of her patients.
Of her more than 1,000 patients, there are those who can't afford healthy food, while others can't afford food at all. Some do not have money for the bus fare to come to appointments, so she makes house calls, often to residents in social housing.
"I don't think we realize that poverty can impact people in every single facet of their lives, especially when it comes to their health," says Agarwal, associate professor in the Department of Family Medicine at McMaster University.
Agarwal describes herself as a primary care epidemiologist. Her work as a family physician influences her research which focuses on health system interventions for vulnerable populations. The goal is to help ensure people in need receive appropriate care at the right time and in the right place. The result has driven health system change in Ontario and across Canada.
"I like to do meaningful research that positively influences lives of the individuals who need it the most," she says. "In my mind, this includes populations like those in social housing, newcomers to Canada, the homeless, and those suffering from mental health issues and addiction.
"And I like to do research where the interventions are simple, impactful and sustainable."
Her recent research initiative, which has caught the attention of Canadian politicians, health policy makers and media, is the Community Paramedicine at Clinic, more commonly known by its shortened title, CP@Clinic.
The CP@Clinic program has paramedics hold drop-in sessions at select subsidized housing buildings which have had high numbers of 911 calls. During these sessions, paramedics help assess building residents' risks of high blood pressure, diabetes, cardiovascular disease and falls. At the same time, paramedics also provide information on topics like healthy eating, physical activity and quitting smoking.
CP@Clinic began as a pilot study Hamilton. It subsequently ran as a randomized control trial in other communities in Ontario.
The resulting data of CP@Clinic, published in the Canadian Medical Association Journal in the spring of 2018, showed that among older adults living in subsidized housing, the program significantly lowered the number of ambulance calls, improved quality of life and ability to perform usual activities, and lowered systolic blood pressure.
As of fall 2018, CP@Clinic was being offered by approximately a third of paramedic services in Ontario. Agarwal and her team are working on scaling up the initiative across Ontario, and introducing it in other Canadian provinces.
David Price, professor and chair of the Department of Family Medicine at McMaster, says Agarwal's work developing and growing CP@Clinic is a prime example of a straightforward health intervention that is working.
"The importance of the work that she has been leading in our province on the CP@Clinic initiative demonstrates that a low-tech, relatively inexpensive intervention using existing health-care resources can pay huge dividends," says Price. "It has improved not only the quality of life for our patients, but delivers benefits to the health-care system in terms of reduced emergency room visits, reduced 911 calls and greater connection with primary care providers."
Agarwal is currently running a related trial called CP@Home, which sees paramedics do home visits for people who have called 911 frequently.
She is also the lead on the Legal Health Check-up Program, or LHP, which focuses on finding ways to help people with legal problems that may be harmful to their health. A questionnaire filled out by patients in the McMaster Family Practice waiting room identifies people who may benefit from additional system navigation support or the help of a lawyer. Two lawyers come to the clinic for half day clinics, one from Hamilton Community Legal Clinic and one from Legal Aid Ontario.
"This all goes back to the same vulnerable populations, such as newcomers to Canada or people with employment problems or those in poverty, who would benefit from most from this type of interaction," she says. "This has been very beneficial. The program has been well received, we piloted it for a year and now it is still going on. I'm hoping it will keep going and spread to other clinics, as well."
Agarwal, who is of English and South Asian heritage, grew up in an area with mixed ethnicity and socioeconomic status in west London, England near Heathrow Airport.
Her mother is an occupational therapist and her father is an optometrist.
"It was assumed I would pursue a career in health care," she says. "In school, I was very science-oriented from a very young age, and my parents also encouraged this path."
She earned her medical degree at Guy's Hospital Medical School in London. She subsequently worked as a general practitioner making house calls in an area of London known as Earls Court.
"I would see people in very wealthy homes, and then I would see people in a social housing complex called 'The World's End'," she says. "Imagine living in a place called that? That experience early on in my career as a general practitioner really shaped how I saw health care and poverty."
Agarwal relocated to Canada to join the Department of Family Medicine at McMaster in 2000 to follow her passion for research. After arriving at the university, she pursued and completed a PhD in Health Research Methodology.
"I like being a practitioner and I like seeing patients, but I also want to improve the way the health-care system works," she says. "That's why I'm also doing research. I'm interested in pragmatic, real-world, real-life research that is actually going to make decision makers and politicians look up and say, 'Hey, we need to do this so there is change.'"
When she's not working at McMaster's David Braley Health Sciences Centre in downtown Hamilton or checking on her patients in their homes, Agarwal enjoys long-distance cycling excursions with her husband, Kris, who also works at McMaster as a manager in information technology.
She has an 18-year-old daughter, Mira, attending the University of Guelph for science, and a son, Milan, 21, who is studying international development and economics at McGill University.
A classically trained musician, Agarwal also enjoys performing as part of the Burlington Civic Chorale.
Both in and out of the office, she says she strives to be someone who has the respect of her children, family medicine residents and professional colleagues.
"It is very important to me to be a role model that it is possible to be a family physician, have a PhD and a family, and go on to do research that is recognized by other specialties," she says. "Being at McMaster has given me the opportunity to be a family physician and do that type of work."