Delivery by drone: Revolutionizing the transportation of time-sensitive cancer treatments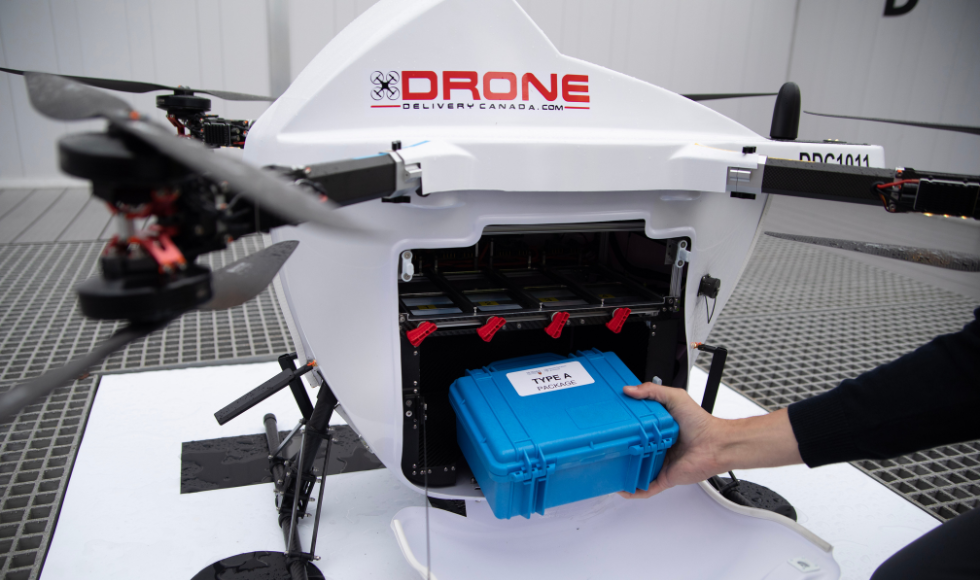 McMaster is working with partners in the region to develop drones that will deliver medical goods to the Oakville Trafalgar Memorial Hospital. (Photo courtesy of Drone Delivery Canada.)
---
BY Jesse Dorey
November 22, 2022
Imagine a world where life-saving medical supplies could be delivered within minutes, free of most major delays and with minimal environmental cost.
Think Amazon drone delivery, but one that could save a life.
That's what McMaster researchers are hoping to do with a new pilot project that will send medical isotopes, used in the diagnosis and treatment of cancer, from the university's nuclear reactor to a hospital by air.
Medical isotopes have varying life spans, with some lasting only a few days before they start to decay and are unusable to treat patients. It only takes one traffic jam or snowstorm to send a cancer diagnosis into a tailspin.
These factors underline the need to find more reliable solutions.
"Every minute lost is a reduction in the amount of material that's available for patient care," explains Dave Tucker, Assistant Vice-President Research, Nuclear at McMaster. "A reliable, well-predictable method of transport like drone delivery is essential to optimize the supply chain."
Enter Care by Air.
A next-generation delivery model
McMaster has partnered with Halton Healthcare, Drone Delivery Canada (DDC), Air Canada Cargo, DSV Canada and EllisDon to create Care by Air, a project designed to revolutionize the way we transport medical isotopes.
The first program of its kind in Canada, Care by Air leverages existing drone technology to ensure that hospitals, health-care workers and patients receive the life-saving medical supplies they need in a safe, reliable and efficient manner.
"[Care by Air] is really important for the medical isotope space because medical isotopes require a just-in-time delivery model," explains Andrea Armstrong, a research scientist with Nuclear Operations & Facilities and an adjunct professor of chemistry and chemical biology. "We need to make sure we understand the delivery times between sites so that the clinician is getting the right amount of drug product to diagnose or treat their patient."
DDC's Sparrow drone, a lightweight, high-speed autonomous drone that can travel up to 20 kilometres, will transport health-care goods, including medical isotopes developed at McMaster, to Halton Healthcare's Oakville Trafalgar Memorial Hospital for on-site patient diagnosis and treatment.
"The Care by Air project is one example where we're bringing our nuclear know-how and experience to enable innovation in medical isotopes," says Tucker. "We have unmatched infrastructure, expertise, support and safety systems here to let people do work with medical isotopes that just really isn't possible anywhere else in the country."
The sky is the limit
The benefit of Care by Air goes beyond ensuring timely deliveries — it's also environmentally friendly.
With its electric, non-carbon-emitting drones, Care by Air significantly reduces the environmental impact of medical supply transportation.
In contrast, the delivery vans currently used to transport medical goods circulate on roadways all day, picking up specimens and delivering them to analysis centres, creating lasting greenhouse gas emissions, and creating supply chain vulnerabilities to inclement weather and traffic jams.
"[Drone delivery] gives you a low carbon way of moving lab specimens back and forth between hospitals and analysis labs," explains Armstrong.
Additionally, Care by Air could also be applied to other life-saving treatments and perishable medical supplies on a global scale.
McMaster is playing a pivotal role in expanding this project.
By developing medical isotopes to test Care by Air delivery and working with regulatory bodies to expand flight paths, university researchers are paving the way for medical supply delivery to move from highways to the sky.
"With this model, we could transport a range of critical medical supplies from vaccines to medical specimens for lab analysis," says Armstrong. "The more flight paths we create, the more opportunities we have to deliver critical life-saving treatments."
---
The McMaster Nuclear Reactor has established itself as one of the top university-based research reactors in the world, leading the way in medical isotope research and production, access to clean, safe, reliable nuclear energy, and advanced material sciences. Today, McMaster is one of the world's leading suppliers of next-generation, life-saving medical isotopes used in cancer treatments around the world. Responsible for producing 60 per cent of the world's supply of iodine-125, medical isotopes produced at McMaster provide cancer treatments for more than 70,000 patients every year.