Optimizing radiation therapies for breast cancer patients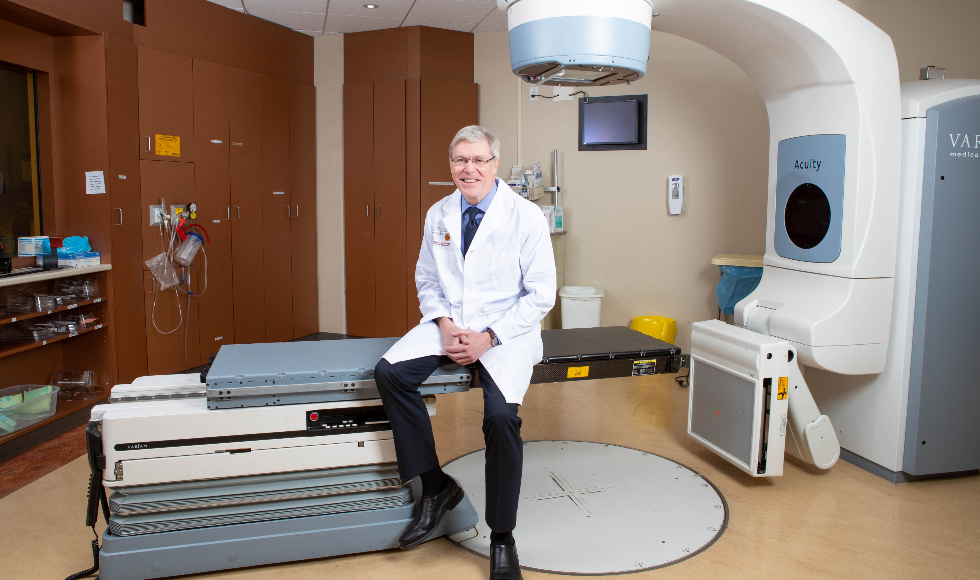 Timothy Whelan is internationally renowned for his clinical research in radiation therapy for breast cancer. Photo by Georgia Kirkos
---
BY Tina Depko, Health Sciences
November 18, 2019
Clinical research trials on optimal radiation treatments for breast cancer often take years, and without any guarantee of meaningful outcomes.
But Timothy Whelan perseveres, driven by a singular factor, and that is the patient.
"All of my research derives from how we treat breast cancer patients, and what we could do better," says Whelan, professor of oncology at McMaster University and radiation oncologist at the Juravinski Cancer Centre of Hamilton Health Sciences. "They are at the centre of everything I do."
His peers consider Whelan to be a world leader in the field of radiation therapy for breast cancer.
He holds a Canada Research Chair in Breast Cancer Research. He's the associate chair of research of McMaster's Department of Oncology. He's also a scientist with the Escarpment Cancer Research Institute of McMaster and the Juravinski Cancer Centre.
Whelan has led studies which showed a shorter course of radiation is as safe and effective as a longer course. The evidence has resulted in these new treatment strategies being adopted worldwide as the new standard of care.
"As oncologists, we have the unique opportunity to help people directly with their treatment," he says. "As clinical researchers, we help even more people by finding treatments that improve the lives of patients with cancer. I really value being a doctor, but I also really value being a researcher because of the benefit that you can afford people."
Whelan and his team are currently leading a number of clinical trials that continue to focus on best practices for radiation therapy in breast cancer patients, with an emphasis on survival rates, but also on quality of life outcomes and avoiding treatment when it is not necessary.
In one trial, researchers are using a simple biomarker which measures cell proliferation to help identify breast cancer patients who have such a low risk of recurrence that they may not require radiation therapy.
Another trial builds on his team's work of using radiation on lymph nodes. While there have been benefits to this treatment, there are side effects that affect quality of life. Here, the team is seeking to determine whether biomarkers can help identify women who might not require nodal radiation.
Whelan's team also just wrapped up a trial at partner sites across Canada and Australia examining the effectiveness and side effects of targeted radiation on the tumour bed post-surgery to reduce radiation exposure. The findings will be published in late 2019.
"We know if a woman has surgery for breast cancer, if that cancer does come back, it usually comes back right in the surgical bed," he says. "We thought that was an opportunity to reduce radiation exposure and focus right on that area, and also to shorten treatment more."
Whelan says he is indebted to his colleagues at the Juravinski Cancer Centre, in particular to Mark Levine, past chair of the Department of Oncology at McMaster and his long-time mentor; Jonathan Sussman, current chair of the department, and Jim Julian, associate director of the Ontario Clinical Oncology Group.
"Over the past two decades, I have had immense pleasure in watching Dr. Tim Whelan develop from an inexperienced research fellow from Newfoundland into one of the leading radiation oncology researchers in the world," says Levine. "His burning passion for research and tenacity to solve clinical questions have had a significant impact on women with breast cancer not only in Canada, but worldwide."
Whelan's career as a clinician scientist is unsurprising based on his family history.
He was raised in St. John's, Nfld., one of six children. The Whelan matriarch, Marie, worked in a hospital laboratory before marrying Patrick, a general surgeon.
"My dad died suddenly when I was 16, so my mom took further training to become a teacher," he says. "She raised us, and we're indebted to her. As well, three of my brothers are also doctors, so my dad had a big influence on us."
Whelan earned a BSc at Memorial University with the idea of pursuing basic research, but he realized he also wanted to practise medicine. A prestigious Rhodes Scholarship allowed him to earn his BM, BCh from Oxford University. He completed his residency in internal medicine and radiation oncology at the University of Toronto.
"When I was doing my internal medicine residency, I looked after a number of cancer patients and I thought it was a challenging specialty," he says. "At the time I felt we could do more to improve care for the cancer patient."
His interest in research drew him to McMaster, where he completed an MSc in clinical epidemiology and biostatistics. He joined the Faculty of Health Sciences when he completed his degree in 1993.
"I am indebted to McMaster because of the support for research and researchers," says Whelan. "It isn't like that everywhere."
When he's not treating patients or analyzing data from his team's international clinical trials, Whelan enjoys spending time with his partner, Mary-Louise Schouppe, who he proudly refers to as a remarkable nurse at the Juravinski Cancer Centre.
He is close with his three adult children, Patrick, 28, the co-founder of a start-up in Toronto; Kate, 26, a human resources recruiter in Toronto, and Jack, 23, who is in Ottawa pursuing a master's degree focused on cancer research.
Whelan also regularly travels 'home' to Newfoundland to visit his mom, now 92.
He says his family is tremendously proud of his numerous achievements and honours, which most recently includes the O. Harold Warwick Prize from the Canadian Cancer Society.
While recognition is nice, he says it isn't his measure of success when it comes to his career.
"Helping patients and influencing clinical practice, being able to change practice in Canada and internationally to improve outcomes for breast cancer patients, that's really been the highlight."