Preparing seriously ill patients and their families for the journey ahead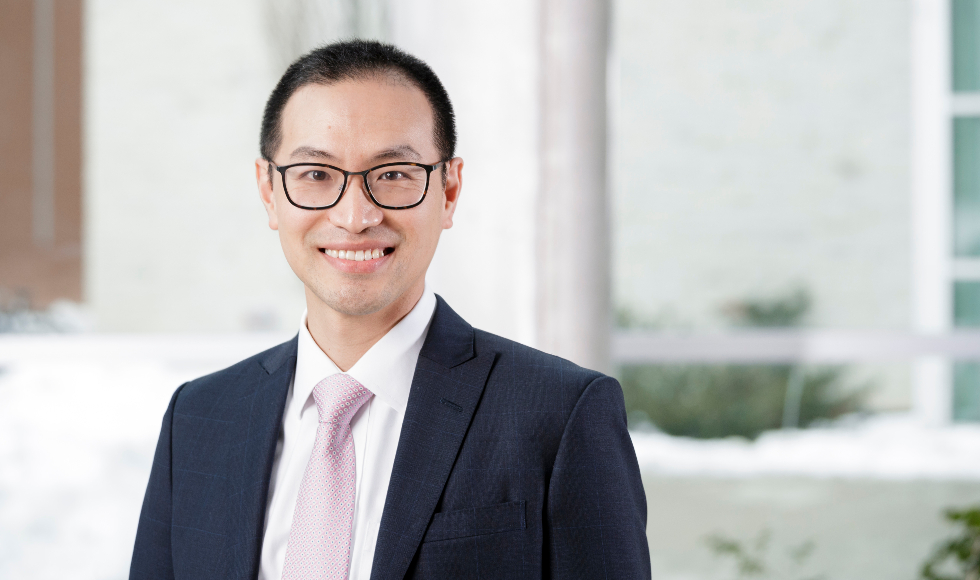 Hsien Seow is using research to encourage innovation in the palliative care health system and improve quality of care.
---
BY Tina Depko, Health Sciences
November 20, 2019
Hsien Seow was six when his mother, Suat-Tein, was diagnosed with breast cancer. She died four years later.
The close-knit family that included Seow's father and older brother wasn't prepared for her death, holding out hope as doctors had suggested until the last week of her life.
"I remember how sick she was but we never, ever had a conversation with doctors about what the future would look like and how much time we had," says Seow. "The words palliative care never came up, or planning for the possibility she would leave us. So, when it happened it was devastating."
That's why the McMaster University researcher is focused on innovating the palliative care health system and improving quality of care. He has worked with RAND Health Care, the Ontario Ministry of Health and Long-Term Care, Health Quality Ontario, and health policy makers to improve palliative care.
Looking beyond just health policy, he's also focused on shifting the societal dialogue and perspective around palliative care patients and their families. One of the concepts driving his research is that palliative care ought to be provided to all patients and families facing serious illness right from diagnosis, not just at the end of life.
An associate professor in the Department of Oncology at McMaster, Seow holds the Canada Research Chair (Tier II) in Palliative Care and Health System Innovation.
"Ultimately, what we are allowing people to do is to have more control and choice on how their story will unfold," he says. "Rather than being reactive and crisis driven, they can be more prepared and less overwhelmed by the journey."
A current initiative of his, funded by the Canadian Institutes of Health Research, is the community access to palliative care via interprofessional primary care teams intervention, known by the acronym CAPACITI. Through CAPACITI, primary care teams receive tools and supports to translate knowledge into practice; staff facilitators support team coordination and collaboration, and expert coaching provides customized strategies to local barriers.
The ultimate goal of CAPACITI is to put into practise how to provide a palliative care approach within the unique context of a primary care practice. The first cohort consists of 32 teams across Ontario with a total of 192 health-care providers.
"We want primary care providers to be able to identify people who would benefit from a palliative care approach earlier in their disease trajectory, not in their last weeks of life, but right from diagnosis of a serious illness or that first hospitalization," he says.
"We want the health-care team to feel comfortable proactively talking about planning for the journey ahead with patients and families."
Based on the belief that patients and families can be the catalyst for improving the care experience, Faces of Caring is an online community for stories, advice and resources for those facing serious illness.
"Faces of Caring harnesses the advice of those with lived experience to better prepare those who are just starting their caring journey," said Seow. "These are deeply human stories that can teach us all something."
Samantha Winemaker, who co-created Faces of Caring with Seow, is an associate clinical professor in the Department of Family Medicine at McMaster and a palliative care physician who cares for people dying at home. Seow has contributed, she says, to the field of palliative care in the most real, practical and applicable way.
"He is the ultimate patient- and family-focused researcher," says Winemaker. "His research has illuminated many key themes that have shaped a new, modern direction in palliative care delivery. His energy for his work is infectious and bottomless. His quest to improve the health-care system stems from his own personal losses and thus his work shines right from his heart."
Seow is also the site director of the Institute for Clinical Evaluative Sciences (ICES) McMaster. The institute, which has five sites across the province, is Ontario's independent, non-profit research organization that uses population-based health and social data to produce knowledge on a broad range of health-care issues.
"Since we have a universal health system, we have some of the best data on the health and social aspects of our citizens," he says. "This allows us to deeply understand the diverse and vast needs of our population across communities, and this data is an important tool for that research. There are researchers studying such topics as neonatal and childbirth issues, cancer treatments, obesity, wait times and system costs, which ultimately focus on how to make health care better for all of Ontario."
Seow was born in Singapore and raised in Oakville, Ontario. He completed a BSc at Yale with the idea of continuing on to medical school, but realized he was more interested in health policy research.
After two years spent doing just that with RAND Health Care in Washington, D.C., he went to the Johns Hopkins Bloomberg School of Public Health to earn his PhD, with a thesis focused on health-care policy in Ontario. That focus, along with a research chair at McMaster, brought him back to Canada.
"McMaster is such a great fit because it is world-renowned for being interdisciplinary, very collaborative, cutting-edge and research intensive," he says. "It's been such a wonderful place to feel supportive and keep growing as a researcher."
Seow lives in Oakville with his wife and two daughters, aged four and two. He enjoys playing sports, especially tennis.
Seow says he knows his mom would have been proud of him, and that it is her memory that keeps him moving forward each day, in both his professional and personal life.
"It's been over 25 years, and there have been so many medical advances in treatments and technology, but the stories I hear today are still the same where people say, 'No one told me. I wished I had known sooner,'" he says. "Knowing what the end would have looked like for my mom, we would have been more prepared and had different conversations. We would have been able to say goodbye in the way we wanted.
"It's about closure, because it's a natural part of life, but if you avoid it until too late you miss the opportunity to have these moments of closure and peace. It doesn't mean people have to give up hope, it's about appreciating the life you have."