Preventing and treating diabetes with a song in his heart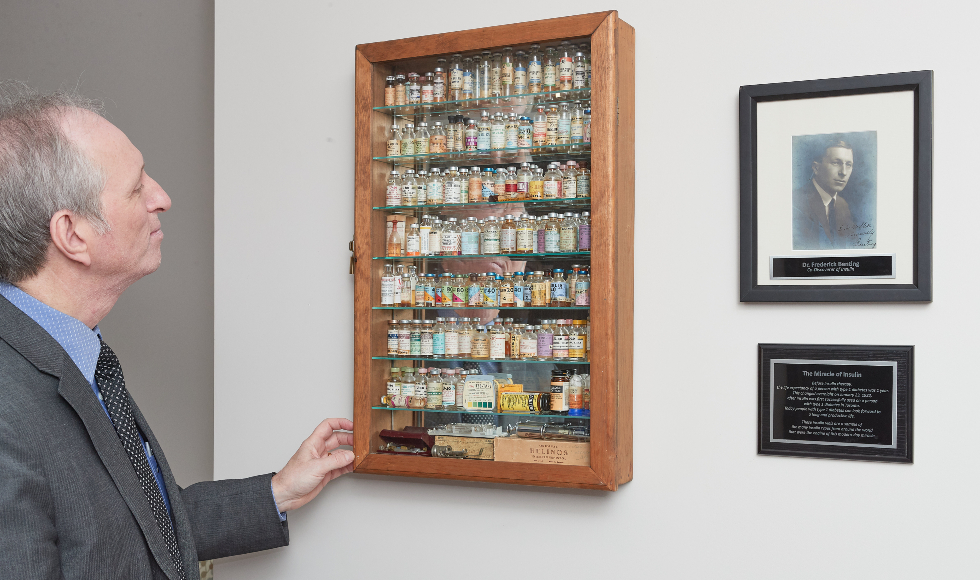 Hertzel Gerstein, a world-leading diabetes clinician researcher, looks at a collection of insulin vials from past decades, alongside a photo of Frederick Banting, who helped discover insulin. (Photo by Kevin Patrick Robbins)
---
BY Tina Depko, Health Sciences
December 17, 2018
When Hertzel Gerstein was growing up, he loved two things: science and people.
Over the years, those two elements have served as the drivers of his work as a clinician researcher.
Today, he is a world-leading endocrinologist and researcher at McMaster University, leading impactful clinical trials on diabetes.
"In university, I was taking science courses and spending my summers working at camps for kids. A career in medicine therefore seemed like a great way to combine people and science," says Gerstein, professor in the Department of Medicine and director of the division of endocrinology and metabolism at McMaster.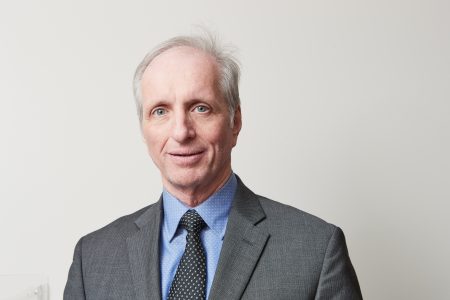 Gerstein was born and raised in the Bathurst and Eglinton neighbourhood of Toronto. His father, Ralph, came to Canada in 1948 as a refugee from Europe after spending the Second World War in the system of Nazi concentration camps. Ralph worked as a stock broker, while his Canadian wife, Toby, was a housewife and later, a secretary.
"They were proud in a, 'My son, the doctor' kind of way," he says of his parents' reaction to his career choice. "I was the first person in either of my parents' extended families to finish high school, let alone go to university."
Gerstein completed his medical degree and subspecialty training at the University of Toronto and its affiliated hospitals, and his interest in endocrinology was piqued early on in medical school.
"Endocrinology is a field where different hormones are regulated by other hormones, in a very neat system of signaling and feedback," he says. "I was fascinated by the workings of those systems and what happens when they go awry in disease."
Time spent in a laboratory during his endocrinology training reinforced that he was better suited to clinical research rather than basic research.
"A year in the lab was very interesting, but not exciting," he says. "I realized then that I wanted to do research involving people."
McMaster's reputation for clinical epidemiology and an opportunity to be a clinical scholar brought him to Hamilton in 1987. He completed an MSc in epidemiology under the mentorship of David Sackett and Brian Haynes, and was recruited to the Faculty as an assistant professor of medicine in 1989.
"At that time, there were few if any endocrinologists in the world who pursued this type of clinical epidemiology training," he says. "And once I started to do research, I quickly saw how McMaster University's culture of collaboration that minimizes barriers between people and groups, makes it easy to do research. That's why I never left."
While his lab and epidemiology training was largely in thyroid disease, he started focusing on diabetes and metabolism clinical research shortly after arriving in Hamilton and has never looked back.
Currently, 25 per cent of Gerstein's time is spent as an endocrinologist and metabolism specialist, where he treats patients with diabetes and endocrine problems at Hamilton Health Sciences' McMaster University Medical Centre. The remainder of his time is focused on his research.
In addition to his professorial titles, he is deputy director of the Population Health Research Institute (PHRI), the Population Health Institute Chair in Diabetes Research, and director of the Diabetes Care and Research Program at Hamilton Health Sciences.
His personal research program is focused on the prevention and treatment of diabetes and its consequences in adults. Working in collaboration with clinicians and researchers in different fields at McMaster and around the world, he designs and leads large, international trials of therapies related to various aspects of diabetes.
For the past five years, he has also become very interested in Type 2 diabetes remission.
"Everyone in the world has a personal connection to diabetes," Gerstein says. "One out of every 10 adults in Canada and in Ontario has diabetes, and in people over age 75, it is one in five living with the disease.
"If you go to a coronary care unit, two out of three people have diabetes or pre-diabetes. It is a very common disease that accounts for a lot of morbidity and mortality."
There are several projects Gerstein is leading right now.
A large clinical drug trial for the past seven years recently ended, with the team now analyzing the results. The 9,900-person trial, called REWIND, focused on testing whether a certain drug prevents heart attacks, strokes and death in people with diabetes. The results will be presented at the American Diabetes Association 79th Scientific Sessions in June 2019.
A 4,000-person drug trial has also recently started under Gerstein's leadership. The trial examines the impact of a different drug on the prevention of heart attack, stroke and death in diabetes patients.
Gerstein is also chairing a program of smaller trials being led by colleagues at McMaster around different therapeutic regimens of drug and lifestyle behaviours targeting diabetes remission and regression.
"Dr. Gerstein is an outstanding clinician and world renowned scientist, and he has led many impactful studies of the causes and treatment of diabetes mellitus," says Paul O'Byrne, dean and vice-president of the Faculty of Health Sciences and professor in the Department of Medicine. "His research has improved understanding of the consequences of developing diabetes and changed the way that it is treated worldwide."
Building on a lifelong love of music, Gerstein's main non-medical pastime these days is as a songwriter. Citing Leonard Cohen and Adele as influences, he categorizes his work in the adult contemporary genre.
His talent at songwriting was on display in a 2016 song called "Diabetes – Let's Defeat It" written for the Diabetes Care and Research Program. His cameo in the popular accompanying music video is still talked about today.
Gerstein is also working on the book and score for a musical, but he says his fans will have to wait to learn more about the upcoming musical work.
He and his wife, Dora Fischer, a retired business systems analyst, live in Toronto and enjoy attending theatre. Their daughter, Shira, 29, is a geographical information systems analyst in Toronto, and their son Eran, 26, is an educator but soon-to-be a physiotherapist in Australia.
As he reflects back, Gerstein says his professional career hasn't been about creating a legacy, but rather about doing something he enjoys that he hopes advances science and helps those living with diabetes. It's also been about working at the interface of his area of expertise in diabetes and other areas such as heart disease, stroke, and dementia.
"I realized a long time ago that the most interesting work is not in the middle of your specialty, but rather in the border of your area of knowledge and in that of someone else's," he says.
"Because there were not a lot of other experts at the interface, it's been a great place to build a career.
"People often ask me why I do this research, and my answer is that it is fun. It's fun to meet people, work with colleagues in different fields and continually be exposed to new ideas and technologies. And at the same time, I'm able to help improve the health of my patients and other people affected by diabetes around the world."