Project breathes new life into care for patients with interstitial lung disease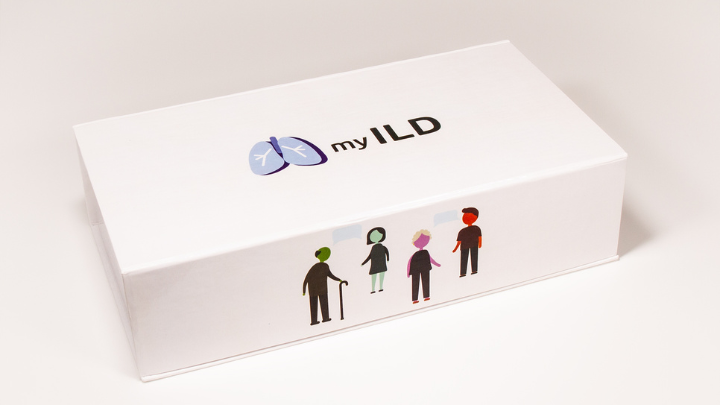 McMaster researchers, biopharmaceutical company Boehringer Ingelheim (Canada) Ltd. and St. Joseph's Healthcare Hamilton have developed the ILD Kit, which offers support and resources for people recently diagnosed with ILD.
---
October 27, 2023
Tim Brady received life-altering news in 2017 that he has interstitial lung disease (ILD). What he didn't receive at the time of diagnosis was appropriate support.
"You can just imagine the levels of anxiety and depression that ensues with a diagnosis," he says.
Brady was not alone in his experience.
An innovative partnership with McMaster University, research-driven biopharmaceutical company Boehringer Ingelheim (Canada) Ltd.and St. Joseph's Healthcare Hamilton is looking to address this gap in patient-centric care. What's resulted is the creation of myILD Kit – a comprehensive package of support and resources for people recently diagnosed.
The Kit was created by students from McMaster's Faculty of Engineering in the W Booth School of Engineering Practice and Technology under the guidance of principal investigator Jeremy Hirota, Associate Professor in the Department of Medicine in the Faculty of Health Sciences and a respiratory scientist at St. Joe's within the Firestone Institute for Respiratory Health, and Andrea Hemmerich, sessional faculty member in the Faculty of Engineering.
ILD is a group of conditions characterized by scarring of the lungs. It can evolve rapidly to a Progressive Fibrosis-ILD leading to breathlessness or worsening respiratory symptoms, reduced quality of life and early mortality. After interviewing patients, caregivers, healthcare professionals, researchers, along with hosting focus groups and co-design sessions, the design team gained profound insights, including patients' limited access to expert centres, and minimal support and educational materials.
"Having the opportunity to work with ILD patients has been a deeply humbling and rewarding experience. Their insights, openness, and resilience have guided our work and reaffirmed the idea that an empathetic approach can have a profound impact on patient experience," said recent McMaster Engineering graduates Jonthan Pusic, Mohammed Syed and Santiago Leon.
myILD Kit includes a welcome letter from a patient community offering virtual support group information, a disease journey map to help patients navigate their new reality, a pulse oximeter, enabling patients to monitor their lung health and a journal for patients to record their experiences and emotions.
"By focusing on healthcare innovation and leveraging key partnerships in academia, industry, and our community, St. Joe's is working to improve the patient experience in creative ways," says Hirota, a Tier 2 Canada Research Chair in Respiratory Mucosal Immunology. "Our hospital is committed to advancing new strategies, devices, and therapeutics that will help our patients."
Brady, who has been living with ILD for six years now is enthusiastic about how the Kit will help ease the anxiety and uncertainty for newly diagnosed patients. "With the myILD kit, the journey and resources will be laid out in front of them instead of using the internet to find out," he says.
Annie Beauchemin, head of Market Access for Boehringer Ingelheim Canada, emphasizes the importance of early intervention for ILD patients. "By working collaboratively with a patient-centric approach, we are addressing patient needs at the onset to ensure that everyone has timely access to the information and care they need," she says. "With this partnership, we aim to make a positive impact for Canadians living with ILD."