Renowned cardiovascular researcher has medicine in her DNA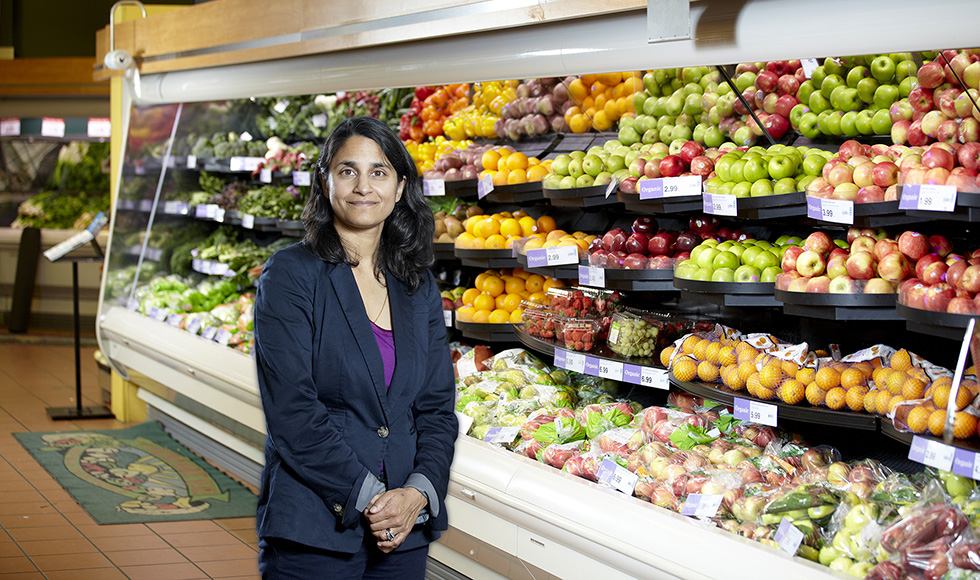 BY Tina Depko
March 8, 2018
Medicine was a likely career calling for Sonia Anand.
It was in her DNA, with a father who was a general surgeon and a mother who was an anesthetist.
Her parents came to Canada from India for a better life and wanted the same for their children.
"My two older sisters both chose a career in law, so my parents strongly suggested that I do medicine because they had fulfilling careers, and I was the only one left," says Anand, who was raised in the small town of Kentville, Nova Scotia.
"Luckily I also like science, so I told them I would give it a try."
Anand has since become a renowned cardiovascular researcher and clinician. Her research on cardiovascular disease among ethnic groups, population genetics and women's cardiovascular health have catapulted her reputation worldwide.
She is professor in the department of medicine and epidemiology at McMaster University, of which she is an alumna, a senior scientist at the Population Health Research Institute, and director of the vascular medicine clinic at Hamilton Health Sciences.
She holds a Canada Research Chair in Ethnic Diversity and Cardiovascular Disease, as well as the Michael G. DeGroote Heart and Stroke Chair in Population Health and Epidemiology, and previously held the May Cohen Chair in Women's Health.
"My hope is that my research will help other clinicians identify and treat risk factors for cardiovascular disease at an earlier stage than they would have without the research," she says.
It was during her internal medicine residency at McMaster that she met with Salim Yusuf. He served as a mentor for her first research project, which involved travelling to India for a chart review of therapies for acute heart attacks and comparing the management of patients with the same condition in Canada.
"That first project got me really excited about research, and also showed me a way of marrying both of my interests of internal medicine with global health," she says.
"That morphed into focusing on ethnic differences in cardiovascular disease, one study led to the next, and here I am 20 years later." Anand has published more than 200 articles in peer review journals.
She says highlights of her research to date include: working with the people of Six Nations of the Grand River to understand the health burden in Indigenous communities, shifting her focus to birth cohorts to learn more about risk factors in pregnant women and their babies, and running clinical trials on vascular diseases that change clinical practice and improve patient outcomes.
An overarching focus of much of her work is women's health.
"I always have the woman question in mind, be it in characterizing the intersection between ethnicity, gender and socioeconomic status in some of the population-based studies or trying to understand the implications of clinical trial evidence for women," she says.
John Kelton, former dean and vice-president of the Faculty of Health Sciences at McMaster, has witnessed Anand's growth as a researcher over the years. He says her strengths are the focus of her research and her ability to communicate the outcomes so they are relatable to the average person.
"Sonia is a remarkable researcher focused on a unique field of study," says Kelton, executive director of the Michael G. DeGroote Initiative for Innovation in Healthcare.
"She is leading some of the most important work in her field by investigating segments of Canadian society and populations, and she is asking important questions. For example, once you strip away socioeconomic factors, why do some of these particular groups develop unique illnesses?That is an edgy type of research."
Kelton notes Anand's research translates to higher-quality patient care.
"Sonia's clinical care parallels her own personal research mission, where she is convinced that we must practice medicine based on what has been proven," he says.
While the thought of balancing a full slate of research projects and patients may be daunting to some, Anand agrees it gives her an advantage in both the lab and hospital.
"I really enjoy having both parts because it helps me keep my research relevant," she says.
"There are always times I can clearly say this treatment is or isn't indicated based on some of the research I've been involved with, so that is really rewarding.
"In other cases, when I don't have an explanation for why someone developed a disease, it helps me find the right research questions." Anand accepts failure is part of research. She says it is how you view failure that makes all the difference.
"At the end of the day, I question why I am doing what I am doing," she says.
"As long as I believe what I am doing is worthwhile and I am passionate about it, then I am willing to take the bumps along the way."
Anand notes her family is key to providing balance in her life. Her husband is a family physician, and two of their three children are studying Arts & Science at McMaster. Their youngest is in high school.
"When you get your papers or your grants rejected, it is always great to be able to go home and realize what's most important," she says. "My family is incredibly supportive of my career."