Six Nations hosts a landmark symposium on water safety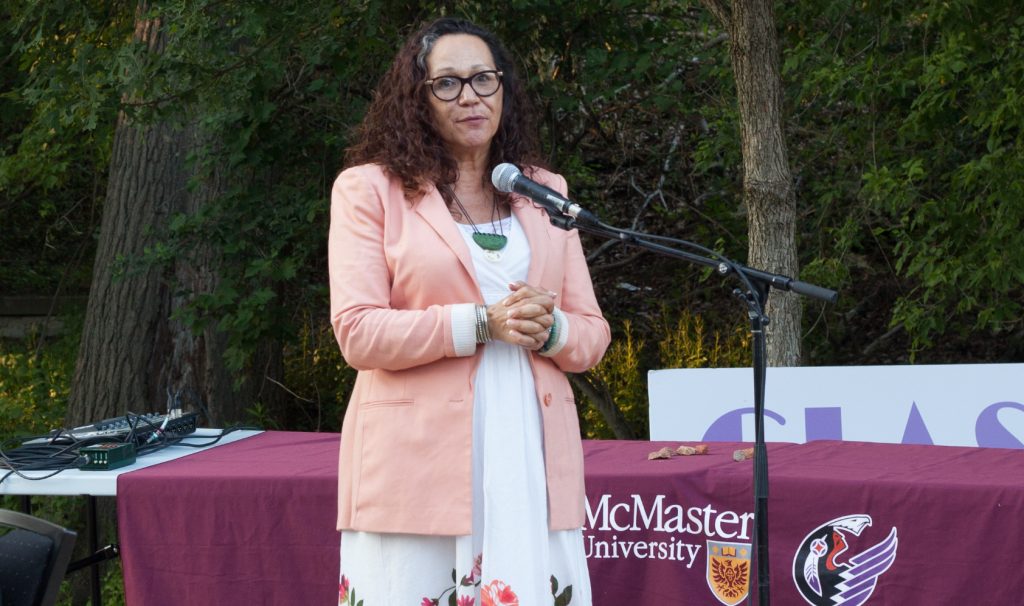 Dawn Martin-Hill is organizing a symposium at Six Nations so university researchers from across Canada can collaborate with Indigenous Knowledge holders and work toward finding real solutions to water-related problems.
---
BY Sonia Verma
May 31, 2018
Dawn Martin-Hill is playing matchmaker, and she's looking for people who are ready to commit.
The Paul R. MacPherson Chair in Indigenous Studies is organizing a landmark symposium this weekend to bring together First Nations knowledge guardians and leaders with scientists, so they can collaborate on improving water security for Indigenous communities.
The Six Nations of the Grand River Territory is hosting the First Nations Water Security and Climate Change Symposium June 3. The event is supported in part by a $10,000 NSERC grant.
Martin-Hill is organizing the event in collaboration with Global Water Futures, a water research program led by the University of Saskatchewan. GWF's inaugural Annual Science Meeting runs May 4-6 at McMaster and the Six Nations.
While the science meeting has drawn hundreds of leading water and climate scientists from across Canada, Sunday's symposium is smaller. That was a deliberate choice, Martin-Hill says.
"We're making people step away from conference rooms and podiums and form real connections," she explains. "We want them to really commit to helping each other."
The event features six panel discussions, covering subjects such as traditional knowledge, environmental health and Martin-Hill's own GWF initiative, the interdisciplinary Co-Creation of Indigenous Water Quality Tools project, which aims to develop tools to identify sources of contaminants in water systems and aquatic ecosystems.
"The goal at the symposium is to collaborate," Martin-Hill says. "We'll connect researchers and communities so they can work together, share their knowledge and come up with real solutions."
She mentions activist Judy Da Silva, who is coming to the symposium from Grassy Narrows First Nation in northern Ontario, where generations of residents are suffering the effects of mercury poisoning as a result of years of industrial dumping in the local waterway.
"They have to clean up that river," Martin-Hill says. "I want Judy to connect with the right people with the expertise and a genuine interest in using their work to improve the lives of people in her community."
GWF had already expressed an interest in engaging with First Nations, Martin-Hill says. And with McMaster hosting the Annual Science Meeting, "it was the perfect opportunity to bring these two important contributors together to see if they can collaborate to meet their needs," she says.
"It's about connecting the need with the skill set," Martin-Hill explains. "And it goes both ways. There's a wealth of Indigenous Knowledge accumulated  over thousands of years of observation and experimentation, passed on from one generation to the next. We have expertise and data showing how we interact with water and with the earth."
Six Nations is also hosting the June 4 GWF session, where Martin-Hill will play matchmaker again. Participants will split up into small groups so they can familiarize themselves with Indigenous water concerns, knowledge, culture and history while canoeing, hiking or visiting the longhouse.
The science conference is also a chance for young professionals and researchers to network and hold development activities. "One of the most important parts for me is having students come in and see that those with Indigenous Knowledge — elders, knowledge guardians — are on equal footing with university scientists," Martin-Hill says.
"They will recognize that the knowledge their grandparents have is valuable, even though it's not been written about in a peer-reviewed journal."