The next generation of cars: Electrifying solutions for clean energy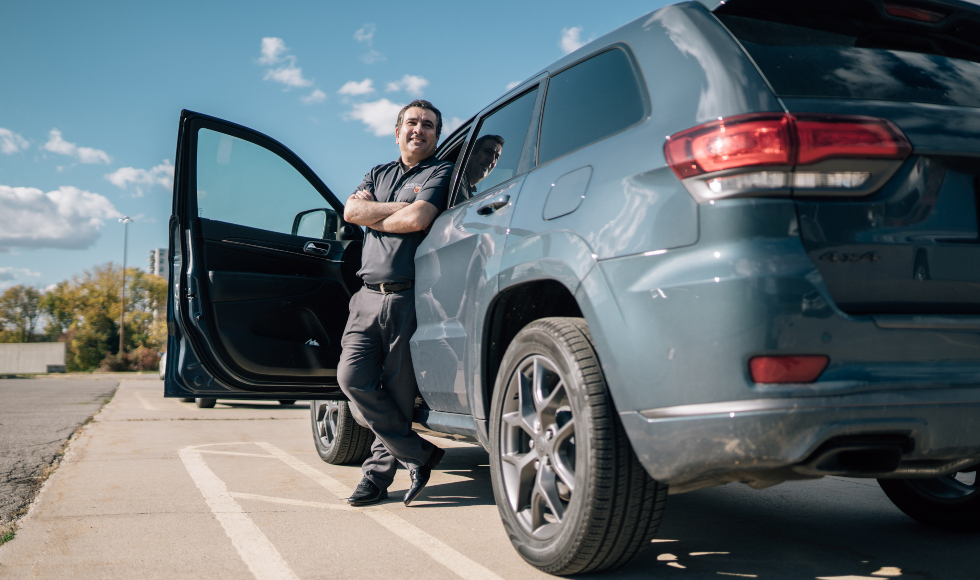 BY Ruth Adair
December 8, 2020
"If we want to make transportation more sustainable, we need to electrify it. That way, we can reduce dependence on fossil fuels and come up with cleaner cars and cleaner environments." 
Ali Emadi
Canada Research Chair in Transportation Electrification and Smart Mobility
The issue | 

Dependence on fossil fuels isn't sustainable

Ali Emadi has loved cars since he was a kid. But there was always a nagging problem. A few, actually: carbon monoxide, greenhouse gases, global warming. Car pollution is one of the major causes of climate change.

When Emadi grew up, he found a way to fuel his passion for cars in a sustainable way.

Today, the engineering professor heads the transportation electrification program at one of North America's leading research facilities in electrified vehicles: the McMaster Automotive Resource Centre (MARC).

Sustainable Development Goal 7 is about ensuring access to affordable, sustainable energy for all. It involves reducing our dependency on fossil fuels, Emadi says, and requires commitment across sectors.

The Canadian government is taking action in three areas: energy efficiency, clean electricity and renewables, and cleaner fuels.  And Emadi is taking action in his lab, where he's engineering the next generation of cars, built for autonomy, high efficiency – and low to zero emissions.
---
More: Ali Emadi's work exemplifies McMaster's commitment to advancing the United Nations' Sustainable Development Goals (SDGs).
---
The research | 

The transportation of the future is electrified

Electric vehicles are set to become one of the main forms of transportation globally by 2030.

As the Canada Research Chair in Transportation Electrification and Smart Mobility, Emadi is leading the charge.

His research is focused on pioneering a range of sustainable energy-efficient solutions,  with projects that are highly applied and designed to address practical issues that the auto industry is struggling to tackle.

Emadi and his team are developing electric powertrains, building cost-effective powertrain components including electric propulsion motors and identifying controls and advanced driver assistance systems to make cars more energy efficient.

"Electricity is cleaner, greener, more affordable, and domestically produced," says Emadi, who believes electrification is the most practical long-term transportation solution.
The impact | 

Award-winning innovation

While electrified car components are initially more expensive, Emadi is developing technologies that are cost-effective, while at the same time improving performance and efficiency. And his work is having an impact in more ways than one, from decreasing harmful emissions to protecting automotive manufacturing jobs.

Recently, Emadi and his research group at MARC received the Natural Sciences and Engineering Research Council of Canada (NSERC) Synergy Award for Innovation for ongoing collaboration with Fiat Chrysler Automobiles (FCA) – an industry-university partnership that's taking electric and hybrid vehicles to the next level in Canada.

"By working together to develop the next generation of cars, we're helping to build a more sustainable future – and, at the same time, we're preparing future skilled workers to help us get there," Emadi says.
Lessons learned | 

Sustainability shouldn't be siloed

MARC's transdisciplinary approach means researchers like Emadi can work together with students and industry leaders in fields of engineering, science, and social science towards resolving issues facing the automotive industry.

This collaboration, he says, is essential to achieving development goal 7.

"We have all of the relevant disciplines for sustainable automotive research under one roof, and I can't stress how important that is for innovation and excellence in research."

Ali Emadi's work exemplifies McMaster's commitment to advancing the United Nations' Sustainable Development Goals (SDGs).  Learn more about the best ways to align research with the UN's SDGs.