Vaccines are the key to preventing more pandemics, expert tells Public Health Ontario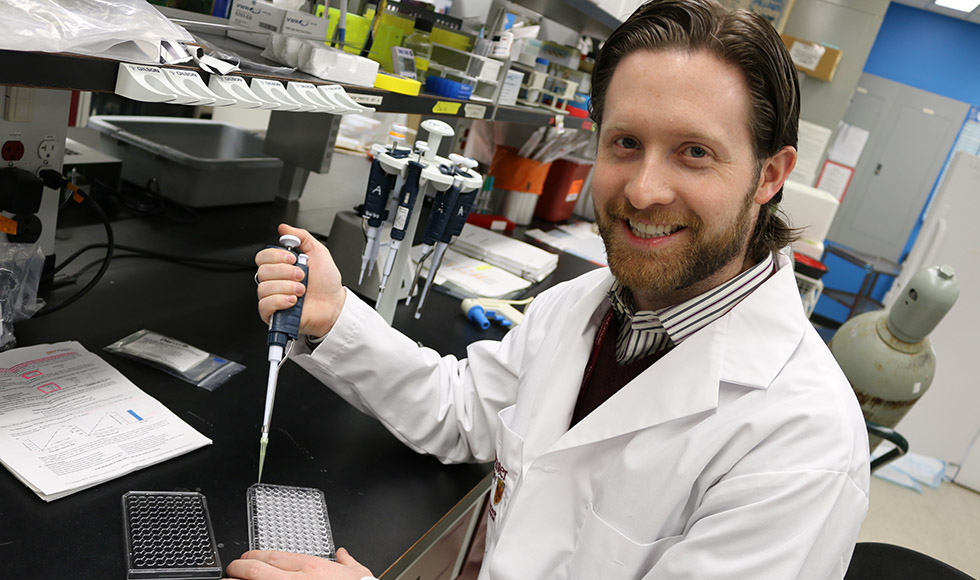 Vaccine development will play a tremendous role in warding off the next pandemic, says Matthew Miller, Director of the Michael G. DeGroote Institute for Infectious Disease Research.
---
BY Blake Dillon
November 2, 2022
Vaccine development may be the biggest factor in our ability to ward off the next pandemic, says Matthew Miller, Director of the Michael G. DeGroote Institute for Infectious Disease Research at McMaster University.
Innovation in vaccinology and immunology are critical to the future of public health preparedness, Miller told health experts from across the province in a talk delivered at Public Health Ontario Rounds.
"Prevention really needs to be the major focus of our strategy against emerging infectious diseases," said Miller, an associate professor of biochemistry and biomedical sciences.
"Vaccines — especially those that provide broad protection against families of viruses that have pandemic potential — are the best way to ensure that we are sufficiently prepared in the future."
Miller and his colleagues at McMaster are doing their part by leveraging mucosal immunology to design new and improved vaccines: He is part of the team of experts driving the development of McMaster's next-generation COVID-19 vaccines, which are designed to target emerging and future variants of SARS-CoV-2.
"Advances in understanding the unique properties of the mucosal immune system have catalyzed major innovations, including the development of these mucosal vaccines," said Miller. "These vaccines hold the promise of providing broad and durable protection against seasonal epidemics and future pandemics."
Mucosal vaccines are administered by inhalation — not by injection — delivering protection directly to the airways. That's why these inhaled COVID-19 vaccines may foster innate immunity against other viruses that similarly target the respiratory system, like influenza, Miller says.
"While injected vaccines have been extremely successful in reducing the burden of many infectious diseases throughout history, their efficacy is often suboptimal against mucosal pathogens," Miller said.
"These newer vaccines could provide broader and longer lasting protection against an array of respiratory infections, which will only serve to improve our resilience in the face of future outbreaks."
The inhaled vaccine work is part of the pandemic preparedness efforts underway at Canada's Global Nexus for Pandemics and Biological Threats, a global network of researchers and partners in industry and government, working together in the face of serious and emerging threats to global health and well-being.