From McMaster Innovation Park to the Nasdaq: Fusion Pharmaceuticals generates hope for new cancer therapies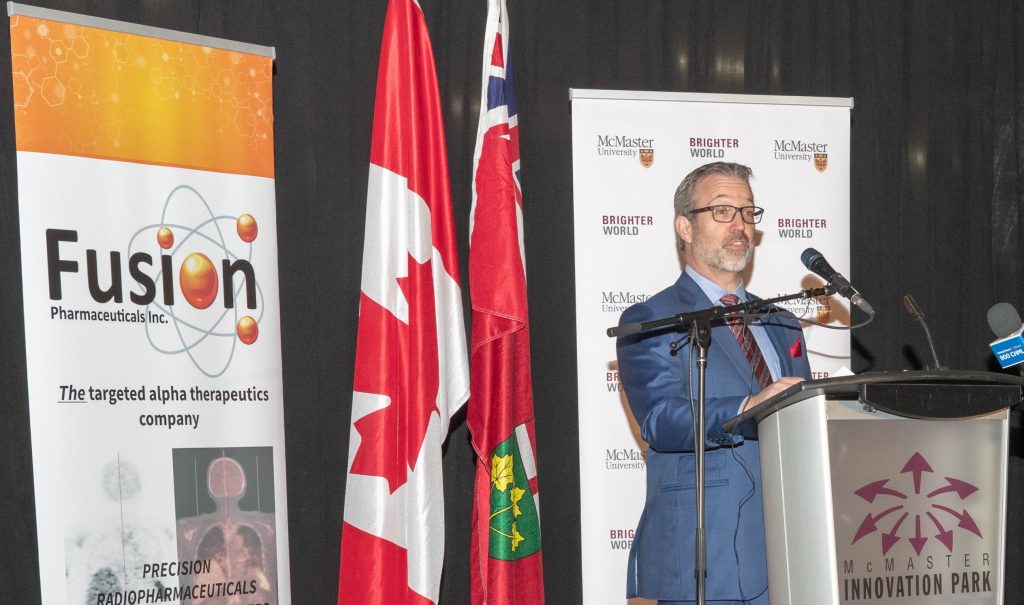 McMaster professor and Fusion CEO John Valliant says the IPO "is an exciting new beginning that allows our team to focus on developing medicines to help people. That's what gets us all out of bed in the morning."
---
BY Wade Hemsworth
June 26, 2020
A pharmaceutical company that started from the seed of a McMaster professor's research began trading on the Nasdaq Friday, where its initial purchase offering was expected to generate $212.5 million (US).
Early demand from investors had raised Fusion Pharmaceuticals' opening share price to $17 from early estimates of $14 to $16 – a strong indication of confidence in the company's potential to create new cancer therapies using nuclear medicine.
Fusion Pharmaceuticals spun out of the campus-based Centre for Probe Development and Commercialization and is located at the McMaster Innovation Park, with offices in Boston.
Proceeds from the stock offering will allow the company to proceed with clinical trials of its most promising cancer therapy, which uses nuclear isotopes to target and eradicate tumor cells with microscopic precision.
John Valliant, the McMaster chemistry professor who founded the CPDC and is now Fusion's CEO, says the investment will give the company its best chance to prove, develop and deliver the new form of treatment.
"We are humbled by the overwhelming support we've received," Valliant said Friday. "We believe in our technology and we have a phenomenal team.
"This is an exciting new beginning that allows our team to focus on developing medicines to help people. That's what gets us all out of bed in the morning."
McMaster's Vice-President Research Karen Mossman, who is also chair of the MIP board, says Fusion's success in attracting public and private investment illustrates the primary intention of creating MIP: to support the commercialization of research that can benefit society, create employment and build a diversified advanced-manufacturing economy.
"It's gratifying for McMaster, MIP and our community to see the hard work of the Fusion team generating this kind of excitement," Mossman says. "This adds significantly to Canada's growing international reputation as a centre for biotechnology, with McMaster as a significant hub."
Also this week, McMaster start-up Empirica Therapeutics was acquired by Philadelphia-based Century Therapeutics, a leader in curative cell therapies for cancer. Now known as Century Therapeutics Canada, the new subsidiary will also be based at the MIP complex, not far from campus on Longwood Road South.
Empirica was co-founded in 2018 by Sheila Singh, professor in the Department of Surgery at McMaster, and Jason Moffat, professor at University of Toronto's Donnelly Centre, focusing on developing immunotherapies for aggressive and treatment-resistant forms of cancer, including glioblastoma (GBM) and brain metastasis.
Valliant says the roots of Fusion Pharmaceuticals lie in the decision to build a research nuclear reactor on the McMaster campus more than 60 years ago, which opened the door for new forms of discovery in science and medicine.
"I'm a proud Canadian, Hamiltonian and McMaster graduate. I feel fortunate that there were people ahead of me who had the vision to make this possible," Valliant says.
"This is not an overnight success. This is a long journey with a lot of contributors."