McMaster satellite lifts off from Kennedy Space Center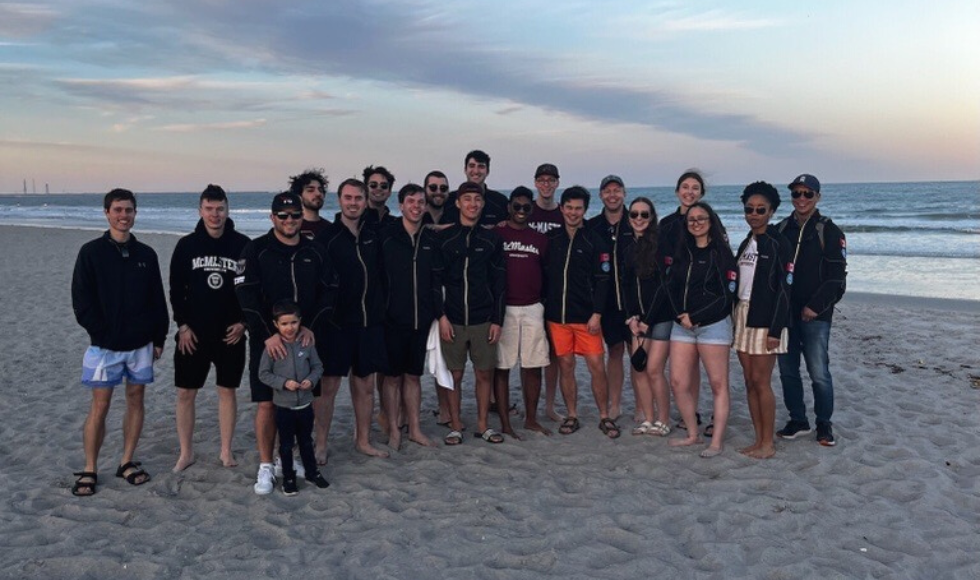 Members of the McMaster NEUDOSE team and some of their family members gathered on a beach in Florida to watch the SpaceX rocket launch from the Kennedy Space Center. (Anna Verdillo/McMaster University)
---
BY Jesse Dorey
March 14, 2023
McMaster, we have liftoff. 
A satellite designed and built by McMaster students and researchers has successfully launched into space on board a SpaceX Falcon 9 rocket.
For the NEUDOSE team members on hand in Florida to watch their satellite take flight in person, the overwhelming feeling was one of pure excitement – and relief. Eight years of long nights and hard work had finally paid off.
The satellite, called NEUDOSE, was launched from the historic Kennedy Space Center at 8:30 p.m. on March 14 as part of NASA's 27th commercial resupply mission. The next destination on NEUDOSE's journey is the International Space Station (ISS), where it's expected to dock Thursday morning.
"If you told me five years ago that at some point we would get here, it'd be incredibly difficult to believe you," says McMaster grad Andrei Hanu, co-Principal Investigator of the NEUDOSE satellite project.
---
---
Liftoff! Science, supplies & snacks are flying to the @Space_Station. @SpaceX #CRS27 is carrying blueberries, apples, cherry tomatoes, and four kinds of cheese. All the makings of a space charcuterie board? If you were going on a trip to space, what snacks would you want to take? pic.twitter.com/4bpGySxUJ9

— NASA (@NASA) March 15, 2023
---
---
NEUDOSE, a state-of-the-art satellite designed to measure space radiation, will be docked at the ISS for a few months before astronauts are ready to deploy it.
Once the satellite is deployed, it will begin transmitting scientific data to a ground station at McMaster, where researchers will analyze the data and release it to the wider scientific community.
This data will be used to better protect astronauts from cancer and cataracts caused by radiation as humans embark on the next generation of space travel.
Falcon 9 launches Dragon to the @space_station pic.twitter.com/mGKZYW0pEa

— SpaceX (@SpaceX) March 15, 2023
"I'm very excited to get these measurements," says McMaster grad Eric Johnston, co-Principal Investigator of the NEUDOSE satellite project. "If we really want to understand what the long-term effects of human space travel are, especially if we go to Mars and beyond, we're going to need to start studying the quality of the radiation."
Work on NEUDOSE began in 2015 when Hanu, who was working at NASA, came up with the idea for a small satellite that was capable of detecting radiation in space.
With the help of some colleagues, including Johnston and McMaster researcher Soo Hyun Byun, Hanu's former PhD supervisor, McMaster's first space mission was officially a go.
"We never expected to make it to this point," says Byun. "The team's enthusiasm for space engineering and physics is what made this day possible."
McMaster's first satellite will blast off on a @SpaceX mission to @Space_Station tonight! Meet some of the incredible @NEUDOSE team members who made it happen. https://t.co/EefvpUhYdm pic.twitter.com/GbGvzuNvq5

— McMaster University (@McMasterU) March 14, 2023
In the eight years since the project's inception, over 150 students from across disciplines have worked on the satellite.
For many of them, this was more than an out-of-this-world, hands-on learning experience; it was a dream come true.
"I never thought I would be able to go into a clean tent to assemble a satellite that's going into space," says Angela Tollis, fourth year mechanical engineering and society student and co-lead of the NEUDOSE mechanical team. "To be able to do that in university is pretty incredible. It's definitely the highlight of my undergrad, but also I think of my career. It's something I'm always going to remember."
Conor O'Reilly Juárez, a fourth-year mechanical engineering student and NEUDOSE payload mechanical specialist, agrees.
"When I heard that there was a team at McMaster that was developing a satellite that would actually go into space, I was blown away," he says. "Knowing that something I helped work on is paving the way for future space exploration makes me incredibly proud."
---
Meet the team who built McMaster's first space-bound satellite 
---
The launch represents a groundbreaking moment in Canadian education, Hanu says.
"Ten years ago, a project like this was completely out of reach for undergraduate students," says Hanu. "To see students take on the project with enthusiasm and learn the skills that are necessary to develop all the components of the satellite is one of the most rewarding things."
McMaster's first space mission speaks to the importance of experiential learning opportunities for students like NEUDOSE, says McMaster President David Farrar.
"The NEUDOSE satellite project is a remarkable achievement for the McMaster community," he says. "The students and researchers who made this dream a reality reflect the positive impact that interdisciplinary collaboration and hands-on learning can have on the student experience."
Members of the @NEUDOSE team getting a closer look at the @SpaceX rocket scheduled to carry their satellite to the @Space_Station in just a few hours!

Watch the launch live here: https://t.co/I6c0rFhoVV🚀 pic.twitter.com/wrOBxU0tgI

— McMaster University (@McMasterU) March 14, 2023