Preparing for the next pandemic: Combating antimicrobial resistance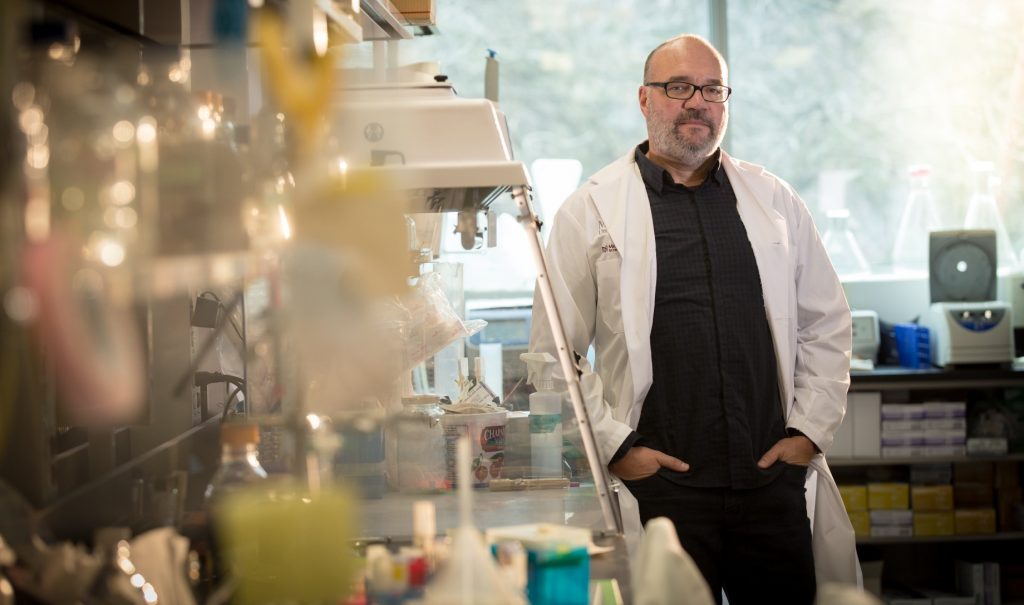 Gerry Wright, Canada Research Chair and global expert in antibiotic resistance research
---
December 10, 2020
"Antimicrobial resistance is a slow-moving catastrophe, but make no mistake: within the next 30 years, it will kill millions, strangle our health-care systems and significantly alter life as we know it unless we develop new ways to attack the problem."
–Gerry Wright
Lead, Canada's Global Nexus for Pandemics and Biological Threats and Director, Michael G. DeGroote Institute for Infectious Disease Research
The issue | 

Experiencing the perils of antimicrobial resistance, up close and personal

Infectious disease researcher Gerry Wright understands first-hand the dangers of antimicrobial resistance.

While traveling in Europe, Wright was infected with salmonella and became seriously ill, losing 15 pounds in a week and a half. When he returned to Canada he was treated with antibiotics, which should have worked quickly to combat the infection. But they didn't.

The strain of salmonella Wright contracted had become resistant to the antibiotic he'd been given, rendering the treatment completely ineffective.

Becoming increasingly weak, Wright was given another antibiotic which fortunately worked. But the experience offered him unique insight into the critical issue of antimicrobial resistance, which Wright describes as the "next pandemic" – an increasingly urgent global threat that kills an estimated 700,000 people around the world each year.

"Penicillin first became available as a drug in 1940, and it changed everything," says Wright. "With these miracle drugs we were able to treat a range of common infections from pneumonia to meningitis that, up until then, were often fatal."

Wright explains that since the 1950s, few new antibiotics have been developed. In the meantime, widespread overuse of these drugs in agriculture and medicine have led to increasing resistance to penicillin and its related medicines as bacteria have evolved.

"That's why we fight the good fight in my lab," says Wright. "We're trying to stop this global problem in its tracks – to make sure we don't go back to what it was like before 1940."
---
Beating COVID-19: Canada's Global Nexus and Saskatchewan-based VIDO join forces to protect Canadians from pandemics and accelerate vaccine and drug development.
---
The research | 

Putting the brakes on an urgent problem

Through his work with McMaster's Michael G. DeGroote Institute for Infectious Disease Research and the David Braley Centre for Antibiotic Discovery, Wright and his teams of researchers are focused on finding new ways to address this pressing problem.

A global leader in infectious disease research, Wright is collaborating with experts across disciplines – at McMaster and around the world – to conduct research aimed at better understandings the causes of antimicrobial resistance (AMR) at both the molecular and genetic level.

As well, he and his teams are looking for new ways of detecting and preventing AMR, and are developing potential treatments such as new antibiotics, vaccines and antibiotic alternatives, as well as exploring ways to boost the effectiveness of existing drugs.

"Research is a team sport and we're bringing together some of the best minds in the world to figure out exactly what's happening and find new, creative solutions to put the brakes on antimicrobial resistance."
The impact | 

Bringing together the best in world

With global deaths as a result of AMR estimated to rise to 10 million by 2050 and medical costs associated with AMR predicted to reach $100 trillion over the same period, Wright says the stakes couldn't be higher for populations and health care systems around the world.

"Antibiotics are foundational medicines for everything that we do, whether it's taking care of blood infections, or whether it's cancer chemotherapy, hip replacements or heart transplants, all of these things require antibiotics," he explains. "And unfortunately, bacteria have become completely resistant to many of the antibiotics we have available."

Over the past decade, Wright and his teams have built on their success and expanded their research to study infections caused by fungi, parasitic worms, parasites that cause malaria and, most recently, COVID–19.

Now, he's the lead for McMaster's new Canada's Global Nexus for Pandemic and Biological Threats, an international network of scientists and other experts working collaboratively to prevent pandemics and mitigate health threats – an initiative, global in scope, that will help bring Wright's AMR and infectious disease research to the next level.

"Global Nexus is bringing experts together to look at threats like AMR is a completely new, holistic way," says Wright. "Working with our international networks, we're ramping up scientific discovery around AMR and other pandemics, but also looking at the global economic and social impacts of AMR, which will give us a deeper understanding of how we can address all facets of this and other global threats."
Lessons learned | 

Preparing for the future

Wright says urgent action is needed to protect the health and well-being of Canadians and populations around the world from the dangers of antimicrobial resistance.

"AMR is a slow-moving pandemic, and because of that, it's not on people's radars. But it should be," says Wright. "If we don't tackle this now, if we don't think ahead, we could be facing a world that, in terms of our ability to control infections, could more closely resemble 1921 than 2021."

Gerry Wright's and the Global Nexus' work exemplifies McMaster's commitment to advancing the United Nations' Sustainable Development Goals (SDGs).  Learn more about the best ways to align research with the UN's SDGs.