Watch: A conversation with Nobel laureates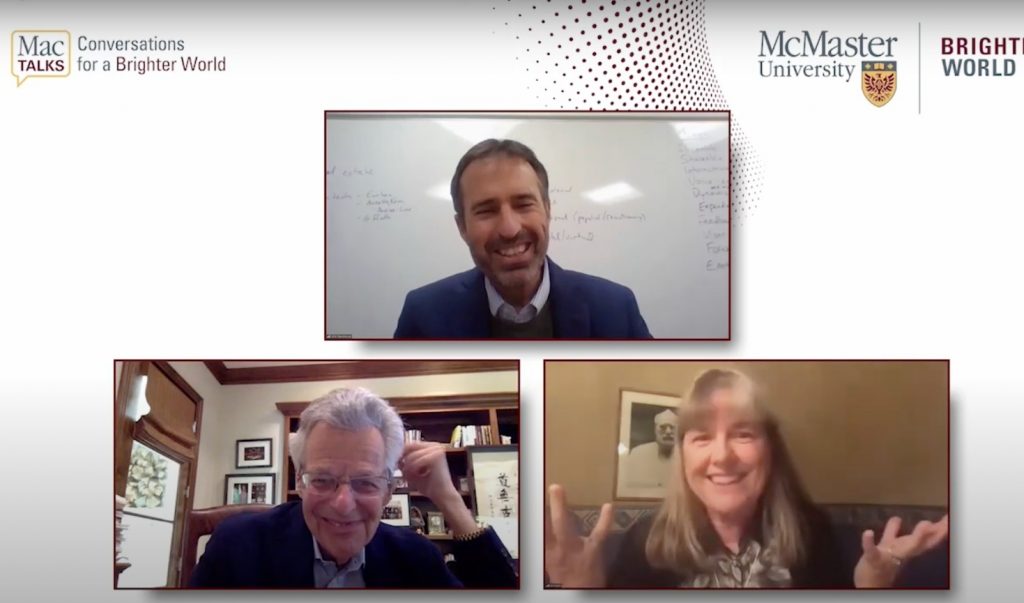 Encounters with rock stars, parking privileges and of course, global recognition of the research that changed thousands of lives: Myron Scholes and Donna Strickland talk about the impact and importance of the Nobel Prize.
---
BY Sonia Verma
October 9, 2020
What's it like to find out you won a Nobel Prize?
Well, physics laureate Donna Strickland's daughter took one look at the text message with the news in 2018 and thought, "Oh no, mom's phone has been hacked!"
And that was after a 5 a.m. phone call glitch famously woke Strickland up, then left her on hold for 15 minutes before she hung up on Nobel organizers — "I had to call Sweden to find out I had won the award," she recounts with a laugh.
Economist Myron Scholes, on the other hand, proved hard to find. The announcement about his Nobel in 1997 had to be delayed until he could be tracked down at a conference and informed.
The two Mac grads talked candidly about success, failure, brain drain, rock stars (Strickland met Queen guitarist and fellow physicist Brian May; Scholes turned down an event with Shania Twain) and campus parking, in a lively MacTalks event, moderated by author and journalist John Stackhouse.
MacTalks is a series of virtual conversations with McMaster researchers and award winners who are at the forefront of tackling some of the world's most pressing challenges, such as isolating the virus behind COVID-19 and preventing the next pandemic.
The two Nobel laureates also spoke about the importance of moving forward in the face of disappointment. "You have to not beat yourself up constantly," Strickland says.
"Science, 99 per cent of the time, something is not working in the lab. But that 1 per cent of the time that it's working… it's so great! So you have to keep telling yourself that 1 per cent of the time is coming. You just have to work through the 99 per cent."
If you want to learn a lot about photonics or economics, this probably isn't the talk for you. If you want to hear some of the smartest people alive talking animatedly about how the Nobel Prize did — and didn't — affect their lives, tune in. It's worth a watch.