Engineering professor Todd Hoare receives $1.65 million NSERC training grant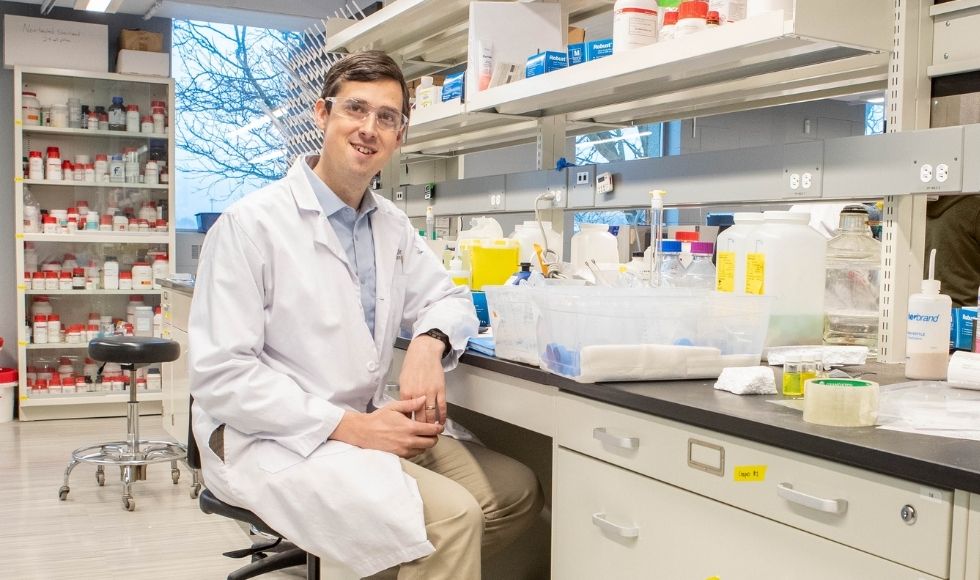 Todd Hoare has received $1.65 million in NSERC funding to lead a large six-year project that will supplements students' academic experience with internships, communications training and other career-ready skills. (Georgia Kirkos photo)
---
BY Sonia Verma
June 10, 2021
Engineering professor Todd Hoare and his team of researchers from McMaster and eight other universities in Ontario and Montreal have been awarded $1.65 million in funding from the Natural Sciences and Engineering Research Council of Canada's CREATE program.
CREATE — Collaborative Research and Training Experience — supports mentorship and training for Canadian researchers in areas such as communication, collaboration and professional skills, providing experience relevant to academic and non-academic research environments.
That means students in the program will graduate with not only the degree and research they signed up for, but also immersive entrepreneurial training and an internship with an industry partner to give them hands-on experience and connections, Hoare explains.
"Their academic work is supplemented with a lot of training elements that give them technical skills as well as job-ready skills that will allow them to jump right in when they graduate and make a difference," he says.
---
Read more about Todd Hoare: Blurring the boundaries between science and engineering
---
Hoare's project, Controlled Release Leaders (ContRoL), focuses on developing a range of vehicles for controlled release — most commonly associated with drug delivery, such as slow-release pills or long-lasting injections. But it's also an important subject in other fields, like food science and anti-infection materials and, increasingly, agriculture.
"If a farmer only has to spray once and it's good for a long period of time, it will reduce costs and reduce environmental impact," Hoare says.
"Traditional research in this area has been medical, and we are still looking at the medical applications," he says. "But we're also making sure all students who go through the program have a good basis and understanding of the fundamentals of different areas and how the things they learn can be applied to other areas."
Across the breadth of institutions, "we have people who use lipid particles, capsules, solid nanoparticles, microneedles (devices placed on the skin that penetrate just deep enough to deliver a drug through the skin without you feeling them)," Hoare says.
"The team was chosen because they all work on different kinds of controlled release vehicles, and in different areas — medical, agricultural, food science, cancer research and more."
The students will learn about these diverse fields and work on collaborative projects, to bridge the breadth of expertise. "The idea is to build new collaborations that didn't exist before and build new partnerships with companies to bring some of the technologies we develop closer to market."
As it opens doors to more opportunities and connections, the program will benefit not only the students directly involved in it, but also other students and other labs
While the CREATE program specifically focuses on training graduate students, Hoare is known for introducing undergraduates to research early in their academic careers, and he expects his undergraduates to benefit from the training program and the opportunities it affords.
These include a two-week lab exchange and a role in creating a podcast to hone their communication skills.
"If we have learned anything in the last 15 months it is that the ability to communicate science and scientific knowledge and concepts to a broader audience is really important, and I think it is going to become even more important moving forward."