McMaster consistently recognized as one of the world's most research-intensive universities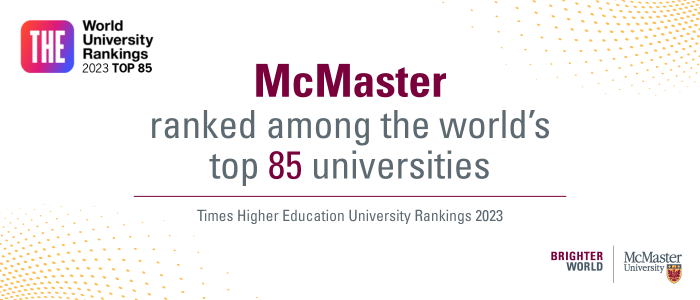 January 1, 2023
McMaster has been consistently recognized internationally as a research-intensive institution and continues to be ranked among the world's top 100 universities.
In 2022, McMaster ranked 37th in the world in the Times Higher Education (THE) Impact Rankings, which recognizes the contributions of universities worldwide as they work to make the world a safer, more sustainable place.
The Times Higher Education Impact ranking is based on the United Nations' Sustainable Development Goals (SDGs), which are designed to address the most serious challenges of our time.
The 2022 Impact Rankings include 1,406 universities from 106 countries/regions. The annual rankings are widely regarded around the world as a barometer of excellence in higher education.
McMaster's SDG-focused website showcases the cross-disciplinary breadth and commitment to meet the goals, in research as well as shaping a new generation of innovative thinkers who prioritize sustainability.
From world-class teaching and learning facilities to groundbreaking research, here are some of the areas where McMaster has had the most impact according to Times Higher Education and QS World University rankings.

Good health and well-being 
McMaster has been ranked 6th worldwide in SDG 3, Good Health and Well-Being. This ranking was driven by McMaster's infectious disease research, support for health-care professionals and the health of its students and staff.
Researchers at Canada's Global Nexus for Pandemics and Biological Threats are among the McMaster experts answering the United Nations' (UN) call to ensure healthy lives and promote well-being for all. This worldwide hub based at McMaster brings together a network of industry, community and government experts and partners to develop solutions to protect communities and mitigate looming health threats.
By working collaboratively with experts around the world, our researchers are working to prevent pandemics and mitigate health threats across the globe by developing a second-generation inhaled COVID-19 vaccine and making trailblazing discoveries in the field of antimicrobial resistance.
Read more about Canada's Global Nexus for Pandemics and Biological Threats here.

Clinical and health 
A leader in medicine and health, McMaster is ranked 25th in the world in Clinical and Health.
As the birthplace of problem-based learning and a champion of working across fields of study, McMaster has a long history of fostering the kinds of ideas that have the potential to change the world.
Considered one of the world's top schools for health care education, McMaster is also the home of evidence-based medicine, a term coined by McMaster researcher Gordon Guyatt to describe the gold standard for how health research and practice should be conducted and evaluated.
Home to some of the best minds and laboratories in the country, with research output rivalling universities more than twice its size, McMaster has a well-deserved reputation as a hotbed of discovery and innovation and is consistently ranked among Canada's top research-intensive universities.

Nursing 
McMaster's world-renowned nursing program has been recognized for its cutting edge approach to education and training, ranking 21st in the world in this year's  rankings.
Building on over 75 years of excellence in the nursing education space, McMaster's nursing program empowers students to lead change in an increasingly challenging health care environment.
As one of Canada's most research-intensive universities, nursing faculty members are searching for solutions to some of the most important health challenges facing us today.
Built upon the tenets of problem-based learning and evidence-based medicine, nursing students are on the front line of health care and are actively translating research into practice.
The EMBOLDEN program, a community-based research project co-led by McMaster researcher Rebecca Ganann, utilizes community programs to help older adults living in neighbourhoods that experience health inequities stay mobile, maintain their health and participate in social events.

Industry, innovation and infrastructure
Novel inventions. Groundbreaking discoveries. Emerging tech.
McMaster's ranking of 56th in the world for Industry, Innovation and Infrastructure reflects our firm commitment to fostering an environment built upon innovation, creativity and expertise.
Whether it's through research partnerships with private sector companies or inspiring sustainability work from our graduates, we are working with our communities, both local and global, to create a brighter world.
To address the issue of sustainable transportation, McMaster has partnered with Cubic Transportation Systems to launch the Centre of Excellence for Artificial Intelligence and Smart Mobility. Led by McMaster researcher Ali Emadi, this partnership is revolutionizing our existing transportation systems and designing the future of inclusive mobility.
In the realm of health care, the McMaster Nuclear Reactor has joined forces with private and public sector partners to create the Care by Air project, an initiative that uses drones to ensure the on-time delivery of medical isotopes used in life-saving cancer treatments to local hospitals.
---
Read more about McMaster's performance in the 2023 Times Higher Education World University Rankings here.